The slow death of the password continues. Microsoft's following in the footsteps of Google's Chrome OS with a handy-dandy new Windows 10 feature that eliminates the need to manually log in to your PC.
The company's currently testing a refreshed Authenticator app for Windows 10 mobile called Phone Sign-in Beta. It looks like the app will continue to generate codes for multi-factor authentication, but the star feature of the upgraded app is a new feature that unlocks your PC with one tap when your phone is nearby, as The Verge first reported.
You can't download the new version of Authenticator yet, but it's listed in the Windows Store where noted Windows leaker Walking Cat discovered it. This is actually the second authenticator app for Windows 10 that Walking Cat has uncovered. In January, the online sleuth found a similar app for Windows 10 PCs and tablets with support for enterprise machines.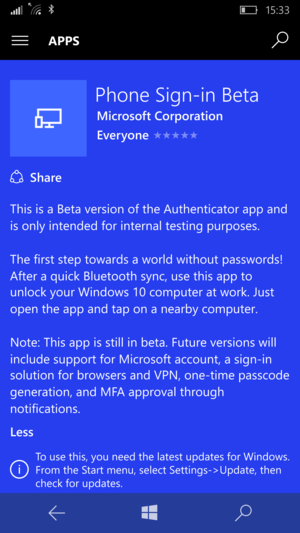 "The first step towards a world without passwords," the app's store entry says. "After a quick Bluetooth sync, use this app to unlock your Windows 10 computer at work. Just open the app and tap on a nearby computer."
It's not clear if the Bluetooth sync is a one-time operation and then the app uses a local Wi-Fi network to identify your PCs, or if it will always require Bluetooth authentication. Once the app goes live for everyone (assuming it does), it will support Microsoft accounts, multi-factor authentication codes, a sign-in solution for browsers and VPNs, and one-time password creation.
The app description explicitly says this if for logging in at work; however, the addition of Microsoft account support suggests it will be an app for home users, too.
That's a dramatic feature upgrade from Authenticator, which current only generates codes for multi-factor authentication sign-ins. It's not clear if Phone Sign-in Beta will be a new download or delivered as an update to current users of Authenticator on Windows 10 mobile.
The story behind the story: Microsoft's been reluctant to leave handy features like one-tap wireless logins solely available on Windows mobile devices. We've already seen Windows-specific features like Cortana's SMS functionality and the Word Flow keyboard move to other mobile platforms. There's little reason to think wireless authentication for Windows 10 PCs will be any different. Microsoft doesn't offer its Authenticator app on competing platforms, but it does offer Microsoft Account for Android. That app provides online verification for Microsoft Accounts. Adding a feature for one-tap logins for Windows 10 PCs would fit right in.