After accusing Microsoft of trying to monopolize the Windows app ecosystem, Epic co-founder and CEO Tim Sweeney is back with a more level-headed take.
Writing for VentureBeat, Sweeney describes how the Universal Windows Platform—Microsoft's framework for writing apps across many device types and screen sizes—isn't as open as it should be. He also outlines several ways that Microsoft could enable a truly open UWP ecosystem.
The crux of Sweeney's argument is that users currently have to jump through hoops and classify themselves as developers to sideload UWP apps from outside the Windows Store. While Microsoft has suggested that things will change, stating that UWP will be "available to every developer" and "can be supported by any store," the company has yet to describe in detail how this might work.
Sweeney, then, comes up with a list of suggestions: Instead putting Microsoft in change of certifying UWP apps, Sweeney calls for the use of digital certificates from open Certificate Authorities, similar to what traditional desktop Win32 programs use to establish trustworthiness now. The security prompts for installing these apps should be no scarier than today's Win32 prompts, and Microsoft should use the term "install" rather than "sideload" for non-Windows Store apps, Sweeney says. He also wants developers and third-party stores to be unrestricted in their ability to well UWP apps outside the Windows Store. Overall, the idea is that that all apps would be on equal footing in terms of security and ease of installation.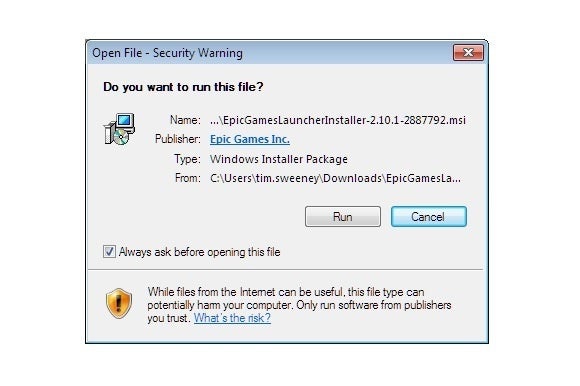 Sweeney's new essay still operates under the assumption that the mere existence of UWP poses some grave threat to traditional Win32 programs—a charge he levied in an earlier Guardian piece without presenting a shred of supporting evidence. Nothing's changed this time around, though he brings up Windows RT as a historical example of how Microsoft may seek to lock down Windows app development. "It is a rational industry response to have a degree of distrust over Microsoft's intentions," Sweeney writes.
That's a fair point, though it's also worth noting that Microsoft's leadership and corporate strategy have both changed drastically since Windows RT launched in 2012. It is now equally possible to think Microsoft recognizes that locking down app development would be bad for Windows.
In any case, Sweeney's new essay is more about tempering the theoretical popularity of UWP with real openness measures—a reasonable request, to be sure—rather than breathlessly sounding the alarm over a "monopoly" that is nowhere close to existence. By stripping away the hysteria of his last essay, and diving into details, Sweeney has come up with an argument worth reading.