At a Glance
Expert's Rating
Pros
Smooth performance
Relatively low power consumption
Quiet
Attractive case
Cons
A small amount of bloatware
Our Verdict
Acer impressively balances a wide variety of features together in one excellent (and adorable) mini-PC.
Finding a mini-PC that hits all the right notes can be akin to Goldilocks' search for the perfect bed. One might be too loud, another too underpowered, and a third too expensive for the purposes intended.
Given that most ultra-compact desktop PCs also require a bit of elbow grease (the majority are bare-bones systems), the Acer Revo One RL85 stands out all the more. This pre-built system not only requires minimal setup, but also comes with a solid processor, supports up to three storage drives, hums along quietly under load, consumes a moderate amount of power, and is reasonably priced. It's also so adorable that it doesn't ever need to be kept hidden.
Cracking open the pod
The RL85-UR45 sits at the top of Acer's Revo One line, and its feature set reflects that. It includes an Intel 2.2GHz dual-core Core i5-5200U with HD 5500 graphics, 8GB DDR3L RAM, and a 1TB hybrid drive. Networking's covered by an Azurewave AW-CB161H 802.11ac/Bluetooth 4.0 wireless card, and the system comes with Windows 8.1 Home. Less powerful versions are available with either a Core i3-5010U or Celeron 2957U processor and reduced amounts of RAM and storage, while a variant of this particular model comes with Windows 10 Home instead.
For a mini-PC, the number and types of ports are just average: two USB 2.0, two USB 3.0, gigabit ethernet, HDMI 1.4a, mini DisplayPort, and a Kensington lock port. There's also an SD card reader slot on the top, which is a nice touch but typical among the RL85-UR45's competition.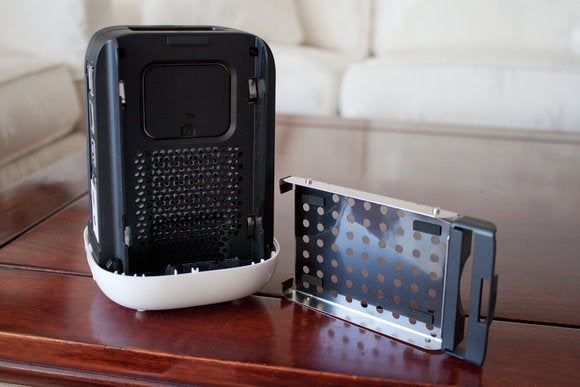 Far more remarkable are the two 2.5-inch expansion bays inside this Revo One's glossy white chassis. In combination with the included 1TB Seagate SSHD, these allow for a total of three storage drives, all of which are replaceable. While swapping out the primary storage drive does require a screwdriver and bit of extra work, installation of extra drives is very simple. You only need to press a button at the base of the machine and pull off the top of the chassis, which then gives immediate access to the drive cages. These slide out easily—no tools required. Simply pop in a hard drive or a solid-state drive into the tray, insert the entire set back into the slot, and you're done.
Performance
Despite its age, the Broadwell-U chip inside this Revo One is no slouch, which means you can do a fair amount with this machine and its generous storage potential. (With luck, you might even be able to score a deal on it after systems with Skylake processors finish saturating retail shelves.)
Real-world use with this $580 mini-PC was more than satisfactory—launching and completing basic tasks felt generally responsive, and it's easy to forget that you're running programs on a system that's easily one-tenth the size of a standard mid-tower desktop. However, a hard drive experience, even a hybrid hard drive, does takes a back seat to an SSD today.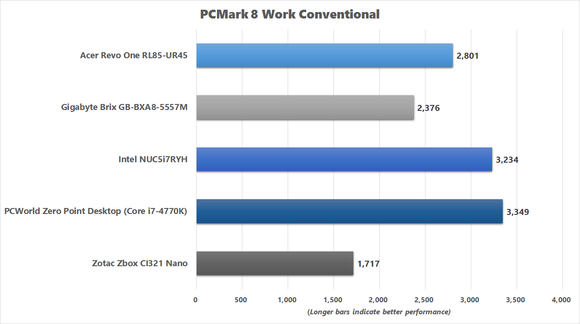 Still, the Revo One RL85-UR45 faces competition from other mini-PCs that have more specialized approaches. Among the three systems reviewed in this roundup, the Intel NUC5i7RYH outperformed the RL85-UR45 by a good measure, thanks to its faster Core i7-5557U Broadwell-U processor—and the NUC potentially costs less if you already have a Windows license or plan to use Linux. (It's roughly $550 total for the bare-bones system, a 1TB hard drive, and 8GB of DDRL3 RAM.) That same NUC also supports NVME M.2 drives, too, for stupidly fast drive access.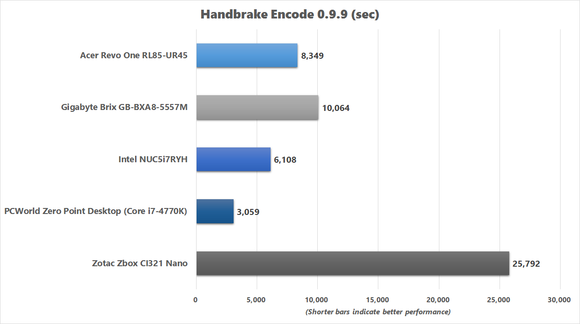 The RL85-UR45 also isn't that much faster than its next nearest competitor, Gigabyte's Brix GB-BXA8-5557, which is substantially cheaper at about $150 for the bare-bones system, plus another $100 at most for a storage drive and RAM. The Brix BXA8-5557 even offers almost passable graphics performance for more demanding games like Tomb Raider and BioShock Infinite, while this Revo One can only manage lightweight games at best. (Though, in all fairness, integrated graphics on these thermally constrained parts still have a ways to go before anyone but the determined will enjoy playing AAA games on them.)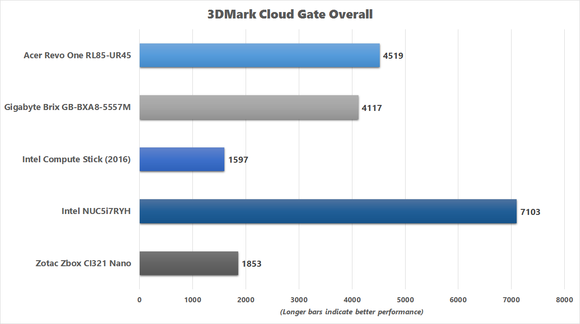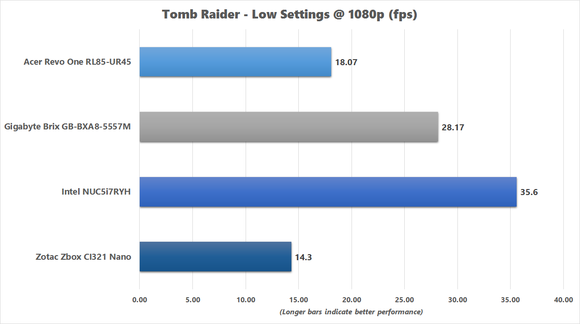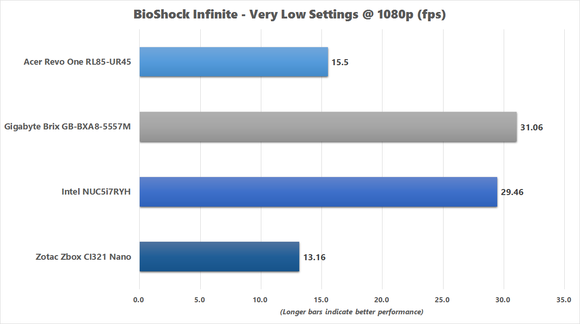 What you do get with the RL85-UR45 is blissful quiet. When you're waiting for a noisy machine to finish its tasks, it can feel like an eternity. The NUC isn't particularly quiet under load (and can become alarmingly shrill when heavily taxed), while the Brix is an aspiring jet engine when given a lot to do. While you can hear a soft hum from the Revo One as it runs, that sound is easily drowned out by speakers at very moderate volume. If you swap in an SSD as the primary drive, you likely can lower that to a bare whisper.
This Revo One also has much lower power consumption. Its max draw during our benchmarking tests was 34.4 watts, with an average in the high 20s under load. The Brix might be cheaper initially, but higher power draw and its longer processing times for certain tasks means it'll eat into those savings over time through electricity costs.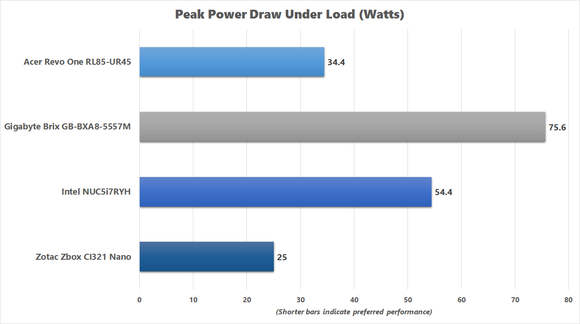 As for the included boot drive, the RL85 performs on par for an SSHD over a SATA 6Gbps connection. In CrystalDiskMark 5.0.2, it posted an average of 119MBps for sequential read speed and 114.8MBps for sequential write speed. While not particularly sluggish, it's still nice that Acer allows an easy swap of this drive for a faster SSD, if you're so inclined.
The killjoy that is bloatware
On the whole, the Acer Revo One RL85-UR45 brings together a very nice balance of performance, small footprint, upgradability, and minimal power consumption. You can of course find other systems that outdo the RL85-UR45 in a particular aspect: a faster processor, a quieter system, lower power consumption, lower cost. They don't trump this Revo One across the board, though, and for someone seeking their perfect, "just right" mini-PC, this system provides quite a bit of performance, features a chassis that accommodates an impressive amount of additional storage, and isn't outrageously expensive (particularly given that it includes a Windows license).
The Revo One even comes with included peripherals: for the US, a matching wireless keyboard and wireless mouse come bundled with the system. (For some territories, a remote will instead be the bundled accessory.) Admittedly, these freebies aren't the best you could use, as the mouse was uncomfortably tiny in my already small hands and the keyboard is mushy, but they make setup less of a hassle. Their inclusion also means two fewer things you must buy.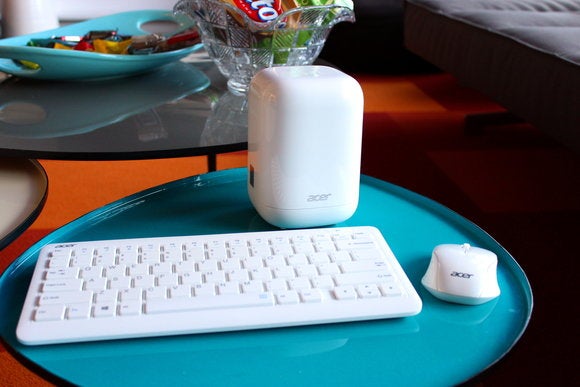 The only downside to the Revo One experience is the handful of bloatware you'll find on it. (It also doesn't come with any kind of relevant manual, but that will only bug sticklers like myself.) Among the detritus is a 90-day McAfee trial, Acer's cloud services, and shortcuts for Amazon and eBay. It could be worse, and a couple of the programs are genuinely useful—in particular, Acer's Revo Suite, which lets you use your phone as a remote control for the system—but this is one area where the bare-bones systems win.