Mere hours before AMD's big "Capsaicin" event from the Game Developers Conference in San Francisco, we're already getting a taste of the hotness to come. Monday morning, AMD and Sulon revealed the Sulon Q, a tether-free virtual/augmented reality headset that doesn't need the help of wires or external devices whatsoever, unlike the Samsung Gear VR, Oculus Rift, or HTC Vive.
That's because the Sulon Q ships with what's essentially a full Windows 10 PC packed inside of the headset, all up in your face. It's powered by an AMD FX-8800P APU with eight integrated Radeon R7 graphics cores, a built-in 256GB SSD, 8GB of RAM, a 2560×1440 OLED display with a 110-degree field of view, and 3D spatial audio. Connection-wise, it's rocking 802.11ac Wi-Fi, Bluetooth 4.0, micro-HDMI out, and a pair of USB 3.0 Type A ports.
The story behind the story: The idea of a wire-free all-in-one VR/AR solution is alluring, but the devil's in the details. Does all that internal hardware mean the Sulon Q will be excessively heavy, making you feel prone to tipping over? Will it make the headset unbearably hot? Will it be able to hit the magical 90-frames-per-second number in games? Or will it simply be awesome? We don't know the answers to these crucial questions yet.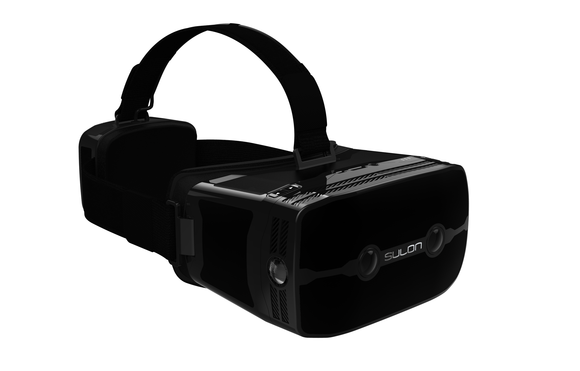 To the Holodeck, Sulon Q
Sulon calls the headset a "a powerful and lightweight all-in-one solution" capable of pumping out console-quality graphics, but don't expect this to be a heavy-duty VR gaming solution. Both the HTC Vive and Oculus Rift require the PCs powering them to rock a GTX 970 or AMD R9 290 or better, and the integrated R7 graphics inside the Sulon Q simply aren't in the same class as those $300 graphics cards. The headset can tap into the power of DirectX 12, Vulkan, and AMD's LiquidVR technology to boost performance on its humble hardware, however.
That said, there's a lot to like about the Sulon Q on paper. Because the headset packs all its hardware internally, you won't have to fuss with minimum specs, and wire-free VR is definitely superior to a tethered experience. It's nice to be able to wander around without worrying about tripping over a cord! Related, the company says the Sulon Q features "spatial redirection for endless virtual walks," using perceptual tricks to create expansive VR landscapes even within the confines of your office and living room.
The technology's assisted by a "Spatial Processing Unit" that taps into the cameras on the front of the Sulon Q to create safe virtual experiences in real time with the help of machine learning—and without the need for external tracking stations, it appears. "The Spatial Processing Unit is an innovative mixed reality spatial computer that provides real-time environment mapping and tracking from the inside outward, dynamic virtualization for VR/AR fusion, and gesture recognition," says Sulon.
Further reading: Why virtual reality is better than augmented reality for gaming
While the Vive and Rift are dedicated virtual reality devices and Microsoft's HoloLens is focused around augmented reality, the Sulon Q was designed for both. Beyond VR, the headset leverages the holographic capabilities Microsoft's building into Windows 10 to allow you to create virtual interfaces over your surroundings, Minority Report-style.
Look for the Sulon Q to launch sometime this spring for an undisclosed amount. Don't expect it to be cheap, though, as the Oculus Rift costs $600 and doesn't even feature internal PC components. You can tune in to AMD's Capsaicin live stream tonight at 7 p.m. Eastern/4 p.m. Pacific for a closer look at the device.