Having trailed behind both Intel and Nvidia in the PC graphics market in recent years, AMD is preparing to go all in on virtual reality.
AMD highlighted its VR play at the the Game Developers Conference this week in San Francisco, announcing a comprehensive platform that the chipmaker clearly hopes will evolve into an ecosystem.
AMD chief executive Lisa Su appeared on stage to announce that the company's two key market drivers would be to serve gamers as well as this emerging market of virtual reality. Radeon chief architect Raja Koduri then called this generation of VR the first iteration of the so-called "immersive era," where he anticipated a "more than 100X" increase in pixel rate in the near future, so that "in a few [years,] we'll be talking about 16K x 16K panels," he said.
"Combine the pursuit of photorealism and full presence and VR you need a 'million X' GPU," Koduri said, basically saying that there will be an insatiable demand for graphics horsepower for years to come.
AMD claims that a new dual-GPU Radeon Pro Duo will be the hardware that powers future VR content creation, using its existing LiquidVR software development kit. That content will include experiences co-developed with Crysis and CryEngine creator Crytek, and provided to universities and businesses under Crytek's VR First initiative. Finally, AMD claims that it powers 83 percent of the home entertainment VR systems used to actually experience that content, and announced a certification program to ensure that future devices meet its own standards.
AMD also announced a brief snapshot of its roadmap, including two new cores: "Vega" and "Navi," due in 2017 and 2018, respectively.
Why this matters: The numbers tell you why AMD is betting heavily on VR. According to Jon Peddie Associates, AMD's share of the overall graphics market slipped to 11.5 percent in the fourth quarter of 2015, versus 16.6 percent for Nvidia. (Intel, of course, dominates the remainder with its Core integrated processors.) In discrete graphics, AMD captured just 18.8 percent of the market during the fourth quarter, with Nvidia holding the remaining 78.8 percent.
AMD's Polaris GPU: The foundation of next-gen VR
Peddie was also the source of AMD's claim that its VR penetration topped 83 percent. But that's due to the fact that Peddie also counted "VR-ready" game consoles; AMD already powers the Xbox One, Sony PlayStation 4, and Nintendo Wii U, though only Sony has announced a VR headset, "Project Morpheus," due to ship in 2016.
What all this means is that AMD's PC processors—especially its upcoming Polaris GPU, which it showed off at CES in January—will be at the center of the company's VR push. AMD has positioned Polaris as a chip that can deliver the same performance as a "comparable" Nvidia part, but using substantially less power; the desktop system it showed off in January rendered Star Wars: Battlefield at 1920×1080 resolution at 60fps and consumed just 86 watts. At GDC, AMD showed off a new Aperture Science Robot Repair demo from Valve Software running on a Polaris system connected to an HTC Vive Pre VR headset.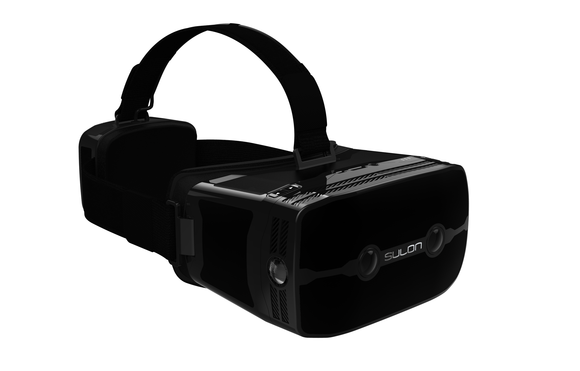 Over time, however, it seems that AMD will be encouraging developers to use the mobile versions of Polaris, which we haven't seen yet, but which will be increasingly useful as AR and VR devices become untethered. As a case in point, AMD called out the intriguing Sulon Q headset, which performs both augmented reality and virtual reality inside a single wearable device—sans power cord, even.
AMD emphasized, however, that it's working closely with VR makers Oculus and HTC, whose Oculus Rift and HTC Vive have dominated VR's early headlines. Both are using AMD's LiquidVR technology, according to AMD.
AMD's VR-ready certifications
Both of those devices must be tethered to an external PC to get the graphics horsepower necessary to make their VR come alive, especially in terms of the 90 frames per second needed to ensure a smooth experience. AMD also announced a pair of "certifications" to help users choose a system—powered by AMD chips, of course.
"Radeon VR Ready Premium" systems will contain Radeon R9 290-class graphics cards, AMD said, such as the HP Envy Phoenix. "Radeon VR Ready Creator" series will be the corresponding label for VR developers.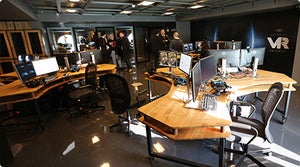 The latter certification will presumably be assigned to PCs seeded by Crytek, as part of its VR First technology initiative. The initial VR First Lab at Bahçeşehir University in Istanbul is already up and running in January of this year, AMD said.
Those labs will include PCs built with the new AMD Radeon Pro Duo graphics cards, AMD said. The Radeon Pro Duo is essentially two of its Radeon R9 Fury X GPUs shoehorned into one card. The price? An estimated $1,500, which will probably be out of reach for most consumers, but part of the budget for content creators.
Can AMD resuscitate its fortunes on the back of the virtual reality industry? For now, VR appears to be a niche market, and a rather premium one at that. But AMD has always marketed its chips as offering comparable performance at a lower power draw—and if untethered AR/VR headsets become a viable category, then AMD could be in a good position to fill demand.
Updated at 5:04 PM with additional details.