Though Microsoft released Windows 10 and its Edge browser about nine months ago, it has totally lacked the extensibility that other modern browsers have included for years. Microsoft's latest Insider beta of Windows 10, Build 14291 finally adds that back, along with a jumbo scoop of new features.
Windows 10 Insider Preview Build 14291 is actually available for both PC desktops as well as mobile phones, as long as they're in the Fast ring of updates. Unlike recent builds, which have focused more on bug fixes, the list of capabilities the new build adds is long: the Edge extensions, pinned Edge tabs, the updated Maps, Alarms & Clock apps, plus a new one-handed Japanese "kana" keyboard and text input canvas. Finally, there's the new Feedback Hub that Microsoft has promised for some time.
The most noteworthy element to the new build is the Edge extensions, though the new feature crumbles a bit if you look closely. That's because the Edge plugins are available only on the desktop, and they number only three: Mouse Gestures, Microsoft Translator and the Reddit Enhancement Suite, which was originally shown off last May. Just click on the More or ellipsis menu at the top right of Edge and click Get extensions to find them.
More are coming later this year, however, specifically popular plugins AdBlock, Adblock Plus, Amazon, LastPass, Evernote, and more. Microsoft said it's taking a slow and steady approach to extensions, simply because poorly coded extensions can be a back door into your browser. According to Drew DeBruyne, the general manager of Edge, they'll roll out first to Insiders, who can sideload them.
Why this matters: While its developers must be growing weary of the disdain for Edge, Microsoft's in it for the long haul. Edge falls short now, but we can be relatively confident that LastPass and others will be exploring whether they can add support for password management and other capabilities soon. Developers also must be encouraged that the significant release gives them a bit of momentum heading into Microsoft's Build conference at the end of the month.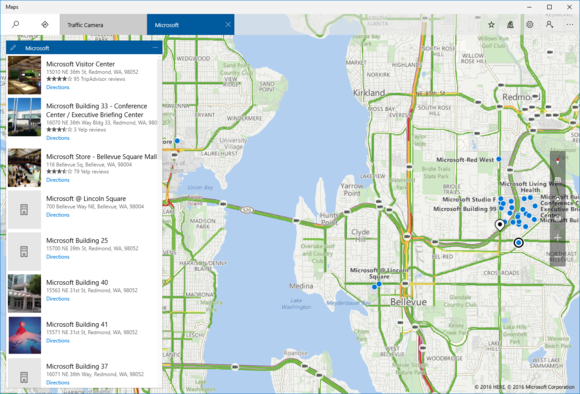 A refreshing rethink of Maps
In addition to adding extensions to Edge, the browser will now let you pin tabs, another feature its rivals enjoy. The advantage to "pinning" a tab is that it can't be easily moved or closed, an advantage if you mis-click while trying to find one among dozens of tabs. The next time you re-open Edge, the pinned tabs will return. Another convenience is "paste and go," so if you copy a URL into the Edge browser, you can launch it without needing to find that pesky Enter key.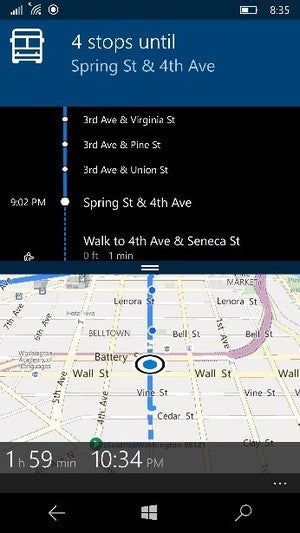 Microsoft's rethought Maps app, however, appears to be noteworthy in its own regard. Though Maps is a "universal" app, the app will behave somewhat differently on the PC and on mobile. The most important common improvement, however, is the ability to lace multiple searches on the same map—so you know which "hotels" are near which "restaurants," for example. Those searches will be named on the map, not numbered, too.
On mobile, Microsoft moved the navigation elements to the bottom of the screen, within easy reach of one's fingers, as it has done with the Edge browser. It reconfigured the "landscape" Maps mode to show more information. When you're on public transportation, Maps will show you the stops between you and your destination, and how many there are, too.
Microsoft added a one-handed kana touch keyboard for Japanese text typing, similar to what you might find on mobile. A related text-input canvas allows for inking Japanese characters with a pen.
Finally, Microsoft also reworked its Alarms and Clocks app with a new inline time picker, and added the promised Feedback Hub, where Insiders can evaluate the new features and provide suggestions directly to Microsoft.