This past January, I attended my first-ever CES, and witnessed a wide world of technological wonders: miraculously small gaming PCs, PC cases shaped like cruise ships, computers with hidden storage partitions that reveal themselves when you wave you hand, and more. But of all the things I tried, only one experience left me awestruck: Naughty America's virtual reality porn.
And now, if you've got a Google Cardboard or Gear VR headset in your hands, or a preordered Oculus Rift arriving next week, you can experience the wonder for yourself—for free.
WARNING: All links from this point forward are extremely NSFW.
Big-name pornography website Pornhub has partnered with BadoinkVR, an early mover and shaker in VR porn, to launch a new section dedicated to immersive adult videos, aka VR porn. (To be technical, the clips I watched—you know, for work—were a mix of 180-degree and 360-degree videos.)
"Virtual reality is the next phase in the constantly metamorphosing world of adult entertainment, and will provide users with a mesmeric experience unlike anything they've seen before," Pornhub Vice President Corey Price said in a press release. "Now, our users are not only able to view our content, but be protagonists in the experience and interact with their favorite porn stars."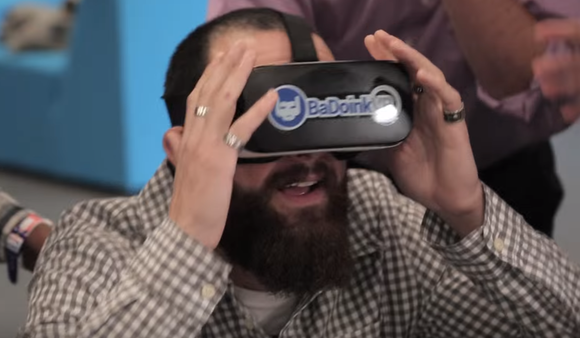 These aren't full videos, though. Instead, they're roughly five-minute-long trailers designed to hook you on the VR porn experience. If you want the full videos, you'll need to sign up for a subscription with BadoinkVR itself, which will unlock the service's full adult-video selection starting at $20 per month.
That's not cheap, but hey, testing the waters before you leap is what free trials are good for, right? You can check out Pornhub's free VR video selection here. (Sorry, ladies, the initial selection all skews toward male-oriented videos with female performers.) And if you're interested in trying out the experience but lack a VR headset, Pornhub's giving away 10,000 free pairs of branded Google Cardboard viewers here. BadoinkVR will also send a free headset your way if you sign up for a subscription.
Trust me: It's a wild experience. VR porn will blow your, er, mind—and steam up your VR headset's lenses.
Why this matters: Few people talk about it in the open, but porn's a major power on the Internet, and the industry's been at the forefront of pushing the adoption of new technologies for decades. Plus, watching 360-degree videos requires far less processing power than playing virtual-reality games, which need top-end PCs to run. Who knows? If VR truly goes mainstream, it might be due to offers like this instead of games. What remains to be seen is whether the major VR platform owners like Oculus, Valve, Sony, and Samsung embrace the adult side of virtual reality or if they'll attempt to lock down their ecosystems to make them more family-friendly.