For years, PC makers have tantalized us with visions of modular computing. Instead of making us rip open our desktop towers and weave through wires to replace a faulty hard drive or outdated graphics card, modular PCs have promised to make upgrades as simple as stacking Lego bricks.
Still, the grand concepts we've seen so far—including Razer's Project Christine, Acer's Revo Build, and the Micro Lego Computer—are impractical for a long list of reasons. The biggest is that no one wants to lock themselves into limited, proprietary hardware systems with no guaranteed upgrade path. It's a classic chicken-and-egg problem: No customers means no ecosystem, which in turn means no customers.
A couple of recent developments, however, provide hope that the modular PC dream isn't dead. The first is the rise of Intel's NUC desktops, a class of bare-bones machines that are now becoming as powerful as any decent desktop computer. The second is the creation of nonproprietary external graphics card docks, led by the Razer Core.
Neither of these efforts are as elegant as the Lego-like PC systems we've been promised in years past. But at least it's now possible to imagine a path through which the modular PC becomes more than just fantasy.
Breaking down the modular PC
Compared to a traditional desktop, the main advantage of a modular system would be convenience. Not everyone is comfortable rewiring a desktop system with new parts, and even people who know their way around a PC's innards may not find the effort worthwhile.
This is especially true when it comes to replacing the processor. CPU makers routinely change the socket design of their chips—Intel more often than AMD—which in turn requires a new motherboard. And replacing the motherboard is a major ordeal, requiring you to rewire everything from the power supply to the graphics card to the hard drive.
That's where Intel's NUC kits come in. These are bare-bones PCs with the processor and motherboard built-in. You have to replace them both when it's time to upgrade, but chances are you were going to do that anyway. Meanwhile, you supply your own operating system, RAM, and storage—in other words, the things you're most likely to replace individually.
Until recently, Intel's NUCs were limited to low-power, dual-core processors. But recently Intel announced a new version, code-named Skull Canyon, with a quad-core i7-6770HQ chip inside—the type of processor you'd find in a solid gaming laptop—and support for up to 32GB of DDR4 RAM.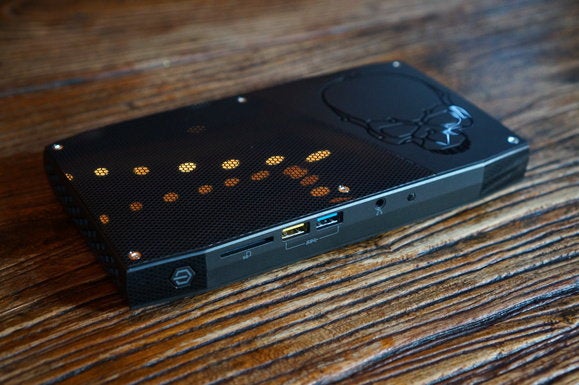 Why is this preferable to a traditional bare-bones desktop? It's all about size and convenience. Intel has cut out the space normally afforded to an internal GPU (more on that shortly), and uses small but speedy M.2 slots for solid state storage. The result is a compact machine that doesn't require any internal wiring, yet still allows easy upgrades for the parts that most likely need replacing.
Enter the external graphics card
In years past, a desktop PC without a graphics card inside would be a nonstarter for gamers, graphic artists, video editors, and anyone else who needs robust visual performance. But soon, it'll be possible to add a graphics card outside of the PC.
This month, Razer became the first company to offer a nonproprietary external graphics card enclosure. The Razer Core can hold any GPU up to 375W TDP, and connects to any PC with a Thunderbolt 3 input, including the aforementioned Skull Canyon NUC.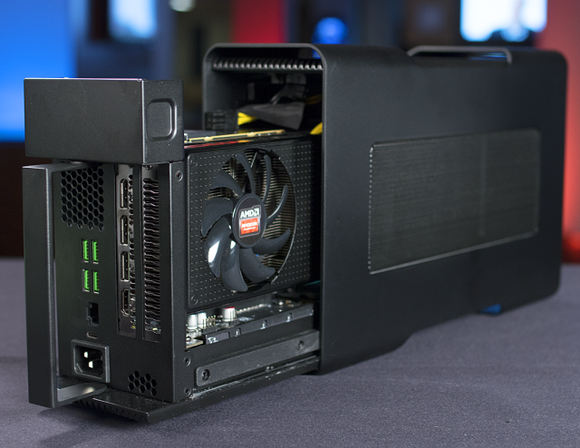 Put the pieces together, and you have a system that truly feels modular. RAM, storage, and graphics are all easily replaceable, and because the core system is small, the entire setup shouldn't take up any more space than a traditional desktop, and may even be more compact. To take the modularity even further, users could shuttle the external graphics card around to multiple desktops and laptops as needed, or swap between AMD and Nvidia cards to enjoy their respective features.
Building the future PC
Down the road, PC makers could latch onto this system and start streamlining it. You can imagine, for instance, a single dock that neatly arranges the core computing unit, the graphics card, and external hard drives, like an inside-out desktop tower. Perhaps the industry even starts devising standard connectors for these pieces that don't involve unsightly USB and Thunderbolt cables—Intel's vision for wireless computing could pay dividends here in due time. The result would look a lot like the modular concepts we've seen, but without all the proprietary enclosures.
Granted, this vision of computing isn't going to be for everyone. The most hardcore PC gamers might want to upgrade CPUs more often than every three or four years, in which case the socketed CPU is going to make more sense. And for now, dual graphics card setups aren't supported by enclosures like the Razer Core.
But keep in mind that modular computers aren't aimed at expert PC builders. They're for the average user who wants the benefits of a desktop PC—upgradable components, more power than a laptop—without the hassle. Wire-free desktops and external graphics cards pave the way for making this ideal a reality.