Someone call Guinness! HP's new luxurious Spectre 13.3 ultraportable could now be the thinnest laptop in the world.
The new Spectre 13.3, with its fancy cabinet-style, piston-driven hinges, and hand-polished gold trim, is just 10.4mm thick, HP says. To put that into perspective, I compared the Spectre's z-height against various other notably svelte laptops and tablet-with-keyboard combos, and the Spectre is thinner-er than them all.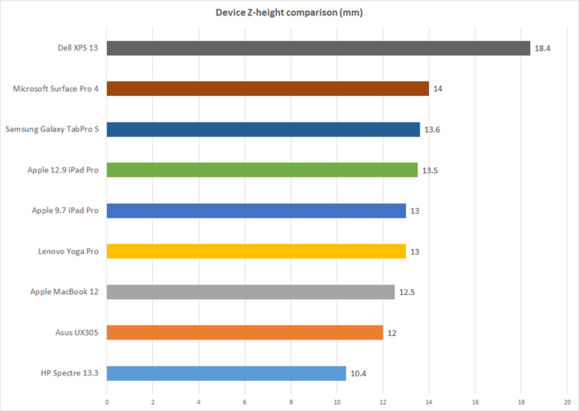 A 'hyperbaric chamber'
Even more impressive is the caliber of hardware HP packs into that uncommonly thin chassis. Keeping with the Spectre 13.3's upscale exterior, HP goes with Intel's Core i5 and Core i7 options rather than the Core m series. Of course, while Core m runs less powerfully, it also runs cooler.
To keep the Core i5/ i7 from overheating and thus actually performing like a Core m, HP says it designed the Spectre with a hyperbaric chamber. Two fans suck air through the bottom and blow it over the motherboard and CPU. It's then exhausted out the gold vents in back.
I'm curious how well the cooling setup will perform. HP says to expect reasonable performance given the form factor. I take that to mean it won't be fan-howling loud, nor will it be quite as fast as thicker laptops, such as Dell's XPS 13. As long as performance doesn't fall through the floor to the point where its Core i is meaningless, it should be OK. We won't know for sure until we get a review unit.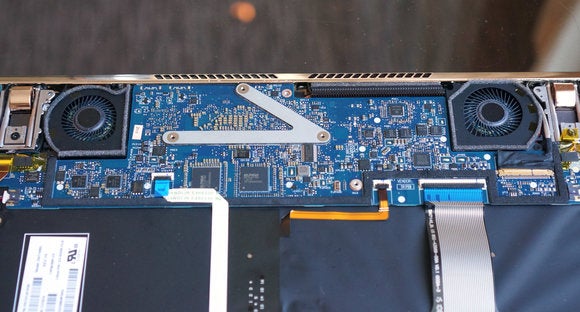 This hinge is cray-cray
The Spectre 13.3 boasts another interesting engineering feat, in the form of its unique, cabinet-style hideaway hinges.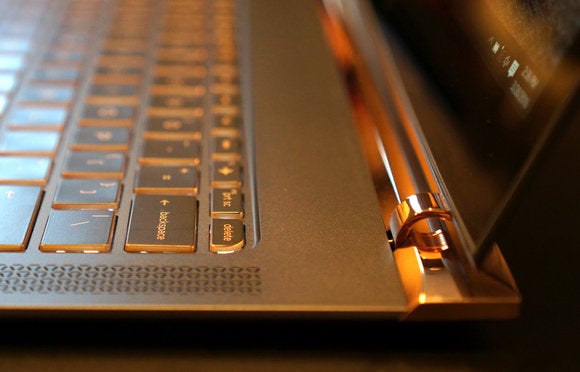 So here's the really cool thing: In order to give the lid enough enough resistance so it doesn't flop around, HP integrates two pistons on each hinge.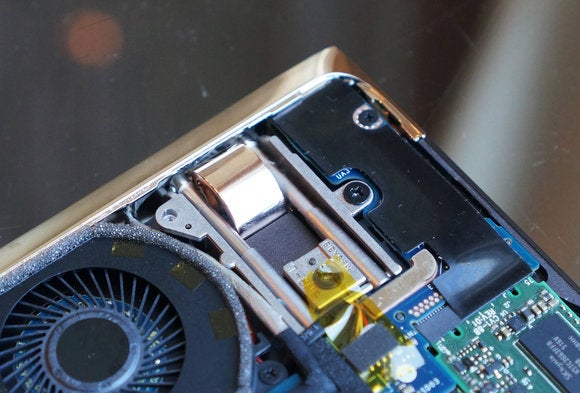 The Spectre's display is a 1920×1080 IPS panel protected by a sheet of Gorilla Glass 4. HP says that higher-res or OLED screens aren't options because they add thickness. That's also why the company left a touchscreen off the menu.
The rest of the system specs include 8GB of RAM and up to a 512GB M.2 PCIe SSD drive.
Ports and keyboard
Port-side, HP integrates no fewer than three USB Type C ports. Two support Thunderbolt 3.0 and USB 3.1 10Gbps, while the last is USB data at what I suspect is 5Gbps. All three ports support DisplayPort and charging via USB Power Delivery. HP officials didn't say whether the Spectre would support third-party chargers, but I suspect it won't. HP has been hyper-conservative about letting other company's USB-C chargers play on its laptops.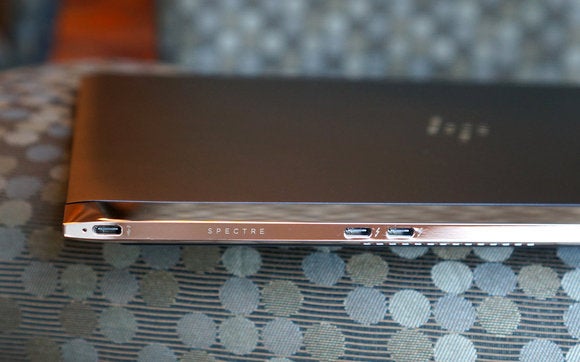 HP says the keyboard on the Spectre 13.3 offers 1.3mm of travel, which is pretty typical of a thin computer. Both the Dell XPS 13 and Microsoft Surface Pro 3 also make that claim. To my fingers, it's certainly better than the atrocious lack of travel on the Apple MacBook 12. The Spectre's trackpad is a standard piano-hinge, click-type unit with a glass surface.
Battery life
When companies make ultralight or ultrathin laptops, the first thing that usually goes overboard is battery life, as a sure way to reduce bulk. HP says it didn't want to compromise, so it used batteries of various thicknesses joined together to form a 38-watt-hour "fuel tank" for the Spectre 13.3. One that's capable of 9.5 hours of movie playback or 9.5 hours of Office tasks.
Apple uses a similar approach with its MacBook 12, but it goes one step further. Its battery contours and terraces stuff a 39-watt-hour unit into the smaller-but-thicker MacBook 12.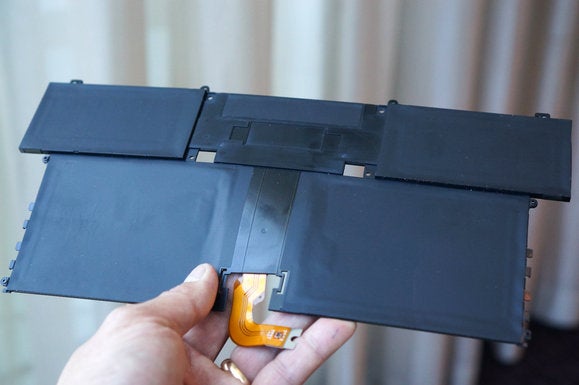 All that and a new logo
Another distinct feature of this laptop is the presence of HP's new logo, which is being rolled out with the Spectre lineup.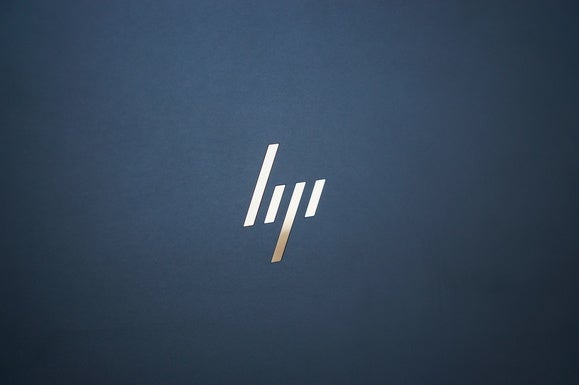 If you're wondering why the company doesn't put "Hewlett-Packard" on its laptops anymore, it's because it can't. After the company split in two, the PC maker is only allowed to use the HP initials. And with the new logo, those initials are barely recognizable.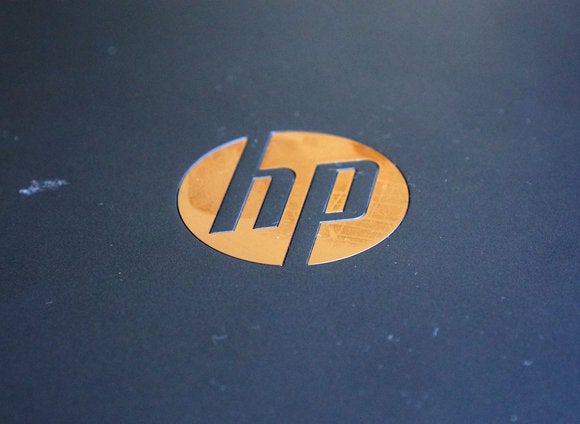 HP says the Spectre will go up for preorder on April 25, with a starting price of $1,169. It will be available at Best Buy stores on May 29 starting at $1,250. To see some over-the-top special-edition versions of the Spectre 13.3, which will be auctioned off for charity, click here.