EVGA was light on specifics while demoing its first gaming laptop at January's CES, but now the graphics card maker is revealing nearly all the details.
The EVGA SC17 is an aluminum-clad laptop with a 17-inch 4K display. It starts shipping in mid-April, and is up for pre-order now with a $2,700 price tag. Here's what all that money gets you:
Intel Core i7-6820HK CPU
Nvidia GeForce GTX 980M graphics with 8GB GDDR5 VRAM
32GB of 2,666MHz DDR SO-DIMM RAM (two 16GB modules)
256GB M.2 SSD, 1TB 7,200RPM HDD
HDMI and dual Mini DisplayPort output
Two USB 3.0 ports, 1 USB-C port
White backlit keyboard
1.05-inch aluminum chassis, weight 8.14 pounds
The only spec EVGA still isn't talking about is battery life. It'll probably be all over the place depending on use, but some sort of ballpark would be nice.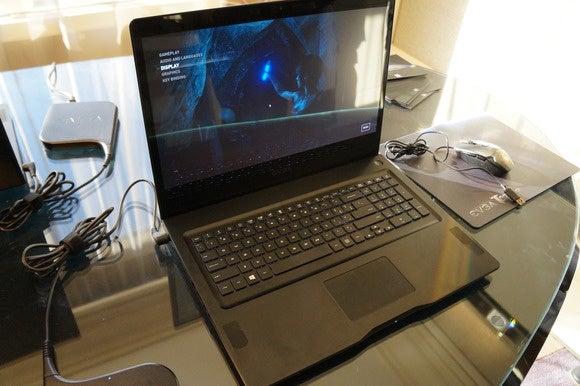 Beyond the raw tech specs, EVGA is boasting about the SC17's overclocking features, including a BIOS with a full graphic interface and mouse controls, a push-button "SuperClock" mode, and granular controls over CPU multipliers, voltage, memory timing, frequency, and GPU overclocking. The laptop was also notable for its cool and quiet operation, even while gaming, during our CES hands-on time.
There's just one potential snag: The SC17's 4K display does not support Nvidia G-Sync, which helps combat stutter and tearing by keeping the screen's refresh rate in step with the game's framerate. EVGA previously told PCWorld that it's working on a G-Sync variant for later this year, but for now it's a curious omission from what otherwise looks like a top-notch gaming laptop.
If you're undeterred and have the money to burn, EVGA is throwing in one of its X10 gaming mice while supplies last, along with a copy of Ubisoft's The Division, so there's that.
Why this matters: EVGA's first attempt at building a PC is a big deal in its own right, but in general, laptops with 4K displays are still a rarity, and the use of unibody aluminum is practically unheard of on top-of-the-line spec beasts. It's certainly a splashy entrance for a company whose hardware tends to live under the hood.