The same day that Microsoft painted a vision of a future infused with helpful chatbots, you can already start planning trips with one—though it has nothing to do with the company that created Windows. Instead, Facebook announced that Dutch airline KLM would integrate with Messenger to deliver your confirmation message, boarding pass, and check-in reminders inside a single conversation thread. Messenger's KLM integration can also help you rebook flights and communicate with a live customer service representative.
"Goodbye forgetting the combination of your frequent flyer alphanumerical number and password to obtain your boarding pass, and holding for a long time on the phone to change flights. This is a new day for all of us global travelers, and KLM is paving the way," Facebook's messaging chief David Marcus said in a post on the social network.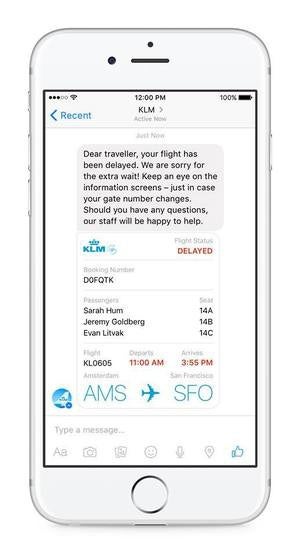 Why this matters: Facebook announced its KLM partnership the same day that Microsoft said it would get into bots for Skype in a big way as part of a larger push for virtual assistants powered by cloud-based machine learning. The two companies see automated bots as the future of basic customer service, though Microsoft's vision is more comprehensive. Facebook's vision lets you organize your flight or order an Uber, while Microsoft wants Cortana to communicate conversationally with bots to help you organize hotel or restaurant reservations. Similar to Facebook, Microsoft's bot vision includes Skype and conversation threads inside the app.
A long road
Facebook's move to make Messenger more useful has been ongoing for about a year now. The push for bots, however, is new. TechCrunch reported in January that Facebook was providing access to a previously unannounced Chat SDK to "build interactive experiences and 'bots' in Messenger for shopping, booking travel, and more."
The Messenger-KLM integration is rolling out now, but it will take a few weeks before it is available to all users.