An easy way to divide a room of Windows 10 fans is to start debating the merits of the tiles section in the new Start menu. Some people love it, others don't. Personally, I think Live Tiles on a PC can be helpful for quick hits of information like the weather, news headlines, and stock prices.
That said, lately I've been playing around with a tiles-free version of the Start menu. It's very minimalist and forces me to make some hard choices about what I put on the taskbar. That's because when you give up the Live Tiles section, you have almost zero control over the rest of the Start menu. Nevertheless, right now I'm finding it useful and you might too.
It's that easy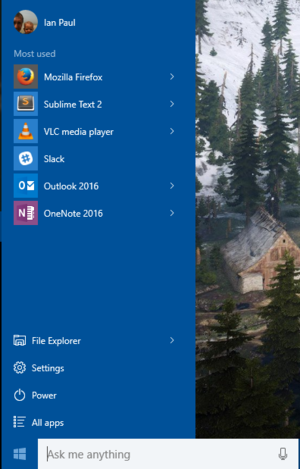 Open the Start menu, right-click a tile and select Unpin from Start. Now do that for every single tile on the right side of the Start menu. As you get rid of the tiles, the named sections will start to disappear until there's nothing left. Once all the tiles have been removed, close the Start menu by clicking another spot on your desktop. Then open the Start menu again and you should see something similar to what's pictured here.
That's all there is to it. You now have a kind of a modernized take on the Windows 95 and 98 Start menu.
The downsides
The good part of adjusting the Start menu this way is that you remove the Live Tiles and end up with something much simpler. The downside is you can't adjust the left side (now the only side) of the Start menu.
What I found when I did this is that the Most used section of the Start menu is actually useful. Most of the programs I use every day are there. I'm not sure if that's because Windows 10 adjusts what it puts there in the absence of the tiles section. Or it was always this useful and I simply ignored it. Whatever the reason, you may find that a lot of the apps and programs you use every day are available to you under this section.
If not, you do have a few choices: You can accept that you'll have to dip into the All apps screen in the Start menu, or you can pin a few programs to the taskbar.
If none of that works, you can also look at using third-party options such as ClassicShell and Start10.
What I don't know, however, is whether this slimmed down Start menu will survive a major Windows update. It could be that Microsoft will stuff the Start menu again later this summer with the Anniversary Update. If it does, at least it won't be that hard to go back to a simpler version.