At a Glance
Expert's Rating
Pros
Sturdy construction
Good performance
Inexpensive
Cons
Display brightness on our unit was a low 198 nits
Mediocre battery life
Our Verdict
HP's Chromebook 11 G4 has a few clear advantages over other low-cost 11-inch Chromebooks. It has sturdy build quality thanks to its educational bent, and it posted strong numbers in our benchmarks compared to similar machines. Its display is nothing special, nor is its battery life, but it's still a solid buy.
HP's Chromebook 11 G4 has a dull-gray shell that screams, "bulk education purchase" more than "buy me." Precisely because this school-oriented model can bang around in backpacks, however, it could teach its consumer Chromebook cousins a thing or two about build quality. Add to that some impressive performance numbers, and it's one of the few 11-inch Chromebooks I'd be willing to recommend.
Let's talk about construction first, as that's been my complaint with many low-cost Chromebooks in the past. The Chromebook 11 G4 ($199 MSRP, currently available on Amazon for $166) has a plastic lid that you could bend a little if you tried, but the thick bezel around the 11.6-inch screen keeps it from feeling rickety. Long rubber strips around the edge of the bezel protect the display from the keyboard when the unit is closed. The 1366×768 display itself is unremarkable, with limited view angles due to the SVA (symmetrical vertical array) panel, and a tested brightness level of only 198 nits.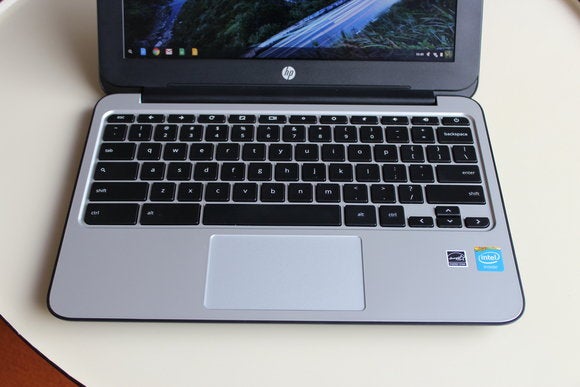 A wide, sturdy plastic hinge connects the display to the main part of the unit. The main unit, with a thick plastic bottom shell and an aluminum tray for the keyboard, feels weighty and has no give.
The keyboard has a well-spaced, chiclet-style layout. The plastic keys feel harder than I'd like for a day's worth of typing, but the travel has a little bit of give—I don't feel like I'm jarring my fingers.
A few new buttons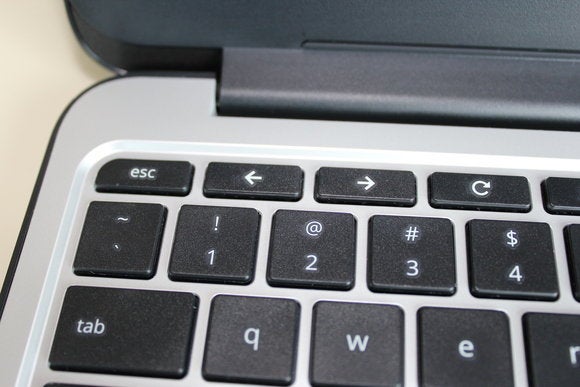 I don't always like how Chromebooks mess with a standard keyboard layout, but the three keys that appeared on the top row of the Chromebook 11 G4 are actually convenient. Tuned to a browser-based life, they let you go forward or back on a webpage, or refresh the webpage, with a keystroke.
The smallish trackpad is responsive to strokes and taps, but the clicks seemed stiff. I preferred to double-tap than make a physical click.
Connectivity includes an SD card slot and two USB ports—one USB 2.0, and one high-power USB 3.0 with charging capability. You also get HDMI and a combo headphone/microphone jack. Intel's Dual Band Wireless-AC 7260 provides 802.11a/b/g/n/ac Wi-Fi and Bluetooth 4.0.
Intel's 2.16GHz dual-core Celeron N2840, a staple of Chromebook configurations, lies at the heart of the Chromebook 11 G4. Our unit also includes 4GB of DDR3L-1600 SDRAM and a 16GB eMMC drive for storage.The unit's weight is average, starting at 2.83 pounds depending on configuration.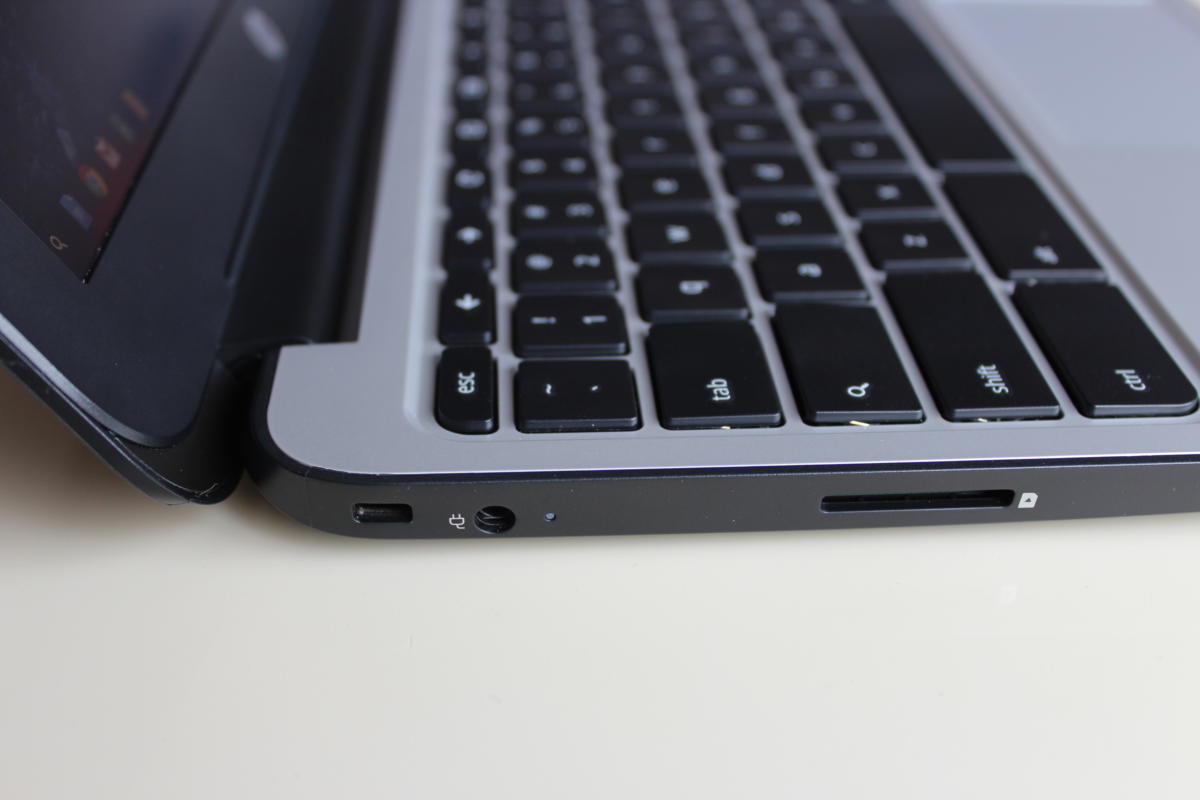 Performance
Perhaps because it was running a newer version of Chrome, the Chromebook 11 G4 performed better than similarly configured competition in most tests.
Google's Octane 2.0 Javascript benchmark pushes hard on more advanced browser-based activities, including productivity applications, games, and interactive content. The Chromebook 11 G4 finished way out in front.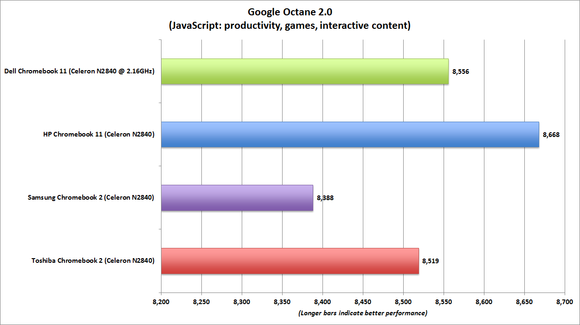 Browsermark 2.1 specifically measures graphics and computational performance within the browser. Once again, it finished way out in front.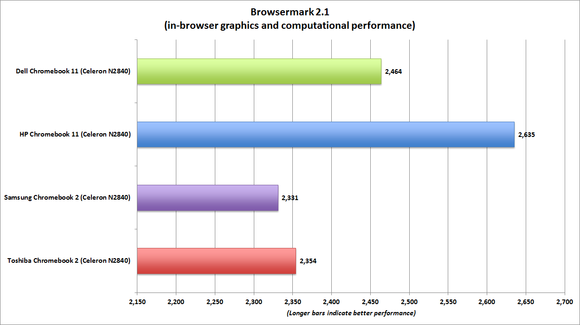 The Chromebook 11 G4's margin narrowed on our last benchmark, though it still led the pack. The cr-XPRT performance test measures Chromebook performance in basic productivity tasks as well as more demanding activities, such as watching movies or playing games.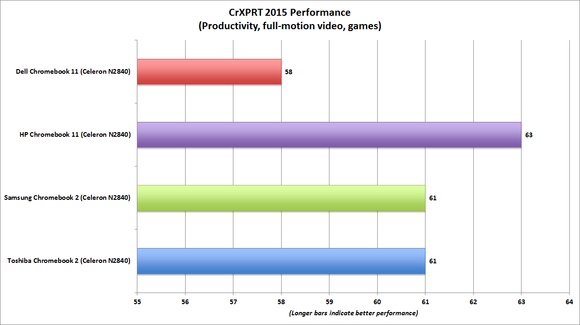 Battery life was the one slightly dimmer spot on the Chromebook 11 G4's record. The laptop's 3-cell, 36WHr battery is on the small side to begin with. Using cr-XPRT 2015's expected battery life projection, it lasted seven hours and change, a little shorter than the Toshiba Chromebook 2 but hours behind the rest. It's mediocre rather than bad, though, so just bring the AC adapter with you—it's not too heavy.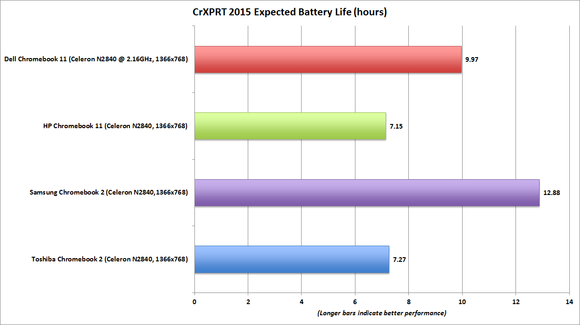 A truly solid buy
The HP Chromebook 11 G4 offers clear advantages in quality and performance over other small Chromebooks we've tested. It doesn't matter that it's designed for students—anyone who's made a commitment to the Chrome ecosystem will appreciate this sturdy and affordable laptop.