Phew, virtual reality is officially "A Thing" now, with the HTC Vive launching this past week and the Oculus Rift launching the week prior. Me, personally? I'm glad to take a break from strapping a headset over my eyes. I'm not quite ready to live in the Metaverse full-time yet.
So instead I'm rounding up the gaming news from April 4 – 8. This week: A member of the House of Representatives incurs $1,302 in Steam purchases in his campaign funds, IKEA makes the definitive VR experience, and Dark Souls makes Ben Affleck sad.
I would walk 500 miles
I love Banner Saga trailers because for a brief moment it's like I'm getting prepped for a long-lost sequel to The Last Unicorn, then it's like "Oh yeah, turn-based combat stuff," and then it's majestic shots of people walking in a convoy.
And…that's pretty much The Banner Saga. The sequel's out in two weeks, which means it's time for a launch trailer. Or a pre-launch trailer.
Fig-get about it
Well, the Rock Band 4 PC version collapsed about halfway to the finish line. After announcing a crowdfunding campaign last month, the PC version raised little more than half its goal, which Harmonix has taken to mean "There doesn't seem to be enough of an audience to make Rock Band for PC a viable project for us right now."
I don't know if that's quite true. I think the bigger issue is that there's considerable skepticism about crowdfunding campaigns, especially when they come from seemingly-well-established developers like Harmonix. But whatever. Buy the console version, I guess. Or grab Phase Shift.
Rise from your grave
I thought Fable Legends was dead and buried alongside Lionhead, but apparently that's maybe-possibly-perchance not quite true. Sources told MCV this week that former Lionhead staff are being asked whether they'd consider working on Fable Legends as an independent studio.
This isn't totally shocking, given how close Legends seemed to release. But we'll have to see what happens. Microsoft refused to weigh in, which means we likely won't know for a few weeks at least as the finer details of Lionhead's closure are worked out.
Flurries
This year marks Blizzard's 25th anniversary, which could make for a crazy BlizzCon. If you're interested in celebrating Blizzard's birthday (old enough to rent a car) with them, then you'll be interested to know BlizzCon tickets go on sale April 20 at 7 p.m. Pacific and April 23 at 10 a.m. Pacific. (The convention itself is scheduled for November 4-5 this year.)
Expect lots of Overwatch, much Hearthstone, some World of Warcraft, and…maybe a surprise? Warcraft IV? We can only hope.
Oh, legal teams
In less positive Blizzard news, it came out this week that the company began legal action against Nostalrius—a private (meaning not-strictly-legal) World of Warcraft server that aimed to emulate vanilla WoW. As someone interested in game preservation I find this a shame, but Blizzard undoubtedly looked at the soaring player rates (Nostalrius had over 800,000 registered accounts, apparently) and said "Those users should be paying us money."
Virtual meatballs
Earlier this week we published a list of my favorite HTC Vive experiences. And it's a good list—except for one major omission.
See, I didn't realize that on the Vive's launch day, April 5, it would be IKEA—yes, the Swedish furniture chain—that would drop the hottest virtual reality experience. It's true, though. Vive owners can head to Steam and download the IKEA VR Experience, which allows you to walk around a virtual kitchen and open drawers and stuff.
Also there's this incredible tagline: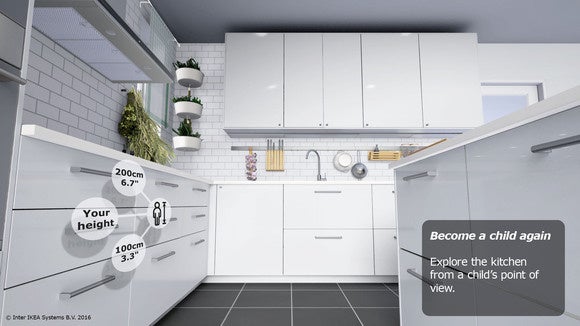 I wish, IKEA. I wish.
A different type of dark soul
I don't know who's running the Dark Souls III marketing campaign but they are nailing it. Last week there was an '80s B-movie styled trailer that I fell in love with. This week, Ben Affleck. The "Sad Ben Affleck" video that cropped up after Batman v Superman has now been repurposed for Dark Souls III and it's pretty damn great:
When you really think about how much you've enjoyed #DarkSouls over the years.https://t.co/eNadvNR8UL

— Dark Souls (@DarkSoulsGame) April 7, 2016
Steam Sales are a problem
Normally the IKEA lunacy or the Dark Souls III video would be crazy enough to close out the wrap-up, but this week we've got California's own Representative Duncan Hunter, who's being questioned by the FEC about $1,302 in charges on his campaign finance disclosure…stemming from Steam.
Apparently at least one purchase was mistakenly made by his son, but Hunter claims later charges were unauthorized, and thus he hasn't paid back the account because the exact number is still in dispute. Hopefully it was all spent on Team Fortress 2 hats and 1,000+ copies of Bad Rats. (Via the San Diego Union-Tribune)
We'll be back next week with more gaming news.