Apple and IBM's enterprise partnership has yielded 10 new apps, including one that targets business travellers and others that make use of predictive analytics and iBeacons.
The companies said last July they were working together to build apps for industries like health care, retail, and insurance. IBM also said it would sell and support Apple hardware.
The first 10 apps came out in December, with further batches following in March and April. With the latest announcement, the companies have launched almost three dozen apps.
There are four in a new category called "employee experience." The Travel Plan iPhone app helps workers plan business travel by reviewing their calendar and identifying possible trips. The app can also look over a person's travel history and suggest bookings for things like hotel accommodation.
The Travel Track app, which works on the iPhone and Apple Watch, gives business travelers their itinerary. The app provides time- and location-based push notifications on items like meeting times and when a flight starts boarding. The app also uses analytics to figure out co-workers who are on the same trip and connects them.
The other two employee apps are Shift Track and Shift Sync. They both target businesses with hourly and shift workers, such as restaurants. The Shift Track app, for iPads, lets managers review employee schedules and make changes based on when coverage is needed. Managers can also reply to vacation requests.
Shift Sync for the iPhone and Apple Watch lets employees view their schedules, trade shifts and submit vacation requests. The app also displays available sick days and vacation days.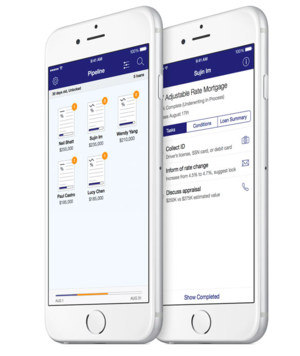 With Loan Advise, mortgage officers can use an iPad to gather client information in real time and offer more personalized loan information. The Loan Track iPhone app lets mortgage officers review loans being worked on and see what's needed to complete the application. The app uses analytics to prioritize what loan applications to work on based on how likely they are to close.
Expert Resolve for the iPad is for field workers completing repair work on devices like cash machines. A worker could pull up previous work completed on a machine as well as common problems with the device. Workers can use the camera to take pictures of a broken machine or use FaceTime to contact colleagues if extra help is needed.
Asset Inspect, an iPhone app, uses predictive analytics to suggest why a piece of industrial equipment, like a transformer, isn't working and offer repair advice. The app gives technicians updates on new jobs, weather conditions and work site hazards.
Safe Site is for the iPhone and lets people at job sites report unsafe working conditions. The app uses iBeacons to notify workers when they're approaching a reported work site hazard.
Finally, Field Inspect, an iPad app, lets government inspectors conduct inspections and file findings to the proper agency. An inspector can use the iPad's camera and microphone to document inspections, and the app recommends actions based on data from previous inspections.
IBM and Apple haven't shared many customer details or if the partnership has proven lucrative. One customer is the Japanese government, which is providing iPads outfitted with customized apps to the country's elderly population to help them manage their health. Apple CEO Tim Cook has said he sees the deal with IBM as a way to revive slumping iPad sales.