Imagine you've got a (DRM-free) movie saved on your PC and you want to watch it on your Android tablet. There are numerous ways to transfer that movie, such as a USB cable, AirDroid, or BitTorrent Sync. But all of those solutions require you to take action on your PC, and since it's Friday and you're already on the couch and your PC is all the way upstairs…forget it.
Well, not if you've embraced the magic of free Windows folder sharing. With this built-in feature enabled, that movie is only an app download and a few taps away.
This post is a little meaty, but the process is very quick and simple—it just takes a while to explain.
Here's how I did it on Windows 8.1—Windows 7 users will follow a similar if not identical process.
Sharing time
First, you need to set-up your folder for sharing. It doesn't matter if you're sharing a folder on your internal hard drive or an external drive hooked up to your PC. Either will work.
For our purposes we'll call the folder to share Movie Night.
The first step is to make sure that you're set up to share folders with our home network. Open the Control Panel with the Large icons view selected. Then click Network and Sharing Center > Change advanced sharing settings.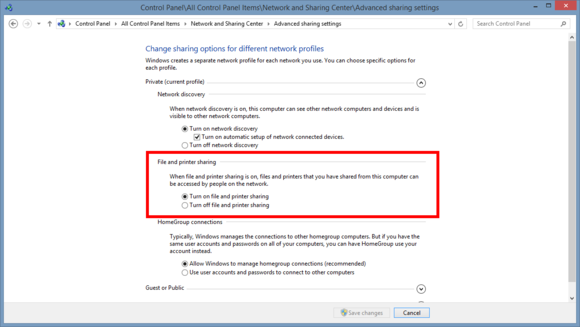 Now under Private (current profile) > File and printer sharing, make sure the radio button is selected next to Turn on file and printer sharing. Then click Save changes and you're done. Don't enable the same option under Guest or Public, as that will potentially open your PC to anyone when you're on a public Wi-Fi network. That's bad.
Now open File Explorer and navigate to the folder you want to share. Right-click the folder and select Properties. In the next window that opens, click on the Sharing tab and then select Advancec Sharing…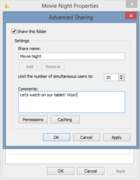 Next, click the Share this folder check box, hit Apply and OK.
We're done with the one-time setting for that folder on the PC side. On to the Android tablet.
Tablet access
For this next part, you'll need a file explorer app and both your PC and tablet on the same Wi-Fi network. The easiest file explorer app to use in my experience is ES File Explorer, but there are many others to choose from.
Once it's downloaded, open the app in landscape view (turn the tablet on its side) and from the left-hand menu scroll down and select Network > LAN.
If you don't see anything on the next screen, hit Scan at the bottom of the display and give the app a few minutes to probe your network.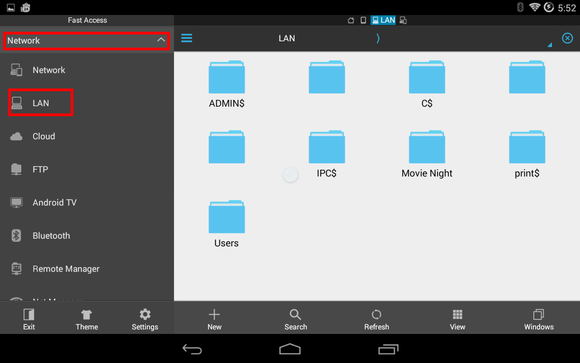 Eventually you should see the name of your PC appear (and probably your Wi-Fi router as well). Tap your PC name, and when prompted, enter your regular Windows username and password. I wouldn't let the app remember my password, but it's your choice. There is a way to ask Windows not to prompt for a password, but in my experience this feature isn't as reliable as just typing in your credentials.
Once you've logged in, you'll see a bunch of folders from your PC. Ignore everything but the Movie Night folder you intended to share. Tap it and everything contained in that folder should be available to you.
Now you can choose to either stream the movie over your home network or download it straight to your device.
Enjoy your in-network remote access, straight from your couch—but remember this feature only works when your PC is switched on and awake.