Rejoice, Windows fans. Windows 10 is finally here and it's chock full of fancy new features like Cortana, Task View, windowed modern UI apps, and the return of the Start menu. But despite the excitement—and the free upgrade for Windows 7 and 8.1 users—not everyone is willing to make the jump to Microsoft's latest and greatest operating system.
Last week, we asked for input from anyone who was planning to pass on the Windows 10 upgrade. After culling through a ton of email, website and Facebook comments, as well as an active thread on Sevenforums.com, we talked to many Windows 7 and 8.1 users who won't be joining the Windows 10 party.
Why? For some, the move to Windows 10 would mean losing key functionality or legacy software.
For others, it comes down to the old axiom of "if it ain't broke, don't fix it." Microsoft is no longer delivering feature updates to Windows 7, but will continue to support the operating system with security patches until 2020. Windows 8.1 mainstream support ends in 2018.

But with Windows 10, there is something that goes much deeper than a preference for older systems versus the look and feel of the new OS. Many users simply don't trust Microsoft's new way of doing business, or are wary of what the switch to Windows 10 means. For example, there are concerns about the recently discovered forced updates for home users, and fears of a potential subscription model for Windows.
Read on to discover why everyday users like you and me are deciding to skip the Windows 10 upgrade party, straight from their own mouths.
It's fine the way it is
If you ask me—and a lot of other PCWorld writers—Windows 10 is a great OS and well worth the upgrade. But just as we saw with Windows XP users last year, there's a cadre of Windows 7 and 8.1 users who don't see the need to move on. Why mess with something that's stable and working perfectly, after all?
"I work full time and want the home IT world to be as trouble free as possible," says Dan Yurman, a project manager based in Ohio. "I do not want my OS experience to be a high wire act. The OS should be dull, unexciting, and just do the job of making sure the hardware can talk to the applications and vice versa." Yurman's plan is to bring Windows 10 into his life as the three PCs in his home need to be replaced. He had originally hoped to move one laptop to Windows 10, but the current upgrade snafu surrounding Nvidia GeForce drivers has him thinking twice.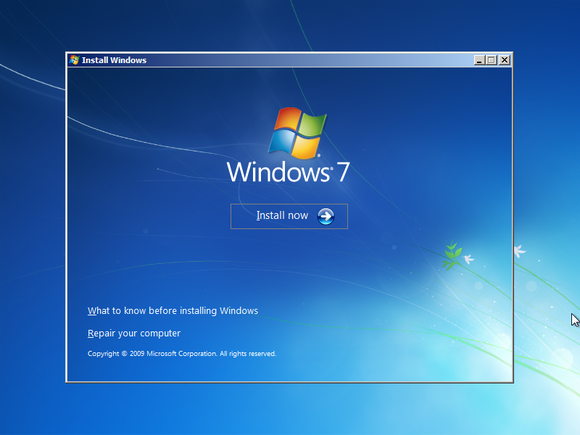 "Windows 7 is simply beautiful. I love to look at it every day, and I know where everything is in Windows 7," says Paul Citro, a library specialist from Florida. "Windows 7 meets my needs. I see no reason to stop using it."
It's not just Windows 7, either. Some people are sticking with Windows 8.1 despite the advantages of windowed modern UI apps and the return of the Start menu. Ironically, Start menu replacements such as Classic Shell and Start8 are often cited by these folks as the reason for passing on the upgrade. Matt James, a Northern California-based retired middle school teacher and self-described hardcore gamer sums up the sentiments of Windows 8.1 holdouts: "I love Windows 8.1 now that I added a program that returns my Start menu and got rid of the Metro junk. It now works like Windows 7 and has the good things that are part of Windows 8."
The death of the HTPC
A lot of people out there are not willing to give up on Windows 7 because of Windows Media Center—Microsoft's entertainment PC software. Microsoft released an updated version of WMC with Windows 7, but only kept the old version for Windows 8 and 8.1. Then in May, Microsoft gave WMC its marching papers, saying the aging software would not be compatible with Windows 10.
"Windows Media Center is vital to my home theater experience on my four TV-attached PCs," says Gayle Snedecor, a chemical engineer based in Houston, Texas. "They all cooperatively record all I ask them to on four network attached ATSC tuners and four satellite boxes, then share what they've recorded to the other ones. I can stream Netflix, Hulu, YouTube, etc. through add-ins. I have screensavers of all my family photos, and have my 30,000 tune library immediately available on either one. I have access to all my movies through ripped DVDs and Windows Home Server."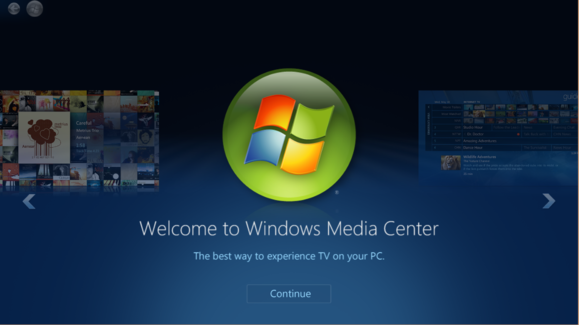 Eric Dunn of Stafford, Virginia offers a similar set-up.
"I use [WMC] with a six tuner card and a cable card from my provider of choice," he says. "I can then stream directly (even locked programs, like HBO) to any Xbox in my house. I effectively have four HD set top boxes in my house without having to pay the $15-$20 for each of them. I can expand how much I want to record by simply adding external terabyte drives to my set up. That doesn't even get into the portability of the shows, the ability to get add-ons that will edit out commercials if you wish, how you can modify the fast forward/instant rewind times, and how intelligent WMC is in recording shows you may have missed at the next opportunity."
Nearly 25 percent of people we talked to via email cited WMC as the biggest reason not to move to Windows 10. That likely doesn't reflect WMC's popularity on a global or even national scale, but among the enthusiast community WMC is clearly a big deal.
Further reading: Here's what Windows 10 won't change: Windows 8's plans to tie you to Microsoft services
The PC is not a phone
Let's be honest: Full-screen modern UI apps on Windows 8 and 8.1 just never worked on keyboard-and-mouse PCs. Microsoft improves that in Windows 10 by bringing back the Start menu and allowing apps from the Windows Store to run in a regular desktop window.
Nevertheless, some users just don't want to see the modern UI at all. "Live tiles are a deal killer for me," says Mike Winkler, an author and security technology specialist. "They are not just a bad feature, they are actively harmful to my PC experience."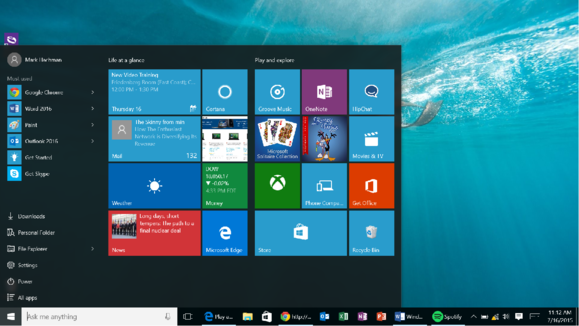 Winkler says his most "mission critical" piece of equipment is a Windows 7 desktop with a multi-monitor set-up, and he doesn't want the built-in distractions that live tiles offer. "Microsoft is making the terrible mistake of thinking we want to use our laptops, workstations, and tablets for the same things," he said.
"It just doesn't feel like one unified, smooth experience," Hawaii-based computer technician and DJ Grover Inks said. "Why couldn't they have just improved the stability of Windows 7 and started adding things like the app store and new features but kept it feeling like one system?"
About those updates…
Unlike previous versions of Windows that always had a "finished" gold version, Microsoft is moving to a more iterative process, where feature updates and tweaks are continually rolled out.
But that works only if as many PCs as possible stay current with the latest updates. To that end Microsoft is doing something really new by limiting the ability of home users to decide when and how they update their machines. Windows Pro users can delay updates for up to eight months, but home users are stuck with near-immediate updates.
Many people hate this idea, particularly with Microsoft's history of bad updates that bork your system—not to mention the principle of user control. "I'm not opposed to any updates to any apps/OS's but one thing I do demand is that I control when and what those products update to," Richard Foulkes, a retiree from Mesquite, Nevada told us.
"I don't want Microsoft to force things on me that I might not want," says William Dancosse, a retiree in Vernon, Connecticut. "There has to be millions of others who feel the same way."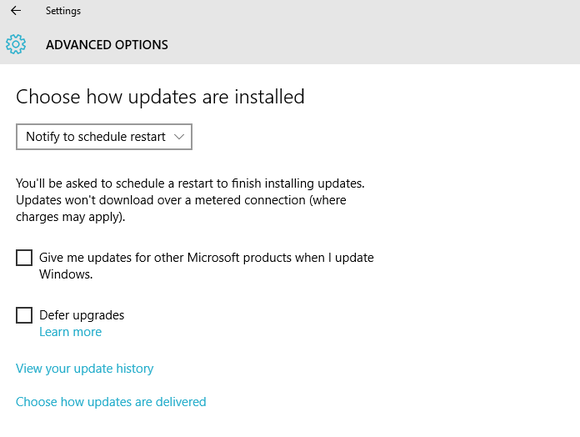 Some users fear Microsoft's forced updates could hit them right in the pocketbook. "I have a lot of rural customers on satellite that won't upgrade unless Windows updates can be scheduled to download between midnight and 5 A.M. when their data allowance isn't hit," Florida-based John Warren, told us on Facebook. "Even with Windows 7 you have to turn off auto-updates and schedule a script to run manual checks during off-peak hours."
Bruce Crellin, who spends a lot of time traveling the country in his RV, offers a similar story. "We have a 10 gigabyte per month data plan split between two laptops and two smart phones. If I can't control what Microsoft pushes out to us, I could get stuck with overage charges. Unless they back off automatic updates, I have no interest in Windows 10."
Concerns that Windows 10 will kill data caps may pass in the coming months, as people get more hands-on time with the new OS. Windows 10 users on a metered connection can choose when to download updates. For some connections, Windows 10 will automatically detect when it's metered, but you can also manually set your Wi-Fi connection as a data-capped connection.
The misunderstanding about how updates work should be blamed squarely on Microsoft, which hasn't been as forthcoming as it should be with minor but important details like this.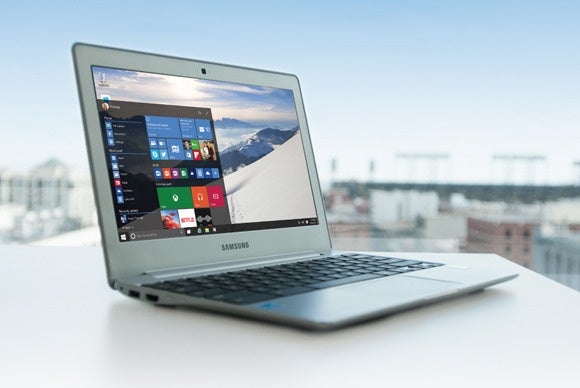 Poor communication isn't uncommon for Microsoft's Windows 10 push. Take the company's reluctance to comment on how long we can expect to see Windows updates on individual machines. Until last week, the company only said that updates will roll out for the supported lifetime of your device. The truth is more traditional.
Subscriptions?
That failure to communicate isn't just annoying, it results in comments like those from Joan Mitchell, a former payroll clerk living in the southern U.S. who sees a subscription model looming for Windows 10, similar to what Microsoft offers with Office 365 for home and business. "The only advantage I see to having the subscription model [for Windows 10] is so that Microsoft can bilk more money out of their users," Mitchell said via email. "There is no way I will ever pay a monthly fee to use any software."
"I know they say it's not going to happen, but it would be an easy step to make this a subscription OS," PCWorld reader Carl Forster commented.
If I were the betting type, I'd wager pretty strongly that Microsoft won't turn Windows 10 into a subscription model—at least for current users. Nevertheless, the concept of "Windows as a service" has many people wary of Microsoft's intentions.
Should you switch?
If you're on the fence about upgrading, this article may have convinced you not to join the Windows 10 revolution. But let's take a step back for a second. As we said in our review of Windows 10, this new OS is "a sizeable improvement over both of Microsoft's prior operating systems."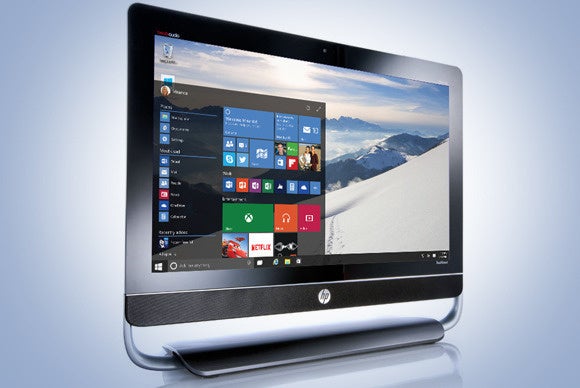 There's a lot to love about Windows 10. Task View and the virtual desktops are a great addition for anyone without a multi-monitor set-up. Cortana doesn't quite have the smarts of Google Now but can still delight; the revamped Action Center is a welcome upgrade from previous versions in Windows; and DirectX 12 has the potential to revolutionize PC gaming.
That said, it always pays to go slowly when upgrading to a new operating system. You'll want to make sure your computer maker has hardware drivers ready to go for Windows 10, and you should check for any known upgrade issues for your device model. All of the information you need should be on your device manufacturer's website.
Beyond those hardware basics, we'll leave you with a handy checklist of questions for Windows 7 users pondering an upgrade, edited from a post by Sevenforums user Layback Bear.
What will Windows 10 do that Windows 7 won't do?
What options does Windows 10 have that Windows 7 doesn't have?
Do you want or need those added options?
What user control do you lose with Windows 10 (such as forced Windows Updates), and are you okay with that?
Forget that you can download a free upgrade for the next year. Would you buy Windows 10 to upgrade your system?
Beyond answering those, check out PCWorld's "The Windows 10 upgrade: Who should do it, who could wait" for more straight, no-nonsense advice.