A safety system that ties cars and smartphones together to stop those heart-stopping near misses between cars and pedestrians could be standardized by the end of this year.
The technology involves smartphones broadcasting data over a short-range radio channel to nearby cars, so the cars can determine if a collision is likely. Unlike today's radar-based systems, this has the ability to warn around blind corners and can alert both the driver and pedestrian.
It's being developed by engineers at Honda and was demonstrated last week at the company's new research and development center in Mountain View, in the heart of Silicon Valley.
In the demonstration that took place in a parking lot, a car was slowly cruising a row looking for a space. Ahead, and unseen to the driver, a pedestrian was walking between a car and SUV while listening to music, and about to step into the path of the oncoming vehicle.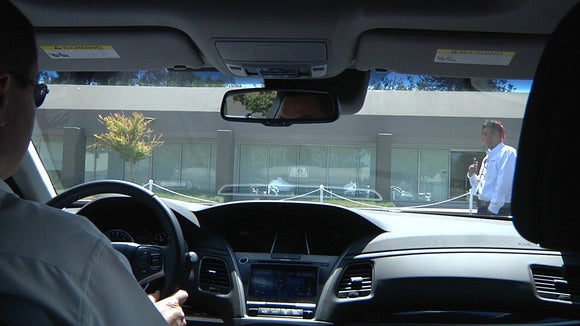 Seconds before the pedestrian could emerge and the two come close to collision, an alert sounded in the car: "Distracted pedestrian" and a warning appeared on the car's LCD screen to brake. The pedestrian too got a similar alert, telling him to watch out. If the driver hadn't hit the brakes, the car would have automatically come to a halt.
Honda has been working on the technology for three years and the first iteration is expected to be submitted for standardization around the end of this year, said Sue Bai, a principal engineer at Honda R&D, who has been developing it.
She said it came about after a chance encounter with workers from Qualcomm while at a conference in the U.K. They got to talking about how the two companies could work together and came up with the idea of tying Honda cars with Qualcomm cellphone chips.
The communication takes place over a channel in the 5.9GHz band that is dedicated for intelligent transportation systems. That's a frequency not used in current smartphones, but close enough that Qualcomm engineers were able to come up with a firmware modification so that it works on an off-the-shelf handset. No custom hardware is required in the phone.
In addition to the pedestrian's position and direction of movement, it also transmits whether the pedestrian might be distracted, for example if the person is listening to music or composing email while walking.
It's not intended to replace radar-based anti-collision systems but provide another layer of safety.
The proposed standard also includes attributes for others who may be in the roadway and at a higher level of risk such as construction workers, police and emergency crews, cyclists or the disabled. The standard looks like it will have backing from U.S. and European automakers, so it could work internationally too.