After months of teasing, testing, and technical previews, Windows 10 is finally here, and it's one of the best operating systems Microsoft's ever released. Windows 10 weaves together the best parts of Windows 7 and Windows 8, adds a dash of compelling features, then gives it all away for free to current Windows 7 and 8 users.
And yes, the Start menu is back.
First things first: Read PCWorld's comprehensive review of Windows 10 for a detailed, no-nonsense look at every corner of the new operating system. There's a lot to cover! But if you're short on time, bookmark our review, then check out PCWorld's clear answer to your simple question: Should you upgrade to Windows 10?
If you decide to take the plunge, be sure to read Ian Paul's three tips for a hassle-free Windows 10 upgrade beforehand—it'll save you some headache.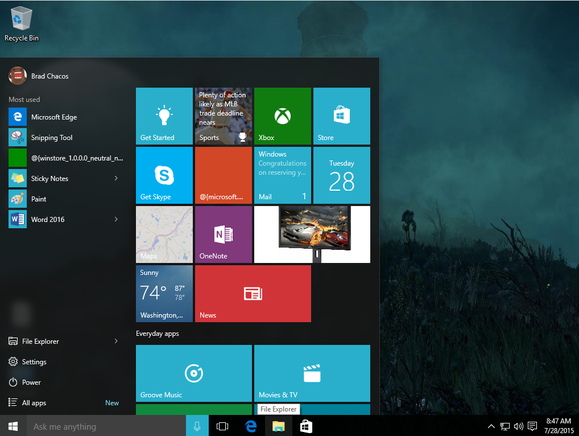 Windows 10 rolled out to more than 14 million PCs in its first day or so of availability, and while there were some bumps, things went pretty smoothly overall. It even runs on old XP- and Vista-era machines!
Microsoft's still slowly pushing out upgrades to users who "reserved" Windows 10 as part of a staggered launch, and it may take weeks to plow through the queue, but fear not: You can use the Windows 10 media creation tool to install Windows 10 right now if Microsoft's moving too slowly for your tastes. The same tool can be used to create Windows 10 ISO images, though you'll want to formally upgrade-in-place before you try a clean install, lest there be activation woes.
If you want a brand-new computer to go with the brand-new OS, Dell and HP are shipping Windows 10 PCs right now. Acer and Lenovo are accepting preorders, but they don't plan to ship until later in August.

What to do with Windows 10
So you've got Windows 10 up and running. Now what?
Let Mark Hachman show you how to maximize your first 30 minutes with Windows 10 and make the operating system your own. Once you're done, these are the best new Windows 10 features you'll want to try first.
With the basics under your belt, it's time to go even further. PCWorld's video of five must-know Windows 10 tweaks will help you dip your toes into some of the operating system's deeper powers. Feel the rush—feel the power—and then dive headfirst into our mammoth list of Windows 10's best tips, tricks, and tweaks. But keep digging! Windows 10 has some pretty awesome hidden features, too.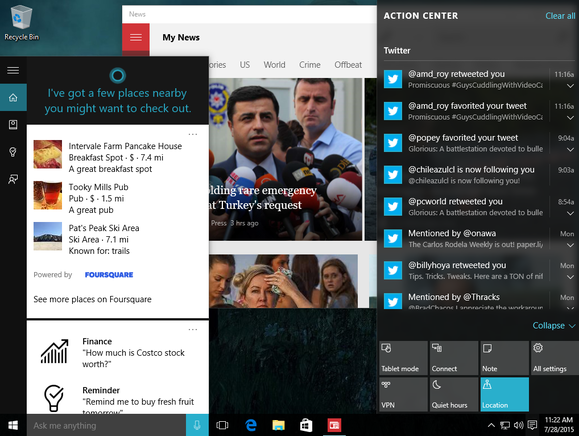 Perhaps you want to dig even further into Windows 10's highlight new features. PCWorld's guides to Windows 10's Edge browser, revolutionary DirectX 12 graphics technology, Task View virtual desktops, Windows Hello biometric authentication, and the Cortana digital assistant explore every nook and cranny of those capabilities. There's even a new Windows 10 Edition of Minecraft in the Windows Store, though be warned: It's not the same as the desktop PC version of Minecraft.
Let's take a quick moment to talk about Windows Hello and Cortana a bit more. Both of the powerful new features deeply add to the usability and overall experience of Windows 10, but they demand a lot of your personal info in order to do so. Windows Hello requires special hardware that isn't found on many PCs, however, and you can disable Cortana if you have privacy concerns. But if you don't mind using Cortana, Satechi's $23 Cortana Bluetooth button can free the assistant from your desktop by plopping her in your car or kitchen countertop. And you'll definitely want to ask Cortana these 50-plus easter egg questions for some hilarious answers.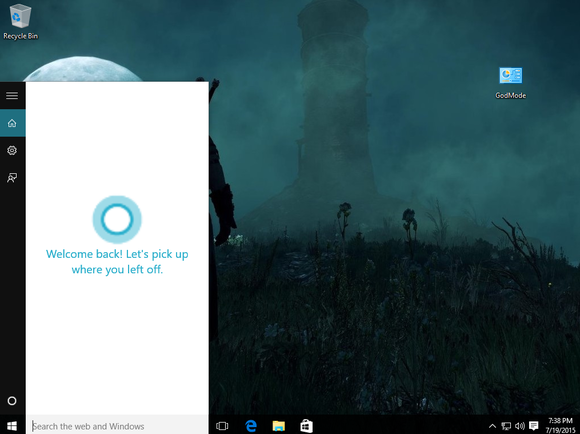 We've published a few more granular tips pieces as well, mostly revolving around specific pain points for the operating system. We've explained how to disable Windows 10's contentious Wi-Fi Sense password sharing feature, and how to play DVDs in Windows 10 now that Windows Media Center is dead. Uninstalling programs is a little different—and a lot better—in Windows 10, too.
Microsoft's decision to force updates on Windows 10 Home users has caused the brandishing of pitchforks. There's help: our guides to scheduling Windows 10 updates and labeling Wi-Fi connections as metered can force Windows to let you download updates at your own pace. Microsoft's also released a tool that allows you to permanently block bad updates that bork your system.
Oh, and we've also published a guide that teaches you how to use per-monitor display scaling to perfect your Windows 10 experience on a setup using multiple monitors of varying resolutions. 4K monitors are only getting cheaper, after all, and who doesn't like to rock as many screens as possible?
Windows 10 holdouts
Not everyone is jumping with joy over the idea of upgrading to Windows 10, however.
There are plenty of valid reasons why you might not want to upgrade to Windows 10—not least of which is how the operating system continues Windows 8's ploy to tie you to Microsoft's online services. And for as awesome as Windows 10 is, it isn't perfect, with some niggling issues still hanging around.
Don't take our word for it though! Listen to why Windows 7 holdouts are passing on Windows 10 in their own words. It's pretty eye-opening, and may just sway you to stay put as well—but we wouldn't recommend it for most folks.
Windows 10 feels like a welcome step in the evolution of Windows, unlike its predecessor. And if you've stayed put with Windows 7 thus far, Microsoft's new operating system will introduce you to Windows 8's awesome technical tweaks, too—but wrapped in Windows 10's far more pleasant and familiar interface.