The final version of Windows 10 hasn't even been available for a week yet, and it's already more popular with gamers than any individual OS X operating system version—and all Linux operating systems combined.
That's what the July 2015 Steam hardware and software survey reveals, at least, as first spotted by Windows Central.
Windows dominates among Steam users, with 44.91 percent using Windows 7 64-bit, and 31.65 percent using Windows 8.1 64-bit. According to the numbers, Windows 10 64-bit can already be found on 2.21 percent of Steam users' systems, with the 32-bit variant found on another 0.09 percent.
By contrast, the most-used Mac operating system among Steam gamers is OS X "Yosemite" 10.10.3 at 1.10 percent, though when you take all available versions of Yosemite into account, it's found on 2.4 percent of all systems. All four tracked Linux OSes combined account for a mere 0.55 percent of use.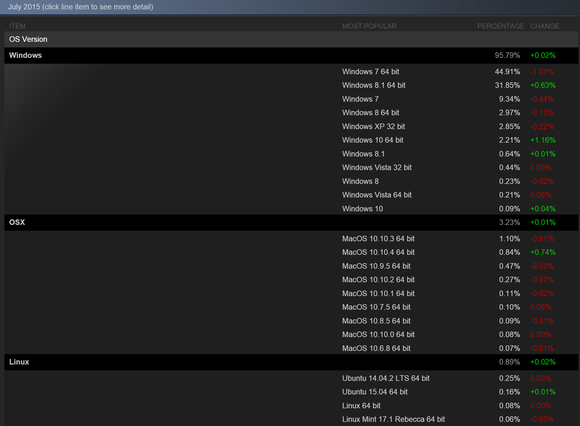 The immediate supremacy isn't surprising, though. While Linux gaming is on the rise with the looming promise of Valve's Steam Machine army, Windows has long been the operating system of choice for PC gamers. Most developers target Windows, and most gamers play on Windows, even if they dual-boot Linux on their machines.
Our early testing revealed that Windows 10 provides a very slight gaming performance boost over Windows 8, but its real potential lies in the revolutionary DirectX 12 graphics technology, a mighty tempting carrot for enticing PC gamers to upgrade.
Windows 10's appeal isn't limited to gamers alone. Microsoft's new operating system was installed on 14 million PCs on its very first day.Hot damn.