It's official: The old Corsair Gaming swords logo is dead, replaced with the newer, sleeker version of the Sails logo. You'll see it emblazoned across all of Corsair's new peripherals, which it unveiled at Gamescom this week in Germany.
In addition to a new "silent" mechanical keyboard switch, Corsair's putting out a new line of headsets and a new Scimitar mouse.
Void
Corsair's got a hell of a lot of headsets coming out, all under the umbrella "Void" name. The Void line replaces the Corsair H1500 and H2100's standard headset shape with a more angular design—one that's more "ear-shaped," even though it looks weird as hell. All four versions are backed by solid construction though, with a thick headband that rests a bit forward on the head.
I'm most impressed by the Void Wireless, which Corsair claims gets up to 16 hours of battery life and 40 feet of range. If those claims pan out, that's a huge step above other wireless options like the SteelSeries H Wireless or Astro A50. The Void Wireless also packs in Dolby 7.1 Audio, though I haven't heard it yet—I hope it works better than the H2100.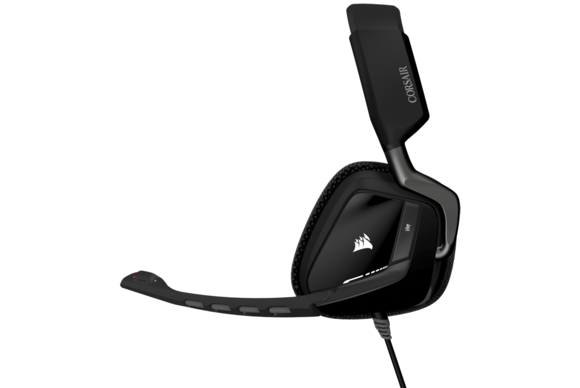 The microphone also gets an upgrade, with an LED to indicate mute and one to indicate the battery level and which EQ profile you're using on the headset. And as you'd expect with a wireless headset, all the controls are built into the frame—there's a volume rocker on the left side, which doubles as a select button to cycle through EQ presets.
What's more interesting is that those headset controls transfer onto the standard wired USB version too. Many companies go with inline (a.k.a. attached to the wire) controls for the USB version, but Corsair's Void USB headset is pretty much identical to the wireless version. Except, you know, with a wire.
The Void USB and Void Wireless (as well as the Best Buy exclusive Void Wireless SE, which comes in yellow and has a USB range extender) also feature 16.8 million color RGB lighting, visible under the Sails logo on each ear.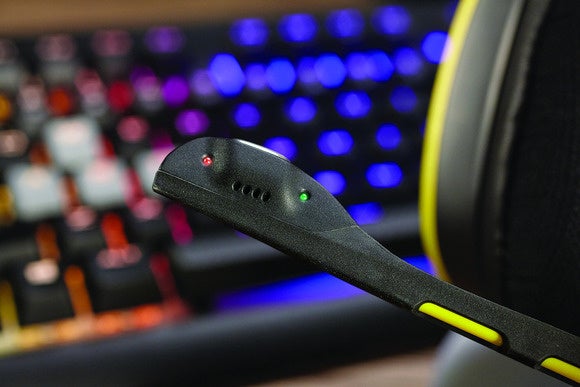 The Void Stereo is the last of the four, and it's a more stripped-down version of the headset. It attaches through a simple 3.5mm audio jack, and thus doesn't have the same RGB lighting effects.
The Void Wireless SE will retail for $150, the standard Void Wireless for $130, the Void USB for $100, and the Void Stereo for $80. That's a bit of a jump over the H1500 and H2100, but hopefully improved audio quality will make up for the higher price.
Scimitar
Also on the docket is a new MMO mouse for Corsair. Yes, an MMO mouse in 2015. Corsair's bucking the trend of "fewer mouse buttons" to bring back the ol' telephone-pad side, same as Razer's recent Naga refresh.
And Corsair is kicking Razer's ass with the Scimitar. I'm not a fan of the MMO-style mouse—I don't really need twelve buttons under my thumb—but Corsair's done its best to bring the design into 2015.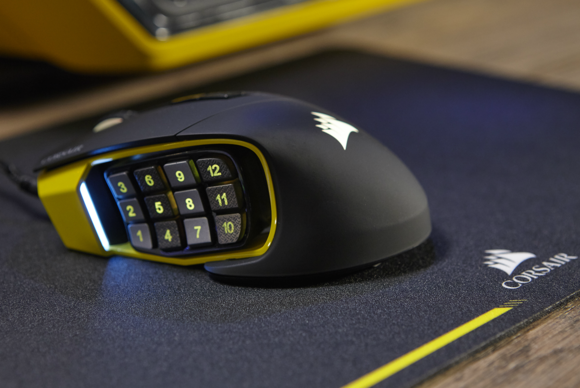 The key feature? A numberpad that slides back and forth about a centimeter in either direction, allowing you to get it in the most comfortable position for your thumb before locking it in place. It's a huge improvement that makes the Scimitar way more comfortable than any other MMO mouse I've used, if only because I don't need to stretch my thumb to hit the last row of buttons.
Other than that, it's a standard palm-grip MMO mouse with a sensor that goes up to 12,500dpi in software, and multi-zone RGB lighting.
Speaking of which…
CUE
Corsair's also overhauled its Corsair Utility Engine software. Thankfully.
First and foremost, the new Void headsets work with the same software as the keyboards and mouse, so no need to run two bits of Corsair software on your computer at the same time. Phew.
Corsair's also simplified setting up lighting. All of the advanced features are there, but you can also just pick a preset pattern or easily start adjusting key colors—similar to the functionality both Logitech and Razer launched with last year.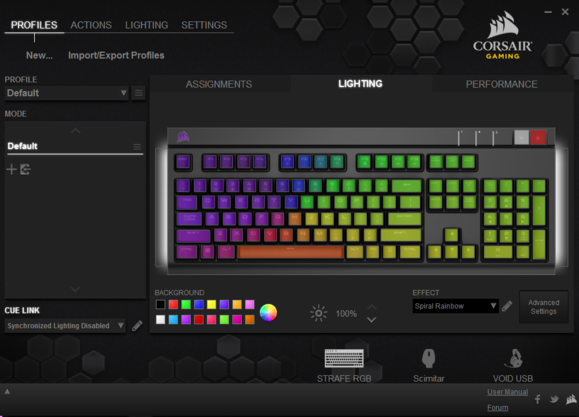 And as a bonus, you can now link all three of your Corsair devices if you've got them (mouse, headset, and keyboard) and have the same pattern play out across all three simultaneously. It looks fancy, though it of course requires you to be all-in on the Corsair ecosystem.
We'll have more official reviews once all these peripherals come in for review, but things are looking a damn sight better for Corsair this year than last year. Plus, that new logo. It's so much better.