At a Glance
Expert's Rating
Pros
This machine is priced bargain-basement cheap
Responsive and precise trackpad makes up for small size
Cons
Only 64GB of storage—and it's an eMMC
Performance falls on the lower end of the spectrum
Our Verdict
Lenovo's S21e is more of a large netbook than a small laptop—but it also retails for under $200. Now we're talking bargains.
I must admit—looking at the Lenovo S21e triggers a small bit of nostalgia in me. Nostalgia for a time when laptop manufacturers were seemingly obsessed with miniaturizing laptops. A time of pre-iPad, pre-ultrabook. A time when netbooks reigned supreme.
Okay, so it's not really nostalgia. It's more like "Oh yeah, that happened." But regardless, the S21e is a holdover from another era, when sub-12-inch screens and small keyboards were the norm. That might not sound super appealing, but you might change your mind when you hear the price: You can find the S21e for anywhere from $150-200.
Now we're talking bargains.
The design
I'm not joking—the Lenovo S21e is the prototypical (large) netbook design. It's an 11.6-inch miniature clamshell clad in silver, featuring a 1366×768 screen. It looks like someone traveled back in time to 2008 on a mission to bring back the world's most average of average computers.
The netbook wasn't a bad design though. It was rugged and utilitarian—a shape that says "I am for working." It's not sexy. It's not the type of computer you parade around town. But it's the kind of computer that will still be there for you even after you drop it on the ground once or twice. That's worth something.
The screen itself is exceedingly washed out, with quite a bit of light leakage and poor viewing angles thanks to a cheap TN panel. However, the low resolution isn't nearly as detrimental on a screen this size as it is on some of the 15.6-inch models we took a look at—text is fairly crisp, for instance.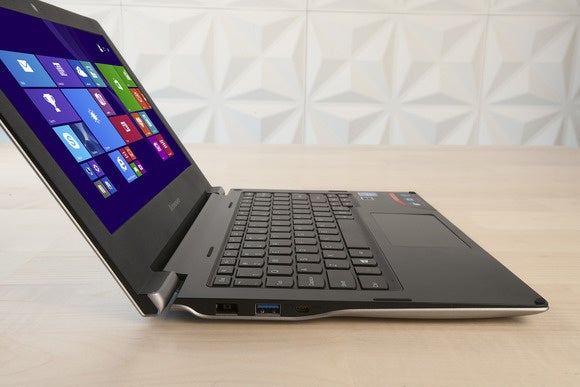 The keyboard is undersized to match the scaled-down screen. The biggest casualties are the long keys—Enter, Shift, Tab, et cetera—although pretty much any non-letter key takes a hit. This can turn "Find the backspace key" into a fun little game, but means you'll otherwise be typing like normal. And the keys on the S21e aren't terrible, although they don't have a ton of travel.
Oddly enough, the trackpad on the S21e is one of the best we looked at in this review tier. It's fast, precise, and responds well to both clicking and tapping. I had a way better experience here than I did with Lenovo's larger IdeaPad 100, although the S21e's trackpad is predictably undersized to match the 11.6-inch screen.
Port-wise, we've got power, one USB 3.0 jack, and a micro-HDMI slot on the left, plus a combined headphones/microphone jack, card reader, and USB 2.0 jack on the right.
And the S21e also beats the tar out of the IdeaPad 100 in the audio department. I don't know how Lenovo got such a big sound to come out of such a small laptop, but I'm impressed. I initially scoffed when I saw the "Dolby" sticker on the S21e—and I'm still having a bit of a chuckle over it. This is no theater-quality sound system. But the S21e features surprisingly loud stereo speakers with a solid amount of low-end tone, though I'd be happier if the speakers weren't located right where you rest the laptop on your legs.
The specs
The Lenovo S21e is small, but it holds its own. The specs are actually very similar to the Lenovo IdeaPad 100. Inside, we have an Intel Celeron processor (the N2840, clocked at 2.16GHz), integrated Intel HD Graphics, and 2GB of RAM.
And those specs helped keep the S21e pretty much tied up with its larger cousin, as far as benchmarks are concerned. In PCMark 8, the S21e hammered out a Home Conventional score of 1,278. That falls short of the 2,527 score set by our sub-$500 performance frontrunner, the Toshiba C55-C. But it's also a perfectly fine score for your day-to-day tasks—browsing email, typing up documents, and the like.
In fact, the S21e even outscored the IdeaPad 100 in one benchmark, the Work Conventional test. The S21e put out a score of 1,750 to the IdeaPad 100's 1,631. How is that possible?
Well, here's where things get a bit weird. Remember when I said the S21e is a netbook? Yeah, well…I wasn't joking. And one of the core conceits of the netbook was, if you'll remember, that it relied pretty heavily on the Internet. Mostly for storage.
The S21e isn't really packing any storage, in a conventional sense. Unlike the IdeaPad 100, with its 500GB hard drive, the S21e features a single 64GB eMMC, or "embedded MultiMediaCard." Basically, think of it like an SD card inside the laptop.
So why did the S21e score better than the Ideapad 100 in one benchmark? Well, the S21e's eMMC read speed is 171MB/s according to CrystalDiskMark, while the IdeaPad 100 can only manage 99MB/s at best on its slow 5,400 RPM hard drive. That's most likely the source of the discrepancy, though it could also be better ventilation/less throttling on the S21e.
Plus there's the obvious drawback of a 64GB eMMC which is that 64GB is not very much storage. In fact, we couldn't even run our standard 30GB Handbrake transcode benchmark because we ran out of space on the card. The Acer Aspire Switch 10 E uses a 64GB eMMC also, but in that case it's backed up by a life-saving 500GB hard drive.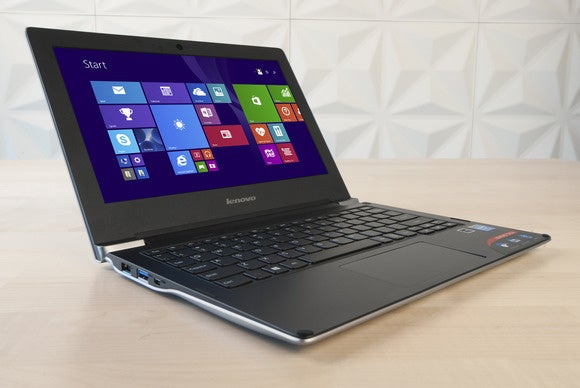 The bloat
Thankfully Lenovo hasn't bothered wasting a ton of space with unnecessary software. Lenovo Bluetooth, Lenovo EasyCamera, Lenovo Solution Center, and…that's it. Not even antivirus software. Pretty awesome. This is as close to stock Windows 8.1 as you're liable to get from any manufacturer.
The verdict
Netbooks fell out of fashion for a reason—there's only so much you can do with them, and there are better-performing laptops on the market now that are just as portable, to say nothing of tablets or hybrid tablet/laptop designs.
But there are advantages to netbooks: Solid battery life, compact size, an actual computer processor instead of one designed for mobile devices, and (unlike most tablets) a full version of Windows 8.1. Plus it's under $200. That's nothing to scoff at.
The Lenovo S21e isn't the best device we've looked at, but it fills a very particular niche and it fills it well. If you're on a very tight budget or just looking for a solid travel companion, maybe it's worth taking a trip back to 2008 and rediscovering the netbook craze once more.