Spouses, coworkers, and roommates rejoice: Corsair and Cherry MX announced today they've created a brand new mechanical keyboard switch, the "RGB Silent." And it's, as the name would indicate, silent.
Or at least silent compared to the standard Cherry MX Red switch it's based on. The switch has the same linear feel as standard MX Reds, but with "patent-pending noise reduction technology." These aren't just your standard O-rings either—this silencing tech is built right into the switch itself. Presumably, Cherry and Corsair needed to build an integrated solution because O-rings would've blocked some of the RGB lighting.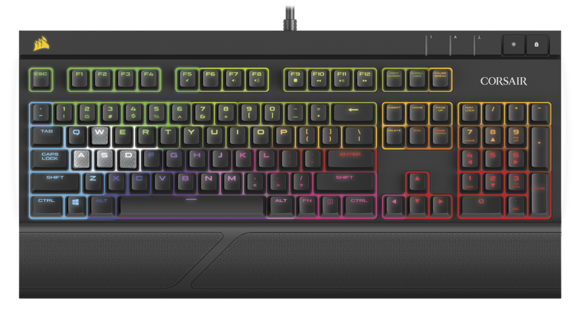 You'll pay for ear comfort, though—the switch is currently exclusive to Corsair's Strafe RGB Silent, which will retail for $160 when it launches in October. There's also a non-silent Strafe RGB (MX Red or MX Brown switches) set to launch simultaneously for $150. Both keyboards feature USB pass-through, full 16.8 million color lighting (for real this time, unlike the K70/K90), a detachable wrist rest, and media controls, plus a white backplate to reflect more light and make the Strafe's colors pop a bit more.
I asked Corsair whether they plan to make a Silent RGB K70 or K90, but Corsair demurred.
The next step is to convince your spouse/coworker/roommate to use the RGB Silent switch. After all, you've heard the old saying: You can lead a Cherry MX Blue user to a quieter mechanical switch, but you can pry my clackety-clacking Blues from my cold, dead hands.