At a Glance
Expert's Rating
Pros
Gorgeous Swiss detailing and craftsmanship.
Proven MotionX step- and sleep-tracking.
Two years battery life, automatic time- and date-keeping.
Cons
Date notation is difficult to read.
Android syncing was finicky at time of review.
Our Verdict
It doesn't provide smartphone notifications, but this gorgeous Swiss watch tracks steps and sleep, and promises a generous two years of battery life.
Fanny packs. Dad jeans. Bright yellow mock turtlenecks purchased at the Gap circa 1991, and still worn defiantly, inexplicably, today. If you wear any of these items, feel free to accessorize your outfit with a touchscreen smartwatch. You're already style-compromised, and the smartwatch can't do any more damage.
But if your fashion tastes are a bit more—oh, I don't know… discerning—then consider the new "horological smartwatch" from Frederique Constant. It's a legitimate Swiss-made watch with a built-in accelerometer for step- and sleep-tracking. Like the other watches based on MMT's smartwatch platform, it marries sophisticated aesthetics with the same MotionX algorithms you'll find in a number of big-name activity-tracking wristbands. And battery life is rated for a full two years.
That's 729 more days of battery life than today's typical touchscreen smartwatch. That's a really big deal.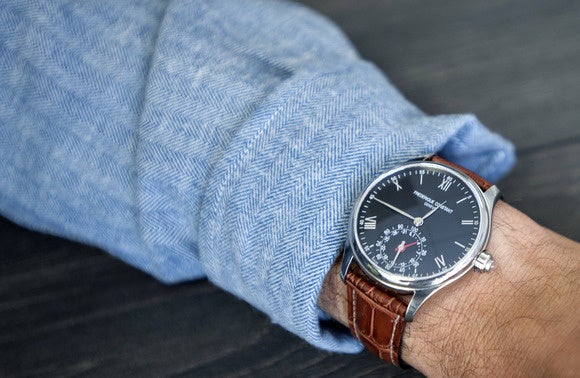 The MMT watches don't provide smartphone notifications like smartwatches from Apple, Pebble and all of Google's Android Wear partners. And that's also a really big deal. But the $995 Frederique Constant model I've been testing for the past week is packed with retro-mechanical intrigue. It doesn't look like a toy, gadget or sci-fi movie prop. And its look aligns with my fashion sense, which errs toward heritage brands like Gustin and Billy Reid, not Daft Punk's House of Cyborg Apparel.
Or the Gap of the early 90s.
The best smartwatches from the big consumer electronics companies have their place. But there's just no replacement for the delicate moving hands, polished raised indices, and convex sapphire crystal of a traditional Swiss wristwatch.
A curiously graphical complication
The Frederique Constant model I reviewed came with a black watchface and wristband made of "crococalf"—that's real cowhide with a crocodile skin imprint. The company's smartwatch line-up also includes near-identical models with white faces and stainless steel bracelets. All of these watches have stainless steel cases that are water-resistant down to 5 ATM. There's also a $1,295 chart-topping edition with rose gold plating on the case, hands, and indices.
Yes, this is expensive hardware. But do keep in mind these are real Swiss watches imbued with four motors for moving hands, along with the MotionX smart features. The watches are hand-assembled at the Frederique Constant factory in Plan-Les-Quates, Switzerland. That's a long way away from Guangdong Province, both geographically and philosophically.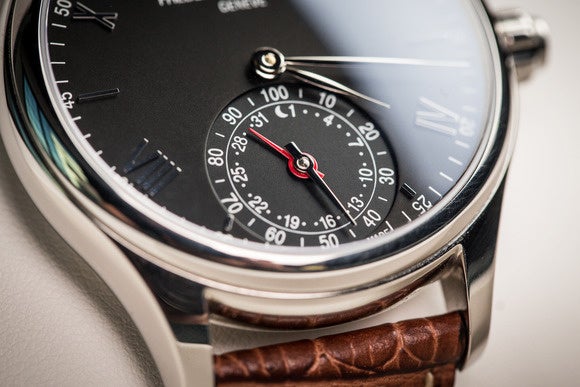 To the untrained eye, the dial at the bottom of the watchface looks like any other curiously graphical complication you might find on other analog watches. But while the shorter red hand points to the current date, the longer silvered hand points toward progress in reaching an activity goal.
In the MotionX companion app, I've set my daytime activity goal for 10,000 steps. As I walk around throughout the day, the silver hand slowly advances. As you can see in the photo above, the hand is knocking on the doorstep of the 45 percent marker. This indicates I've walked roughly 4,500 steps.
The glint of ambient light
The same complication dial illustrates progress toward a sleep goal. To start sleep tracking, you press and hold the crown button for three seconds. The red hand will advance to the little icon of a crescent moon at 12 o'clock. This signifies you've begun sleep tracking. Then, throughout the night, the silver hand will sweep across the complication dial as the watch logs your slumber.
My sleep goal is seven hours, so, unlike with step tracking, there's not a linear, one-to-one relationship between hours slept and what appears on the dial. For example, if I sleep exactly seven hours, the dial will show I've reached 100 percent (and not 70 percent) of my sleep goal. It's only mildly annoying, and, of course, I could address the problem by changing my sleep goal to 10 hours.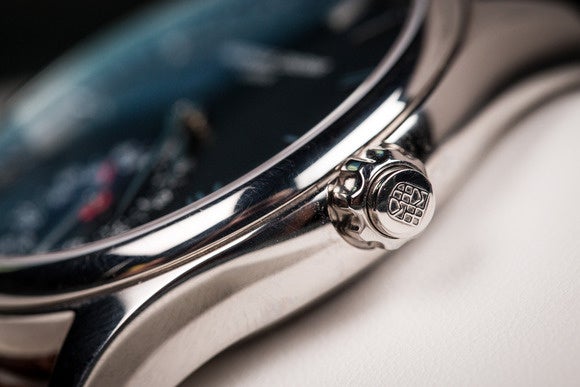 Throughout testing, I found it easy to check my daytime step goal progress simply by reading the complication dial. The silver hand on this dial is thin and delicate, but with a gentle tilt of the wrist, all the hands and indices of the watchface come alive with the glint of ambient light (check out the video at the top of this article to see the effect). It's a subtle nuance that you'll only get from a fine analog watch.
Reading the date is much more difficult. The date notation is extremely small, and there are two-day day gaps between every date marker. The upshot? You better have great eyesight to read the date. It would also be nice to have luminescent hands and indices to see sleep progress and the current time during the dark hours of the night.
Stubborn Android syncing
A significant degree of activity-tracking logic is executed directly on the watch via the built-in MotionX module, designed by Fullpower. As a result, you really never need to pair the watch with its companion iOS or Android apps to see your activity data—it's all manifest on the complication dial, albeit in rough, broad strokes.
But when I visited Fullpower in April, the company told me that syncing the watch with the MotionX mobile app taps into a second level of data accuracy, and then a third level of processing kicks in via advanced analytics on Fullpower's cloud servers.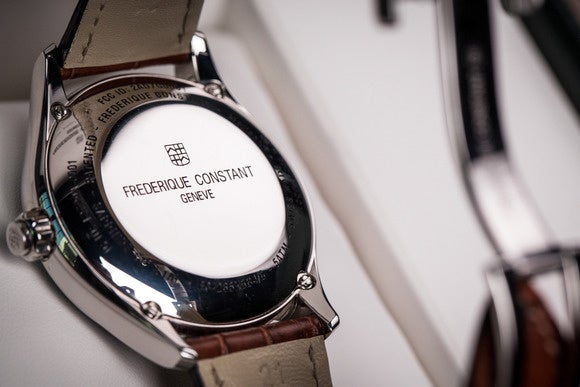 While I found Bluetooth syncing with the MotionX iOS app to be consistent and reliable, the Android app didn't behave as advertised, even after a firmware update on the watch, and a sideloaded app update to my LG G4. The apps are supposed to run a sync as soon as you open them, but this never happens with the Android app. You can manually initiate a sync by pressing the watch's crown button (sadly, it provides almost no tactile feedback), but in practice this takes multiple attempts with the Android app. It's a frustrating experience, but not a deal-breaker.
So what's going on here? Fullpower's VP of Technology, Arthur Kinsolving, explains: "With the fragmentation of Android and the number of cooks in the kitchen to make an Android handset, the Bluetooth Low Energy implementation on the Android handsets is quite poor. It's getting better, but there's still a ways to go. So we are constantly working on ways to make connectivity better, working around these issues."
The MotionX app
Once you're inside the mobile apps, you'll find an experience that's very similar to the apps for the first two generations of the Jawbone Up wristband, which also used MotionX activity-tracking algorithms. The data is nowhere as deep as what you'll get from the world's most advanced activity trackers, like the Basis Peak, which provides real-time heart rate numbers, and REM sleep tracking. Still, for casual users, the MotionX data is solid. Step counts are generally very accurate, and the sleep data captures just enough info to provide a reliable picture of your bedtime habits.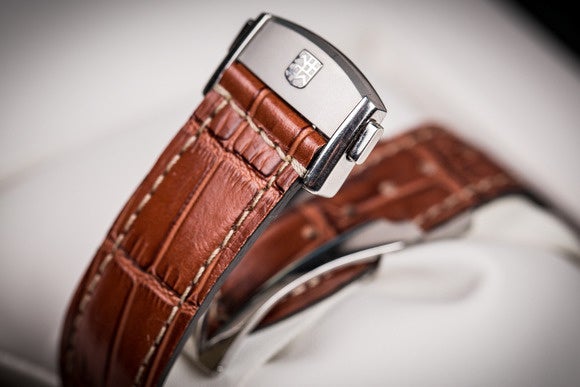 Dip into the MotionX Activity panel, and you'll see your current step counts, your total time active, and the distance you've traveled. There's also a report of all the calories you've burned, broken down by step calories and rest calories. Drag your finger across the timeline, and you'll see exactly when your steps were logged.
The Sleep panel follows a similar UI. Tapping into subtle wrist movements recorded by the watch, MotionX can delineate between periods of light and deep sleep. The app also shares exactly when you fall asleep, your night-time interruptions, and when you wake up. Before using the watch, I was concerned it would be too cumbersome to wear to bed, but the leather strap is quite comfortable, and easy to put on and take off. Of course, you can swap it with any 21mm replacement band you like.
I could never find much utility in the app's Coach panel. It offers daily, weekly and monthly summaries of all your activity metrics, and provides vague, somewhat meaningless tips, like "Avoid using loud alarm clocks" (which can be stressful ) and "Go camping and hiking" (which benefits stress reduction more than exercising inside). It's certainly not bad advice, but it feels like a throwaway feature.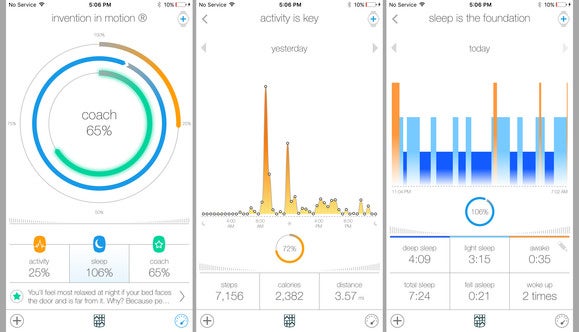 Truly automatic timekeeping
Like the MotionX Jawbone experience, the watch can issue "get-active" alerts to get your rear in gear if you've been sitting for too long. While activity-tracking wristbands typically send get-active alerts via subtle haptic vibrations, the Frederique Constant smartwatch issues a quick double beep from its built-in piezo speaker.
The speaker volume is loud enough for effective get-active alerts during daytime hours, but this speaker is also used for MotionX "sleep cycle alarms." These alarms wake you from sleep during periods of light sleep, working off the premise that you'll feel more refreshed if you wake during light sleep rather than deep sleep. Will the speaker volume be loud enough to rouse heavy sleepers? I have my doubts, as the alarm emits a rather anemic beep. I never had a chance to test this feature (such is the heartbreak of insomnia), so I'll be interested in reading user reviews.
Other than activity tracking, get-active alerts, and the alarm feature, the only other smart features are related to pure timekeeping. Because the watch syncs with your smartphone, you never need to reset its hands as you skip through time zones. The same goes for its calendar function: The red date-marking hand will always be accurate, and never requires manual adjustment.
And here's an interesting value-add: Because all your MotionX data syncs in the cloud, it can be pushed and pulled among different MMT watches if you decide to purchase more than one model. For example, if you wear the Mondaine Helvetica Smart at work during the day, and then slip on the Frederique Constant for a night of brandy and baccarat, the Frederique Constant will pick up the Mondaine's step data, and then add to that data as you cavort throughout the night.
Where's your smartwatch?
At the top of this review (and once again here), I've put the term "horological smartwatch" in quotes for a deliberate reason: It's the term Fullpower and Frederique Constant use in their marketing materials, but I personally don't feel the watch deserves full smartwatch status. Lacking so many features we've come to expect from smartwatches (smartphone notifications chief among them), I think the timepiece is better described as a beautiful Swiss watch with smart features. A full-fledged smartwatch, it is not.
All that said, it's still a winning, lustworthy watch. For years, I've worn Jawbone's activity trackers precisely because they're small and innocuous, and don't look like watches. For this reason alone, they've paired nicely, from an aesthetic sense, with my own Swiss watch, a TAG Heuer Formula 1. But now, in the Frederique Constant, we have a watch that puts the Up's MotionX algorithms inside a great-looking analog package.
Two birds, one stone.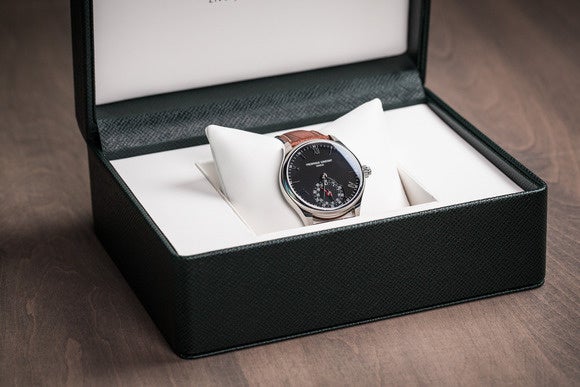 Add in the promise of a two-year battery life, and you have a smart timepiece that checks off a lot of important boxes. Obviously, feature for feature, it will never compete with an Android Wear watch or an Apple Watch. But if we're being sensible, this Swiss watch belongs in an entirely different category.
This Frederique Constant model is quite expensive, and is probably too butch for most women. But remember: It's part of a larger "horological smartwatch" family. Alpina, which is owned by Frederique Constant, makes eight models, including four smaller models for women (one is encrusted with diamonds). And Mondaine's pop-art-styled Helvetica Smart, currently priced at $795, is both cheaper and relatively gender-neutral.
And all of these watches look like watches, damn it, not cheap gadgetware. Indeed, when one friend saw me wearing the Frederique Constant, he asked why I had given up on smartwatches for a fancy analog watch. That single comment pretty much says it all.