At a Glance
Expert's Rating
Pros
Easy to set up and install
Solid wireless networking performance
OpenVPN and Time Machine support
Cons
Not the fastest Wi-Fi performer in its class
Very average NAS performance
Our Verdict
The R6400 isn't the fastest Wi-Fi router in its class, but that could change with future firmware optimizations. Even if it doesn't, this router has a strong feature set.
Best Prices Today: R6400
As the headline indicates, this is a review of Netgear's new mid-range 802.11ac router, the R6400. But the most interesting discovery I made during benchmarking is how much TP-Link's Archer C8 802.11ac router has improved—at least at close and medium range. I updated the firmware in all four of the routers before benchmarking them, and the TP-Link's close-range TCP throughput with an 802.11ac USB Wi-Fi adapter jumped from 262Mbps to a very strong 411Mbps.
Netgear's R6400 turned in a disappointing performance of just 240Mbps at close range (with the client laptop located in the same room as the router, nine feet away). That put it in last place in this group. The R6400 performed much better at a distance, delivering TCP throughput of 309Mbps when the client was in my great room, 35 feet from the router with one insulated wall and a number of appliances in between. That was good enough for a second-place finish, but it was still 1Mbps slower than the TP-Link.
I retested the four routers represented in the charts because I've simplified my benchmark methodology. Previously, I would test each router by placing the client PC in four different rooms in my home. But four test locations meant performing a dozen benchmark runs on each router, because I'm evaluating 2.4GHz 802.11n performance, 5GHz 802.11n performance, and 5GHz 802.11ac performance with a USB Wi-Fi adapter. Scenarios where the router manufacturer sends a second router that I can configure as a wireless bridge increases the number of benchmark runs to 16 per router.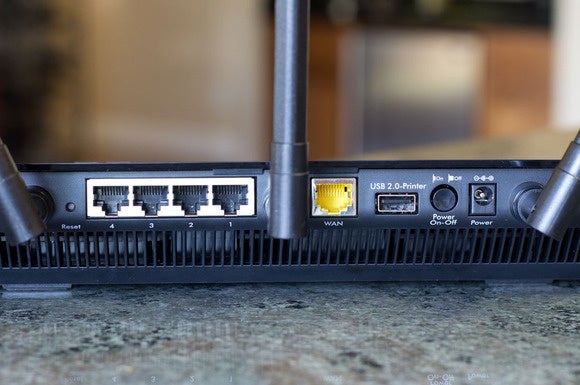 I've decided that's not a sustainable practice, so I've reduced the benchmark locations to two: When the client is in the same room as the router, and when the client is in my great room, 33 feet from the router and separated by one wall and a number of kitchen appliances. That's still six benchmark runs per router (eight if I'm testing a bridge), so it still takes a full day to run those benchmarks and the file-transfer tests, which I've also changed: I now measure NAS performance by timing how long it takes to move a single 10GB file from an SSD partition on a locally networked desktop PC to a portable SSD with a USB 3.0 interface attached to the router (a write test), and then back from the portable drive to the desktop's SSD (a read test).
Netgear R6400 feature set
The R6400 replaces Netgear's original 802.11ac router, the three-year-old R6300 . The new router's enclosure is nearly identical to Netgear's Nighthawk X4 and it has many of the same features, including a USB 2.0 port in the rear and a USB 3.0 port in front so you can share both a printer and a USB storage device over the network. Unlike the Nighthawk X4, however, the R6400's antennas are permanently affixed to the enclosure and are therefore not upgradeable.
The R6400 supports three spatial streams (with beam forming) to deliver maximum throughput of up to 1300Mbps on the 5GHz band, and up to 450Mbps on the 2.4GHz frequency band (that's assuming your 2.4GHz Wi-Fi adapter is also capable of 450Mbps throughput—most aren't; more typical clients will max out at 300Mbps). Add the two specs together and you get the industry label AC1750.
Netgear made a number of improvements to its Netgear Genie software, which can also run on Netgear's R7000- and R8000-series routers. You can now log into and manage the router either locally or remotely via the Internet, which could be handy if your friends and family have designated you as de facto IT support. The optional parental control policies can now be defined on a per-device level, instead of for the entire network.
Netgear R6400 Wireless performance
As I mentioned up top, the R6400's 802.11ac Wi-Fi performance (streaming to a laptop with a 2×2 Asus USB-AC56 USB Wi-Fi adapter) was disappointing at close range, but much stronger at longer range. Then again, the other three routers also performed well on the longer-distance test.
The R6400's performance paired with the laptop's onboard 3×3 5GHz 802.11n Wi-Fi adapter was weak at both test locations. It finished in last place at short range, and next to last at distance. TP-Link's Archer C8 took first-place finishes in both contests (and the pricey Asus RT-AC3200U finished dead last here).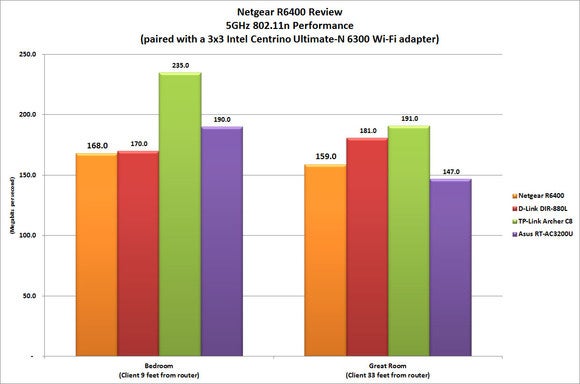 If you're connecting legacy clients to your Wi-Fi router, you'll be very happy with the R6400: It came very close to a second-place finish at close range when paired with the laptop's onboard 3×3 2.4GHz 802.11n Wi-Fi adapter, and it was well out in front at distance.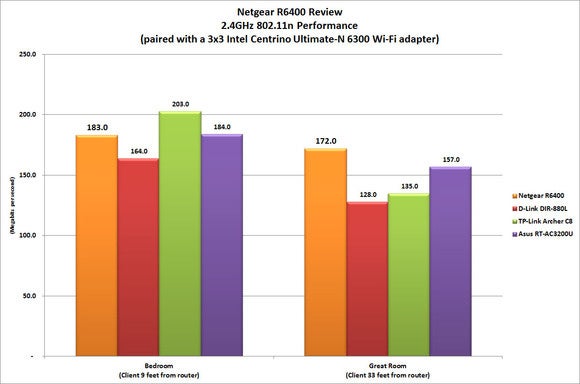 Netgear R6400 NAS performance
I'm not using SSDs to evaluate network storage performance because I think that's a real-world scenario. You'd be more likely to use a mechanical drive because you can get so much more storage for the buck. I'm using SSDs so I can measure maximum performance without the overhead of mechanical drives.
All four of the routers performed well on this count. Each one placed first on one test or another, and each one finished last on one test or another. The R6400's narrow first-place finish came while writing a 10GB collection of files to portable SSD attached it its USB 3.0 port, and it finished in last place—by a wider margin—when writing a single 10GB file.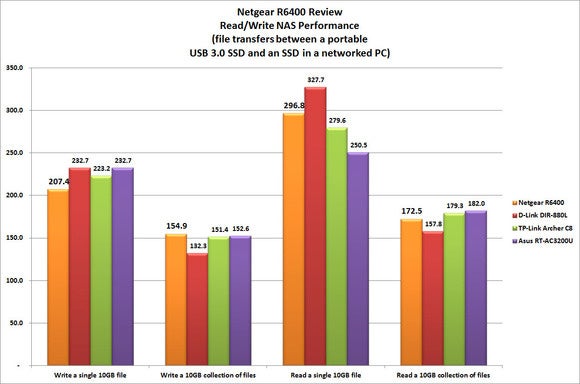 Should you buy an R6400?
Netgear has a very capable mid-range 802.11ac router in the R6400. It's not the fastest router in its class, but it has a strong feature set in terms of remote access, parental controls, and network-attached storage. On those counts, it's a better router than the cheaper-but-faster TP-Link Archer C8. That makes it a solid value.
Best Prices Today: R6400