Your chance to get a laptop with Intel's newest Skylake CPU is almost here. On Monday at the Siggraph show in Los Angeles, Calif., Lenovo announced two new mobile workstations stocked with the 6th-gen mobile chip and a dream checklist of advanced features.
How next-gen? Think up to 64GB of DDR4 RAM, true PCIe SSD performance, Thunderbolt 3 and true USB 3.1 too. There's even a new Nvidia GPU.
Of course, the new ThinkPad P50 and ThinkPad P70 both pack Intel's Xeon E3-1500M v5 CPUs, based on the Skylake microarchitecture. We reviewed the desktop Skylake chips last week, or if you're into the brevity thing, you can just read this short FAQ. For mobile users, beyond saying unlocked, overclockable versions would be available, Intel has been mum.
Why this matters: Few want to buy a Pentium II the day before the Pentium III comes out, so many wait for the latest CPU before taking the plunge. With Windows 10 now here, the second part of that WinTel formula just dropped, meaning it's "safe" to buy the latest and greatest.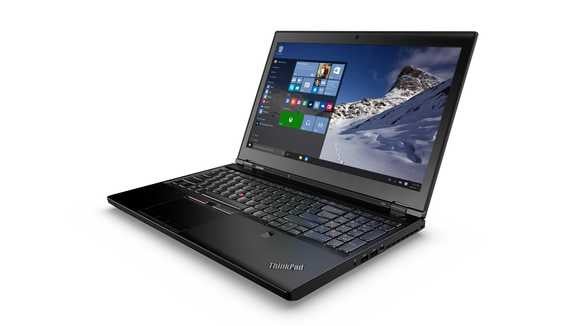 Expect Skylake to stay in the news
Intel's really playing out its Skylake launch, with announcements first for gamers and enthusiasts at Gamescom, the largest gaming show in the world, and now the Xeon v5 at Siggraph. Intel still hasn't provided deeper information about Skylake. That's going to happen at its own show, the Intel Developer Forum, starting August 18.
Lenovo's 17-inch P70 is the latest in a line of big old ThinkPads aimed at workstation users. The first was the giant ThinkPad W700, as well as the over-the-top ThinkPad W700ds with two monitors. Yes, a laptop with two monitors.
The 7.6-pound P70 doesn't get that crazy, but its specs will make its predecessors green with envy. Besides the quad-core Skylake Xeon, the P70 and P50 feature a new Nvidia Quadro GPU too.
Thunderbolt 3 is in the house
Of the two, the giant 17-inch P70 stuffs in the most hardware. Besides the Skylake Xeon and Quadro chip, Lenovo also used Intel's new Alpine Ridge controller. Alpine Ridge supports the fastest Thunderbolt 3 spec as well as full-speed USB 3.1 across its USB-C ports. By full speed, I mean up to 10Gbps transfer speeds using USB 3.1. The first laptop with USB-C, Apple's 12-inch MacBook, is a bit of a sleight of hand. It has USB-C, but its ports run standard USB 3.0 speeds. Google's updated Pixel Chromebook also is limited to USB 3.0 speeds on its USB-C ports. Running Thunderbolt 3 mode, Lenovo's ports should crank it all way up to 40Gbps speeds.
Lenovo says the big P70 will also support up to four storage devices and up to 1TB of SSD storage. That means one M.2 slot and two SATA trays, along with the option to remove the optical drive and install a drive caddy for a fourth drive. Even better, the storage options now support booting to PCIe-based M.2 devices, which offers a huge improvement in performance. In fact, Lenovo claims up to five times the performance of an M.2 SATA or standard SATA-based device.
Most people know Intel's new Skylake chip supports DDR4, but there's also the capability to run DDR3L. Lenovo skips the older memory standard in favor of DDR4, which lets the P70 run up to 64GB in its four SO-DIMM slots. If you're curious as to what DDR4 looks like, I snagged a shot (below). The P70 can run up to 64GB of ECC DDR4. I'm not sure if the use of ECC DDR4 is a requirement for the density right now, or if Lenovo does that because workstation users like the warm comfort of ECC RAM.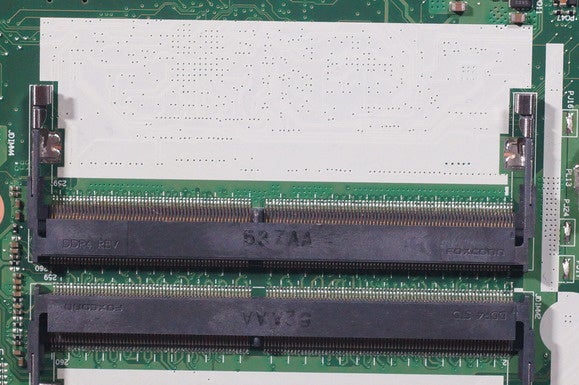 Dual cooling solution
That's not the only nifty trick Lenovo said it pulled off in the P70. The company showed off the motherboard in the laptop with its cooling system attached. Here's a shot I grabbed of it.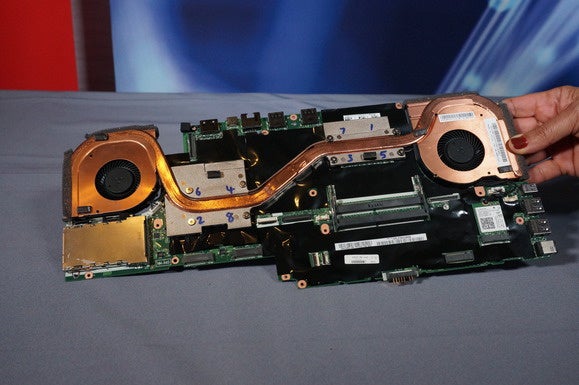 You can see the pair of DDR4 slots (another two are mounted on the other side. More interesting is the shared cooling. On the left you have the Quadro GPU and on the right you have the Skylake Xeon. In a lot of laptops, the cooling is segmented to keep the GPU from overheating the CPU. Lenovo says its research shows the vast majority of workstation applications either heat up the GPU or the CPU, and it's rare for both to be under heavy loads simultaneously.
With this cooling design, when the GPU isn't using up the thermal budget, more can be used to keep the CPU cooler—and presumably running at higher clock speeds. Likewise, when the CPU isn't creating a thermal load, it's cooling can be used to keep the GPU cooler. In theory it's a good idea, but I'll have to see it in practice first.
Swiper, stop swiping!
And yes, there's even more. Lenovo's other new piece of hardware on the P70 includes a new fingerprint reader that you press rather than swipe. This is welcome, as those swipe-style readers have been finicky for a long time. Full-pad, fingerprint-style biometrics on a PC have kicked around for more than a decade, so it's making its way back again.
The other features of the P70 aren't necessarily new, but still nifty. There's a Pantone X-Rite color calibrator built into the palm rest of the laptop. To calibrate, just close the 4K IPS panel, and it runs. No need to find a darkened room or plug in a clumsy USB adapter.
Amazingly, Lenovo has shoehorned most of the same features into the P50, including the Thunderbolt 3, shared cooling, color calibrator, 64GB of ECC DDR4/2133, and up to three storage devices. It's basically a tinier version of the P70. You just have to give up one of those Thunderbolt 3 ports.