Synaptics said this week that it is working with Microsoft to bring touchpads with integrated fingerprint sensors to PC hardware makers, making Microsoft's Windows Hello technology available to more people.
A Synaptics spokesman said the technology, known as SecurePad, is available today, but could be in consumer PCs as early as October. The company said that its technology had been certified with Microsoft's Precision Touchpad (PTP) specification. It can be used with Windows Hello, Synaptics said.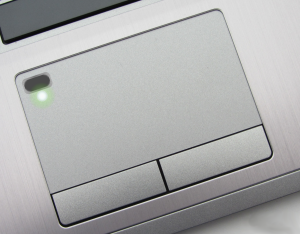 The SecurePad technology is actually a small 4mm x 10mm module that can be embedded within a touchpad, according to Synaptics. The module can read a fingerprint at any angle, and match it against its stored database. It can also be built into any of the Synaptics touchpads, including what it calls the ClickPad and ForcePad, and customers can ask that it be illuminated via embedded LED lights to help guide a user's finger to the sensor. Integrating the sensor won't affect touchpad gestures, Synaptics added, and the fingerprint information is encrypted.
Fingerprint sensors have been a staple of some lines of business PCs designed for governments and other secure work; however, they've resided elsewhere on the laptop, and have been somewhat clunky to use. The SensorPad could change all that. (The Apple iPhone 6 also embeds the fingerprint sensor underneath the home button.)
"As the leading developer of human interface solutions, we are thrilled to collaborate with Microsoft on Windows 10 to offer a true game-changer in password-free security and consumer experiences," said Rick Bergman, the president and chief executive of Synaptics, in a statement. "Collaborating with Microsoft on this project is a testament to our commitment to improve human interfaces and our likeminded goals."
Why this matters: Microsoft launched Windows Hello as a component of Windows 10, using either a camera or a fingerprint sensor to identify users. With an embedded depth camera, using Hello is extremely easy: you simply sit down, look at the camera, and you're logged in. With the new Synaptics touchpad, the login process would also be presumably simple: you'd sit down, touch your touchpad, and away you go. If the process fails, you can always log in with your password or PIN—but with Hello, hopefully you'll never need to.
Updated at 3:37 PM with a statement from a Synaptics spokesman.