Windows 8 rechristened My Computer to This PC and introduced the love-it-or-hate-it Ribbon interface to File Explorer, and now Windows 10 introduces another major tweak to Microsoft's file system: A new starting location.
Opening File Explorer used to dump you in This PC, which provides a high-level look at your drives, available network locations, and user folders. Windows 10 instead plops you in Quick Access, a new location that displays your most frequently accessed folders and most recently opened individual files.
Fortunately, it's easy to switch File Explorer's starting location back to This PC if you're so inclined.
How to change Windows 10's Quick Access view to This PC
To do so, first open File Explorer, then click View > Options in the Ribbon menu. You'll see a menu with a few different settings; select "Change folder and search options."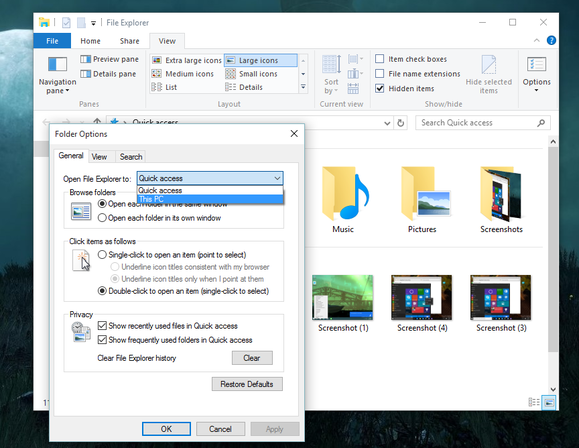 In the new window's general tab, click "Open File Explorer to" (it's at the very top) and choose either Quick Access or This PC from the drop-down menu. Finally, click OK to save your selection. Boom! That's it.
If you give Quick Access a trial period, however, there's a good chance it'll grow on you—it's one of Windows 10's 12 obscure new features designed to eliminate everyday hassles. Still have a hankering for exploring Windows 10's nooks and crannies? Check out PCWorld's guides to Windows 10's best tips and tricks, the 10 best new features you'll want to try first, and the slick "new to you" technical improvements you'll find if you're making the jump from Windows 7.