We're still waiting for Cortana for Android to arrive as a public beta, but private beta program members just got an interesting new feature. After installing the latest Cortana update, you are given the option to replace Google Now with Cortana for the standard shortcut: a long press and swipe up on the home button.
The latest update does not replace the Google Now page on Nexus devices or the Google Now launcher when you swipe from left to right.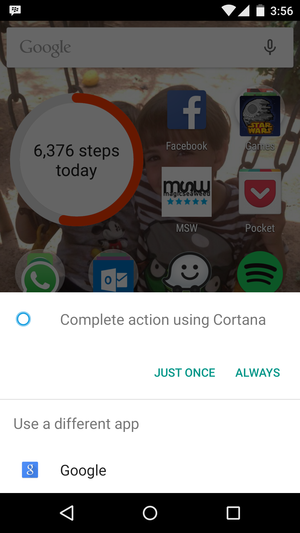 One other thing the update doesn't do is swap the "Ok, Google" audio cue for "Hey Cortana," which you can use on Windows Phone and Windows 10 PCs.
Nevertheless, replacing Google Now in at least one instance gives Cortana prominence on Android devices that it wouldn't otherwise have. For those who prefer Microsoft's ecosystem, but can't bear the thought of using a Windows Phone, this also makes Cortana a more integral and seamless experience.
When Cortana for Android first leaked in July, I jumped right in and started using it and haven't tried updating the app with another rogue APK since—until now.
If you're also unofficially participating in the private beta and haven't updated since mid-July, this latest APK adds features that were missing the first time around, including daily summaries, news, and interests highlights on the home section, as well as access to the Cortana notebook.
We won't point you to the unofficial APKs, but they're not hard to find. Just remember you install them at your own risk.
If you'd like more official access to the private beta, check out Microsoft's site for more information.
The impact on you at home: If you spend most of your day in Windows 10 and regularly use Cortana, switching to Microsoft's digital assistant on Android makes for a very fluid experience. Cortana for Android lets you add reminders and calendar events that show up in Cortana for Windows 10 and the new operating system's notifications system. You can also see similar information from Google Now if you add a Chrome extension, but the experience isn't as polished as it is with Cortana.