When Cumulus Media obtained an equity stake in Rdio, the radio operator planned to bring its own programming to the struggling music streaming service. As Rdio continued to get buried by Spotify, Apple Music and the like, clearly that wasn't going to be enough.
Hoping to boost the service's prospects, Rdio now has radio: Real, honest-to-goodness live streaming radio courtesy of Cumulus' network of terrestrial stations complete with live DJs, traffic reports, local ads.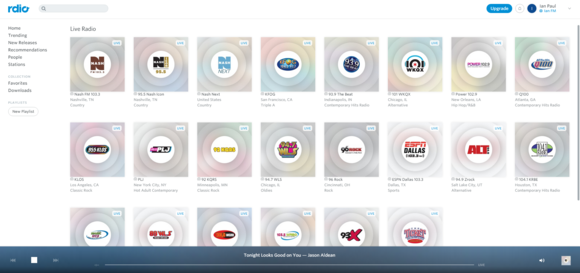 The new feature is starting up with 500 Cumulus-owned stations across the U.S. Rdio lets you search for radio stations by name, call letters, and frequency. You can also browse radio on Rdio in the Stations section.
Browsing is not entirely an easy prospect, however, as the radio stations are distributed across various categories. Stations > Live Radio on Rdio's website, for example, hosts just 22 stations. Others are found under other headings like Alternative, Classic Hits, and Country. Rdio has a complete list of stations on the company's blog.
Each station also has its own page on Rdio, with a list of recently played songs. The new feature is not unique to Rdio, as iHeart Radio and TuneIn also carry live broadcasts of Cumulus stations in their services.
The impact on you at home: If you really wanted to hear these stations online you could always do so, as most stations stream directly from their own websites. On top of that the aforementioned services, iHeartRadio and TuneIn, are also available. If you're already an Rdio user, however, having these radio stations in the same service is an added bonus.