Here at PCWorld, we get a lot of requests that don't necessarily always match the subject indicated on the masthead. "Would you check out my iPad game?" "Why isn't The Last of Us on your Game of the Year list?" "Have you heard about mobile-cloud technology?" "Would you hold my baby?"
So when Seagate wrote to me last week to say, "Be on the lookout for a launch kit (currently on its way to you)" and told me it was their new Game Drive for Xbox, I didn't even blink. I just wrote back and asked (with a wink) if it worked on PC too. And of course it does, because it's a hard drive. Just a normal 2TB external hard drive in a pretty green Xbox case.
From Seagate's site:
"Nothing says 'Game Over' for the Xbox One experience like a full hard drive. Boost your console's storage capacity with the Seagate Game Drive, the only external hard drive designed exclusively for Xbox One or Xbox 360."
Exclusively, eh? Well, this is what the Game Drive for Xbox looks like sitting on top of my Phanteks Enthoo Luxe PC case, filled with 2TB of Steam games: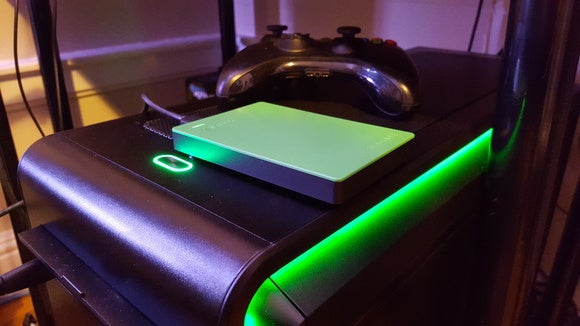 And this is what the Game Drive for Xbox looks like in my drive directory, after I renamed it to something more appropriate:

I even changed the Enthoo Luxe's LED case lighting to green so the poor Game Drive for Xbox wouldn't feel too out of place. Spec-wise, the Game Drive is a 2.5-inch 5,400 RPM drive and connects through USB 3.0. Using CrystalDiskMark I clocked it at 136.6/127.4 MB/s sequential read/write.
Some notable PC exclusives now residing on the Game Drive for Xbox: Age of Empires II, Pillars of Eternity, Dota 2, Europa Universalis IV, The Whispered World, and more. Like, a bunch more. two terabytes is a lot of space.
It's honestly not a bad drive, provided you're still using hard drives anyway and haven't switched entirely to SSDs for gaming. A bit slower than the 198.2/194.3 MB/s I clocked on my internal 2TB 7,200 RPM drive. That means with the Game Drive you'll experience slower load times and potentially worse performance for any game that streams assets from the drive a lot instead of RAM—but not unmanageable. I could see using this drive as supplemental game storage for an SSD-equipped laptop, now that you can set Steam to install to multiple directories.
You could probably even crack the enclosure and hook the drive up internally if you felt like it. Or keep it external, if you want a bit of a laugh every time you look down at your PC. Or…you could just buy an internal hard drive. 2TB 7200 RPM drives seem to start at about $75 these days, as compared to $100+ for the Game Drive for Xbox.
Long live PC gaming.