Think about how kids treat their own toys. Now think about the first generation of Chromebooks deployed in classrooms—many were the same inexpensive models consumers could buy. Now think about what happened as these Chromebooks were dropped onto desks, shoved into backpacks, and used as impromptu lunch trays.
Their sacrifice was not in vain. There's a new generation of Chromebooks, and they're ready to survive what students dish out. They're designed for the classroom, but some of these extra-durable models can also be purchased by individuals, and they're well worth considering—because the kitchen table or family room can be a pretty rough place for Chromebooks, too.
Here's a sampling of the tougher Chromebooks available today.
Lenovo ThinkPad Yoga 11e, nicknamed 'Tank'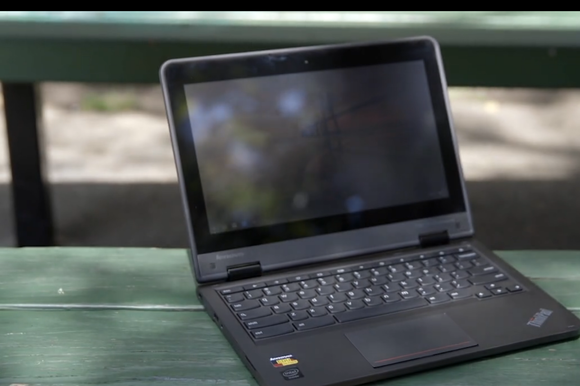 The Lenovo ThinkPad Yoga 11e Chromebook dares to bring a convertible with a 360-degree hinge into the classroom. Kids should have a lot of fun flipping the hinge back and forth, from clamshell to easel to tablet and back. You couldn't do that a zillion times to any old convertible, but the Yoga 11e's hinges are thick metal pieces that will probably outlast the rest of the machine.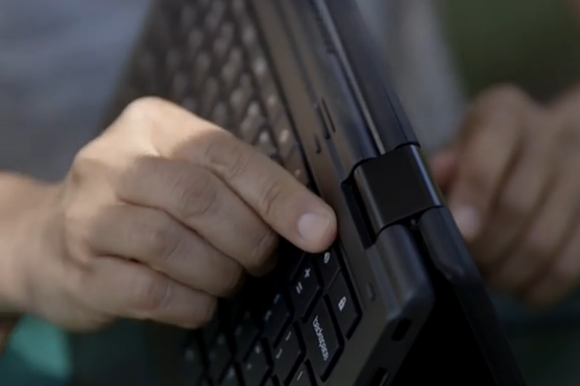 Lenovo designed the 11e's lid with extra stiffness, and put a rubber gasket around the sides to protect against bumps. The Dragonlit screen glass is designed to withstand up to 132 pounds of force. As it happens, I was recently weighed at the doctor's office, and learned I'm 132.8 pounds fully clothed. This makes me the perfect candidate to use the Yoga 11e as a doormat—and, yes, it survived.
Basically, this 11-inch Chromebook convertible is a tank. It's also priced like military hardware, at around $600—that's a lot more than any other model we tried. However, it's clearly built to take abuse, and that's what you need to survive in the whiteboard jungle.
Dell Chromebook 11: Like water off a duck's back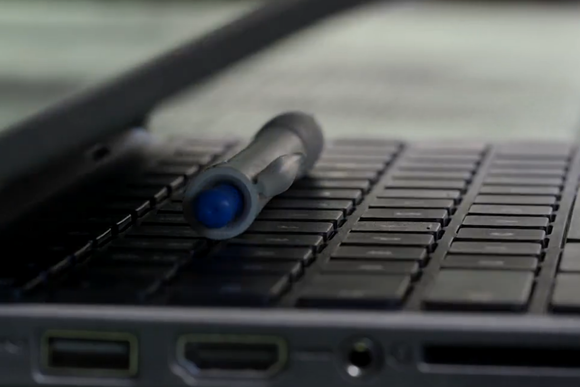 Dell apparently had the same concerns about students as Lenovo when it designed the Chromebook 11 (which costs $250 and up). This Dell model has rubber bumpers surrounding the sides of both the display lid and the main body.
Our loaner unit includes an optional Gorilla Glass touchscreen display to protect against a very specific abuse scenario. It turns out that students have a bad habit of leaving their pens and pencils on laptop keyboards, and then closing the lid on them. This leads to cracked screens, which will never impress the teacher. We pushed a few pens into the Chromebook 11, and all the display suffered was a few skid marks, which were easily wiped away.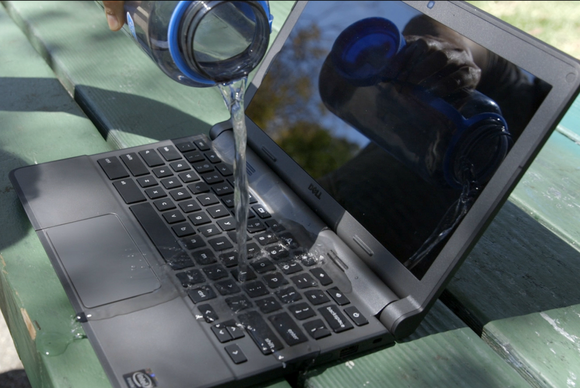 But here's a much worse nightmare than a misplaced pencil: liquid dumped all over the computer. The Dell Chromebook 11 is water-resistant, and even has a drain hole on the bottom. We followed the test specifications given to us by Dell, pouring 16 ounces of water over the laptop while it was powered on. We waited 10 seconds before draining it off. The Chromebook 11 was unfazed, and I could browse the web on it again right away.
Note that Dell makes no such guarantees for spilled soda, juice, or coffee. So don't get cocky.
Haier Chromebook 11E: 'Kids like white laptops'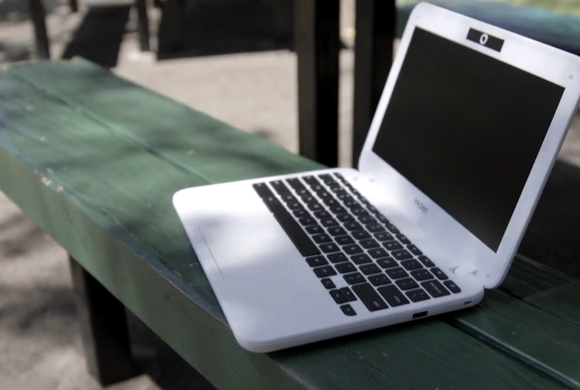 No one who has kids has white carpets. Or white sofas. Or white cabinets. Or white anything, really. Between the food and the fingerprints, you're just asking for trouble. But "kids like white laptops"—or that's what a Google product manager told me. And thus we have the Haier Chromebook 11E.
Aside from the smudge factor, Haier's engineers seem aware of the dangers posed by schoolkids. The 11E chassis is plastic, but thick and stiff. Kids have a bad habit of dropping Chromebooks, but the Chromebook 11E's integrated handle makes it easier to carry safely. The laptop also has a removable battery, which is almost impossible to find on any laptop these days.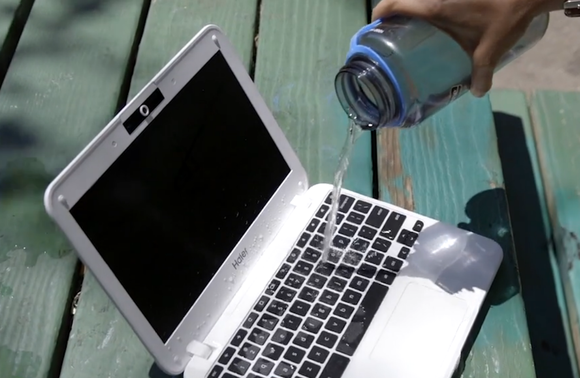 Like the Dell Chromebook 11, the Haier Chromebook 11E is also built to be water-resistant. While the laptop was powered on, we poured water over the machine, let it sit for some seconds, then drained it off. The Chromebook 11E was right as rain. Not bad for a Chromebook that's around $169.
Now that Chromebooks have been in schools a few years, the bar is rising. Dell just announced a Chromebook 13, with a 13-inch display, that looks less like a toy and more like something a high-school or college kid, or teacher, would be comfortable being seen with. And once the parents get a look at these tougher Chromebooks, I wouldn't be surprised if they wanted something similar for themselves.