Late last week, Google appeared to be blocking links to imageboard 8chan on the grounds of hosting "suspected child abuse content." The imageboard is routinely criticized for hosting pedophilic content, and even had its domain seized over allegations of hosting child abuse content in January.
When Ars Technica reported on the Google issue on August 14, it said only direct site searches using "site:8ch.net" would return any results—and the results that Ars received were very limited.
Since then, however, Google appears to have rolled back its initial banhammer, and now you can get results from the 4chan alternative and Gamergate's infamous home forum. Searching with keywords such as "Donald Trump 8chan" or "Star Wars 8chan" returned results from the site; however, the links to 8chan itself were usually limited to one or two results on the first page. At this writing, direct site searches returned a multi-page list of results as you'd expect.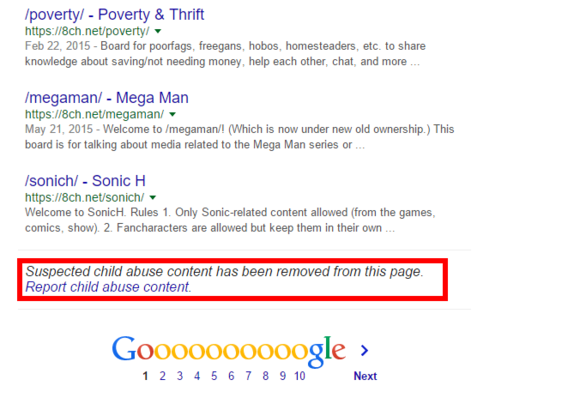 Certain searches, however, included a warning from Google, stating that the company has removed links to suspected child abuse content from its results. The easiest way to see this in action is to do a blank site search with "site:8ch.net" into Google. Scroll down to the end of the first page of results to see the warning—my tests included at least one objectionable link.
The story behind the story: Blocking an entire domain on any level is an unusual step for Google, especially for such a highly visited and well known site. There's no question that the imageboard hosts objectionable content, but not all of the site includes content that could be considered child abuse or encouraging to pedophiles. Google's policy is to remove content related to child abuse from all its products including search, and that's a good thing. But banning an entire site is an extreme measure and possibly unfair in this instance. It appears Google realized this and has taken a more measured approach.
It's about ethics in search
The issue of Google enacting a site wide ban for 8chan was first brought to light by users, and 8chan founder Fredrick Brennan responded to discuss the issue in a Medium post on August 13. Observer.com was the first to report the issue a day later.
"It seems to me like Google has abandoned the same policy we use, and a policy that U.S. hosted websites have held to for a very long time," Brennan wrote. "When Google blocks a link for DMCA, it blocks a specific link on a domain, not an entire domain."
Brennan goes on to argue that he cannot control what his users upload and "can only act after the fact."
That's a very different answer to the one The Daily Dot reported from him in November when confronted over an 8chan forum posting sexualized photos of children.
"If you want /doll/ shut down, you should instead focus on the studios who are producing this content," he told The Daily Dot via email. "Some of them are even legally based in the USA. That's the real story here, not some perverts posting them online after the fact."
Brennan objected to The Daily Dot's reporting and published what he said was the complete email thread of the interview on Medium.
We've asked Google for comment over the 8chan issue and will update this story should the company respond.