There was a time when deciding on an antivirus solution for your PC pretty much came down to two choices: Norton or McAfee.
Now, however, antivirus programs are everywhere—and many have a free version. You have your choice of Avast, AVG, Kaspersky, Panda, Trend Micro, and many others.
It's enough to make your head spin, but there's a really easy way to figure out which antivirus program is right for you. An independent testing organization called AV-Test spends its time figuring out the best antivirus programs for Windows, Mac, and Android users.
The company publishes its results a few times a year, and for Windows users it breaks down results by operating system version. AV-Test has yet to publish any results for Windows 10 since the latest report came out in June, but you can probably rely on the Windows 8.1 results for now.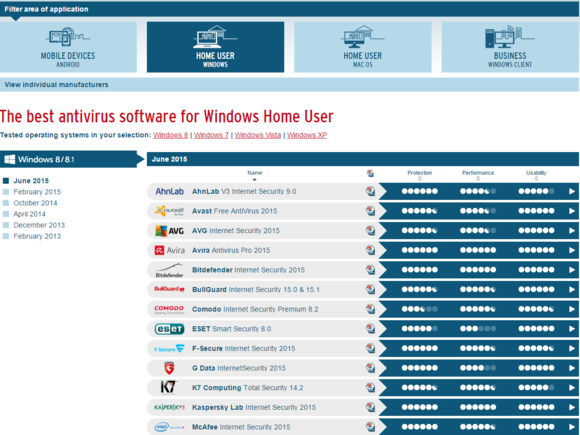 To find out about the biggest names in antivirus, visit AV-Test's Windows home users page. Here, you'll find a breakdown by Windows version, with each program rated on three criteria: protection, performance, and usability.
The companies are listed in alphabetical order, but you can click on any of the criteria points to get a ranking based on that (performance, for example). Each category is rated on a six-point scale represented by a group of circles. More colored-in circles means a better score.
All three categories are important, but if you ask me, usability should be your top consideration, along with protection, and performance. With so many programs to choose from, and virtually all of them good, it helps to pick something regarded as user friendly.
Now just look through the list to find the antivirus that meets your needs. Note the list includes free and paid options, so you may have to do some digging if you don't want to pay.
As of June 2015, for example, Panda Free Antivirus gets really high marks and even beats many paid options for Windows 8.1—a not uncommon occurrence. Microsoft's built-in Windows Defender, meanwhile, totally blew it on protection and performance.
To dig deeper into the results, you can click on any of the antivirus programs to get a more detailed report as well as links to each company's website to download the program of your choice.
That's about it. There are alternatives to AV-Test that you can find by searching for "antivirus rankings." But I find AV-Test's charts the easiest to use and the most straightforward.