The National Football League's pre-season is in full swing, the World Series is just around the corner, and in a few months hockey and basketball will start up as well. If you're a new Windows 10 use,r now is the perfect time to get ready for the sporting bonanza this fall by asking Cortana to track your favorite teams for you.
With Cortana, you can keep up-to-date on the latest scores for your favorite teams, as well as team-specific news, all from your desktop.
Here's how to do it.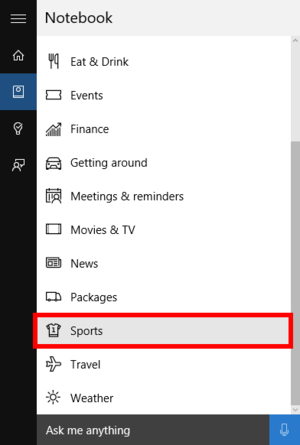 Click on the Cortana icon or search entry box on your taskbar. If Cortana isn't activated, go through the steps to do that. Once you're ready, click on the notebook icon in the left-hand navigation panel (right below the home icon) in the Cortana pop-up panel.
This is called the notebook and it's basically the preferences settings to tell Cortana what you want to know about.
Scroll down until you see Sports and click on that. Make sure all the sliders are turned to On and then scroll down until you see "Teams you're tracking" and click "Add a team."
On the next screen, start typing the name of the team you want to track into the search box. If Cortana fills in the name then that's a team you can track with Microsoft's digital personal assistant. Select it, and on the next screen make sure all the preferences are set as you'd like for getting notified about scores and game updates. Click Add once everything's set to your liking.
To add more teams, just repeat the process until you've followed all the teams you want. When you're done just click away from Cortana. There's a Save button at the bottom of the Sports preferences, but you don't have to click it when adding new teams.
Now every time you open Cortana you'll get updates about your favorite teams in your daily summary, and also receive up-to-the-minute notifications if you've selected to get game time score updates.
Tracking sports teams is just the beginning when it comes to Cortana's deep powers, however. Want more tips and tricks? Check out our comprehensive guide to Microsoft's digital personal assistant.