Alienware is largely credited for kicking off the micro-tower revolution three years ago with the original X51.
The concept was simple: Take the typical business small-form-factor box, pull the PSU out of it and make enough room—just enough room—to shove an off-the-shelf graphics card inside. The result was a truly compact tower system that could sit on a desk or next to a television, yet still play games with reasonable performance.
The X51 was a success. Soon, most other PC makers were copying Alienware's micro-tower concept—and surpassing it in capability and performance, too.
Well, Alienware is back with its third-generation model, putting more pep into the X51's stride. The most obvious update to the R3 version is Intel's 6th-gen Core i7-6700K Skylake chip inside. That's tied with DDR4 support, and this particular box I touched has 16GB of it.
Alienware also took the opportunity to address the cooling of the Skylake chip. While not horribly loud, the X51's CPU was noticeable under heavy loads with its air cooler. On the R3, Alienware taps Sankyo Denkin for a nifty little liquid cooler. It's incredibly tiny and doesn't take up much more room than a stock heat sink and should help dampen the acoustics.
Liquid cooling also means Alienware is going to ship the X51 from the factory with an overclock option in the 4.4GHz range. Not bad. Alienware officials did say that overclock won't be on all cores. But then, they never promised you a liquid nitrogen-cooled rose garden either.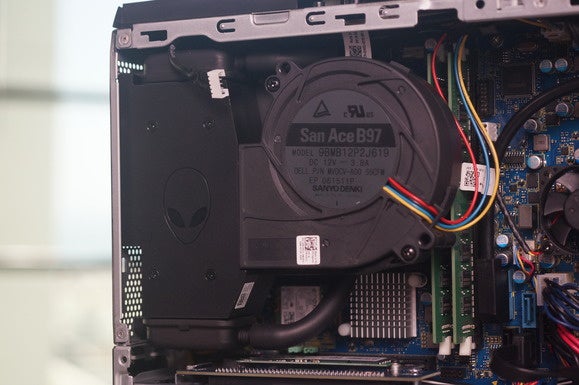 Space has always been a premium in the X51, and Alienware is still shackled by capabilities of its chassis design. For example, the first-gen X51 could run a 3.5-inch hard drive or SSD, but not both simultaneously. The second-gen kinda sorta addressed that with a combo adapter that took a 2.5-inch laptop hard drive and a 2.5-inch SSD. The problem with that approach is the limitation of the laptop hard drives in capacity.
With the third gen, Alienware again kinda, sorta fixes the situation by putting in a full-size 3.5-inch hard drive and moving the SSD to an M.2 in a nearby slot. This seems like the best of both worlds, but the SSD in my hands-on unit was Samsung's PM851. I initially thought it was Samsung's SM951, a true PCIe-based M.2 drive capable of 2GB/s reads and 1.5GB/s writes (yes, I said it wrong on video), but it's actually a standard SATA M.2 drive that's really no faster than a SATA SSD.
The good news is, Alienware officials say the unit supports booting from a PCIe-based M.2 SSD and there will be an option so, um, I was right after all in my video.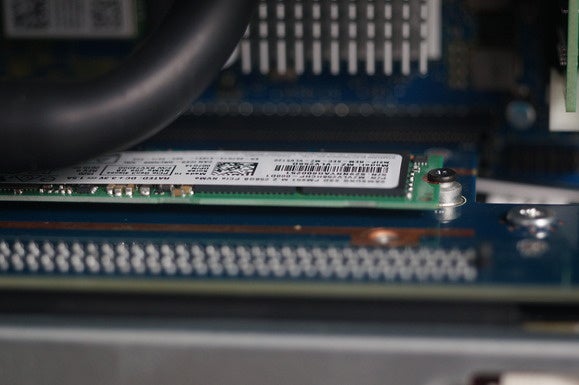 Another change that may or may not make people happy is the death of the optical drive. Alienware nixed the slot-fed drive to make room for the liquid cooler. For those who don't use an optical drive, it's no big deal. For those who also used their X51 for a Blu-ray player in the living room, you'll have to run an external unit.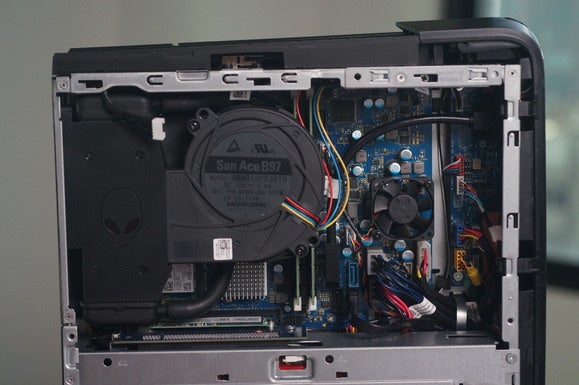 It's nice to have the overclocked Skylake chip, but gaming today is still mostly in the territory of the GPU. As with the previous unit, the X51 tops out with a GeForce GTX 960. That's the top card Alienware sells, but the company says a GeForce GTX 970 will work if you use the stumpy version of the card. The limitation is mostly size but also power. Like the previous two versions, the X51 runs on a single 330-watt external power brick.
So what's an X51 owner to do? Use this port: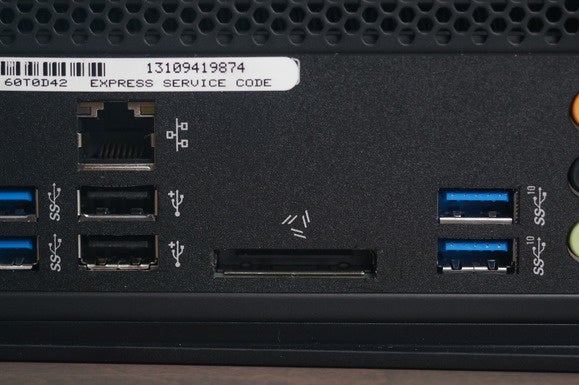 With the third-gen X51, Alienware has added support for the Graphics Amplifier that I reviewed. With its larger power supply, you can run up to a GeForce Titan X in the Graphics Amplifier with the X51.
I'm not sure this makes sense for everyone, as it's not very portable, but I like the option. I frankly see no reason not to include a Graphics Amplifier port on everything Alienware makes, short of its full desktop tower. Why not add the support into the Alienware Alpha too? With the cost of the Graphics Amplfiier down to $200, it's really not a bad alternative for someone who wants a little extra oomph but is afraid to crack the case open for an upgrade—or is simply unable to do an upgrade due to the physical constraints of the box.
This isn't quite optimal, though. For someone who buys into the micro-tower form factor, wouldn't it just be better to have a unit that can take a beefier GPU from the get-go?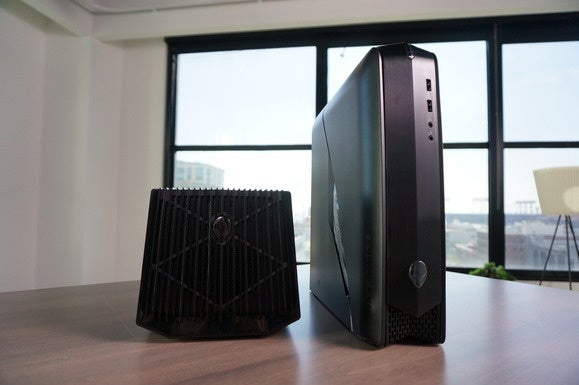 Alienware probably disagrees. As much as we all like big burly GPUs that push $700, the sweet spot in gaming is far lower. The X51 can be configured down to the $700 range or as high as the $1,300 range, depending on the options. We'll have a full review of the X51 as well as its competitors in the near future. In the meantime, if you're a fan of small PCs that have enough real power to play games, this is where it all began.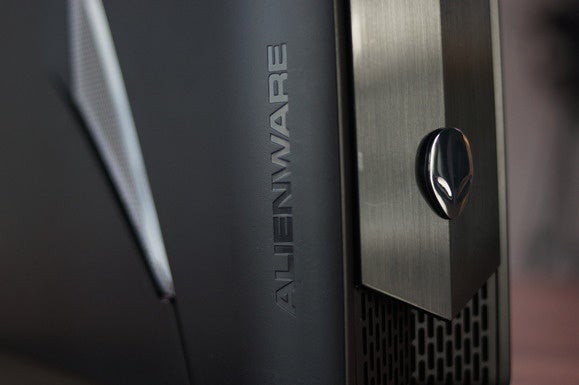 Note: When you purchase something after clicking links in our articles, we may earn a small commission. Read our affiliate link policy for more details.
One of founding fathers of hardcore tech reporting, Gordon has been covering PCs and components since 1998.