Trying to figure out which sixth-generation Intel Core chip to buy in Intel's Skylake family is like going to a preseason baseball or football game. There are numbers everywhere. Somewhere in the crowd are the superstars. But which ones?
We can't test everything at PCWorld, but what we can do is provide a handy scorecard of the Skylake chips Intel is launching Tuesday at the IFA show in Berlin. We've already told you why Skylake is a "sixth-generation CPU", what you need to know about Skylake, and even an early review of the i7-6700K, one of the high-end desktop Skylake chips Intel will ship this fall. (For a general overview of Intel's Skylake announcements, please see our main Skylake launch story.
Here's what you need to know about Skylake in a nutshell: The prices that Intel has published appear to essentially to be the same that Intel is charging for its Broadwell chips—meaning that, from a price perspective, it's a no-brainer to bypass Broadwell or Haswell for Skylake. But there's a catch for desktop users: Skylake uses a new motherboard socket and memory, meaning that you'll practically have to invest wholesale in a new system.
For laptop users Skylake does hit a new, lower, power threshold, so your portable's battery should theoretically last a bit longer.
Intel announced five families of microprocessors at IFA: four for the Core family, as well as new Core m (yes, lowercase 'm') designations for the i3, i5, and i7. If you're buying an Intel-based tablet, chances are it will include a Core Y-series chip. Thin-and-light notebooks will use the U-series chips. So-called "ultimate mobile" systems and performance workstations will include the H-series chips, while the S-series chips will be included in both performance and value desktops, all-in-ones, and mini PCs.
A quick guide to the charts
We've included Intel's processor charts throughout this story. Just like baseball statistics have evolved from batting average and ERA to WAR and OPS+, so have the metrics Intel uses to describe its processors. Price, clock speed and the number of cores still remain as the primary metrics. Just note that the price Intel is quoting are for a bulk order in lots of 1,000. You'll typically pay more for an individual chip initially.
(And while this may sound obvious, here's a handy tip: Almost all 6th-generation Core chips—aka the "Skylake" family—use a '6' as the first number of their product name, such as the i5-6500T.)
Modern operating systems like Windows 10 are better at divvying up tasks among the multiple cores that most processors include, so a greater number of cores and threads generally translates into improved performance. If necessary, those cores can kick into "turbo mode," temporarily overclocking themselves to complete a task quickly. Core i3 chips lack this capability.
Consumers shouldn't have to worry about Intel's Stable Image Platform (SIPP) or Small Business Advantage (SBA) technologies. Ditto for Intel vPro. You might want to consider buying a chip with Intel TXT technology built in, however; that's the Trusted eXecution Environment which seems to be at the heart of new Windows technologies such as Windows Hello and Passport. Virtually all of the new Skylake chips include virtualization technology—a geeky way to test out a future version of Windows 10, but essential if you want to run Android apps on your PC.
Note: Not everything Intel is announcing today will be immediately available. (If the price is listed as "To Be Determined," (TBD) Intel will ship it at a later date — either during the fourth quarter or in early 2016.)
High-end desktops: the S series
While Intel hasn't announced any of its high-end "Extreme Edition" parts yet, the first thing that should strike you is the overall reduction in power, although it may not seem apparent initially.
An Intel 4GHz Core i7-4790K Haswell CPU, for example, is rated to dissipate 88 watts of heat. Its direct replacement is the 4GHz Core i7-6700K, which has a "TDP" rating of 91 watts. Both of these CPUs are designed for enthusiasts who will overclock.
The better comparison would be the 3.6GHz Core i7-4790 chip that doesn't overclock. Even with its lower clock speeds, it maintains the same TDP rating of 84 watts. For Skylake, the 3.4GHz Core i7-6700 that can't be overclocked has a TDP rating of 65 watts. To be fair to Haswell, there was a Core i7-4790S version with the same TDP rating as its Skylake counterpart, but the clocks drop even lower, to 3.2GHz.
Even though Skylake represents a processor redesign and not a process shrink—where most of the power reduction takes place—Skylake should consume less power than a similar Haswell chip.
The other thing to notice is that, at least for now, all of the desktop chips that Intel has announced have at most four cores and eight threads. Intel's Core i7-5820K and higher "Haswell-E" chips that use larger sockets and don't contain integrated graphics all contain 6 cores and 12 threads. It's not clear whether Intel plans to add similar parts in the future, or leave a 4-core/8-thread as the high end in the smaller socket.
What does seem clear, though, is that are only single Core i5 and Core i7 unlocked "K" versions of the Skylake parts; it's virtually assured that more will be added over time.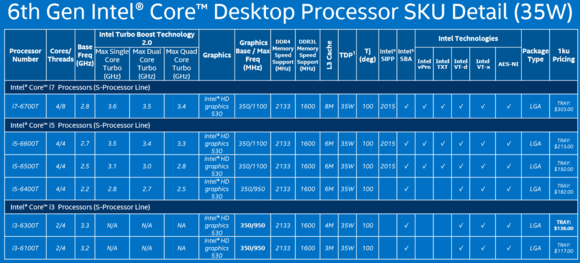 From a graphics perspective, the desktop chips are virtually identical: They all use the new Intel HD Graphics 530 core. Just be aware that some of the slower chips—the i5-6400, specifically—have their graphics cores clocked lower under load. Still to come are Intel's Skylake chips using embedded DRAM, which should greatly increase graphics performance.
The desktop Pentium chips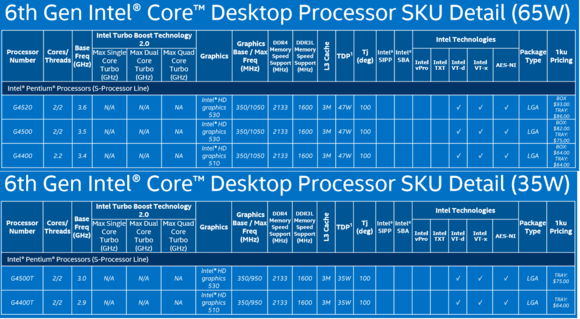 Intel resuscitated the Pentium brand awhile back, a seemingly odd throwback to the days not too long past when gamers had to tweak HIMEM.SYS and other system files to allow their PCs to work. Today, an Intel Pentium is synonymous with low cost. Intel will also launch Celeron versions of Skylake in the future, at an even cheaper price.
You can see that buying a Pentium isn't that bad of a deal for basic computing. Here's the interesting thing, though: Because there's no Turbo Boost self-overclocking mode, the Pentiums are actually clocked faster than some of their Core cousins. Couple that with a pared-down cache to save cost, and the result is a cheap chip that's going to run at full speed fairly aggressively. The only caveat is the lack of Hyper-Threading, which is Intel's virtual CPU technology that makes two CPU cores act like four. Depending on what you do though, you may not feel it.
And no, cheap gamers, we asked: Intel said none of the new Skylake Pentiums support overclocking, like it did with the "Anniversary Edition" Pentium G3258.
Intel's mobile Skylakes include Xeon, overclocking
Intel can't shave as much power in the mobile space, where the maximum thermal power of a Broadwell chip, 47 watts, is nearly identical to the 45 watts that a mobile Skylake processor consumes. Here, though, Intel is focusing on the time in which the chip needs to be powered up. Intel's Skylake-specific Speed Shift feature reduces the time in which a chip needs to shift from a high-power to a low-power sleep state to as little as 1ms, versus 30ms or so before. This sounds like a tiny detail, but when the chip is constantly shifting from a full-power "busy" state to a sleep state, it's a big deal.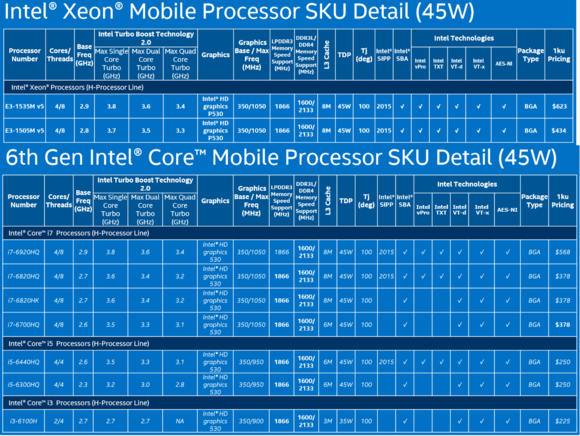 One of the oddities of the new mobile Skylake line is the new mobile Xeon "server" processor, designed for true mobile workstations. Intel has already begun shipping the chip—at the SigGRAPH show in August, Lenovo announced the P50 and P70 workstations, including the chip as well as peripheral enhancements like Thunderbolt 3.0, based on the new Intel Alpine Ridge controller.
Gamers, though, may want to think about the Core i7-6820HK. Why? Because it carries that magical "K" suffix, meaning that it's overclockable. Yes, an overclockable mobile chip! At IDF, Intel executives said we'd be seeing laptops with an easy-peasy, one-touch overclocking mode by way of a 'turbo' button. It's possible that some might be shown off at the IFA show this week. We'll keep our eyes out.
In general, though, Intel's mobile chips show a definite progression down the performance curve: The more expensive Core i7s boast larger cache, robust Turbo Modes, and a faster maximum graphics clock speed. All of these factors decline as the processors step down into the Core i5 and Core i3 range.

Be aware that Intel also has two other lineups of Core i7/i5/i3 for ultrabook PCs consuming 28 and 15 watts. In general, you should expect lower performance but longer battery life with these chips. Because laptops in general are getting thinner by the day, it might not be totally clear whether you're buying an 'ultrabook' or just a thin laptop.
These lower-power chips differ from the more robust 45-watt variants in two key ways: The number of cores are significantly reduced. Also, Intel has included what appears to be a down-clocked mode, for activities like simply displaying this article, for example, that require less exertion from a chip.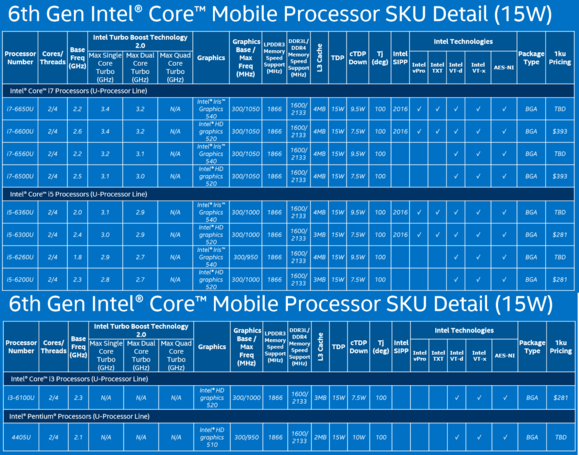 You'll also notice two graphics variations: a slightly underclocked version of the HD Graphics included on the 45-watt chips, as well as an entirely different Iris Graphics architecture. The Iris Graphics brand has generally been used for Intel's premium graphics product, which means the lower-power products may actually outperform the chips with more cores. (But note the "TBD" designation in the pricing column. Iris Graphics is coming later, and Intel's not saying when.)
If you're wondering why, it's likely because higher-wattage quad-cores are almost always coupled with discrete graphics for more performance. The lower-power U-series chips almost always go it alone with integrated graphics. Still to come will be the Iris Pro version, using its own dedicated 64MB or 128MB eDRAM frame buffer.
One has to wonder whether, over time, Intel might add a 4-core/8-thread version of the 28W Core i7 chip, as a middle ground for gamers. Eventually, the PCI-SIG hopes to mainstream a technology called Oculink, which lets gamers could tote around a low-power laptop by day and connect it to an external GPU for gaming after hours.
The Core M (sorry, Core m) now has its own naming scheme
So-called two-in-one or hybrid devices occupy their own little niche: Sometimes they're a tablet, and sometimes they're a notebook. Now, with Intel's new Skylake Core m chips, you'll have a better sense of what's what.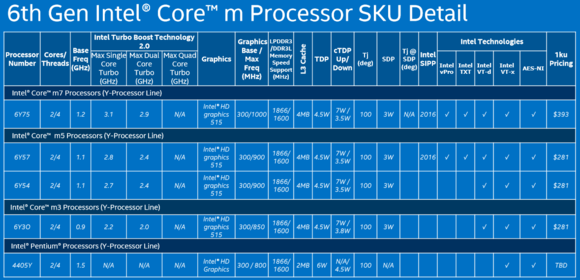 What surprises me most, however, is the price Intel's charging—almost $300 a pop in most cases. That means the Skylake Core m definitely won't be appearing in devices that will compete with Android tablets. For the price of a Core m, you'd be able to buy a decent Android tablet all by itself.
The Core m, however, features both upclocked and downclocked modes, allowing the tablet to rev up when needed, then clock down when not. (The Core m3 can also enter Turbo Mode, unlike the Core i3.)
While the Intel HD Graphics 515 chip is part of the Skylake family, it's pretty bare-bones in terms of performance. Still, the selling point is power: Core m chips run at just 4.5 watts, and Intel believes you'll get up to ten hours of battery life with a Core m tablet.
Know your chips to make the best purchase
If you've read this far, you should have a better idea of what distinguishes which Intel Skylake chip from another. It's useful information, because eventually, you're going to see an ad or a sign advertising a "Core i7" computer on heavy discount, and you're going to be tempted. You should be able to figure out whether the vendor is selling an older Broadwell chip, or perhaps a low-end Core i3 that isn't what you'll want.
Remember, too, that Intel's Skylake is more than just a chip—it's also a collection of technologies designed to revamp the PC. To learn more about those, see our overview of Intel's Skylake.