A pair of leaked images are offering a complete look at Microsoft's first flagship Windows 10 Mobile phones, codenamed Cityman and Talkman.
As revealed by Evan "evleaks" Blass, evleaks, the phone with the cyan rear cover is Cityman, and is the larger of the two devices with a 5.7-inch, 2560-by-1440 resolution display. Talkman is slightly smaller with a 5.2-inch display (same resolution), and appears in black. While the two phones have slightly different button and camera configurations, they both appear to have dedicated camera buttons, as with previous Microsoft Lumia phones.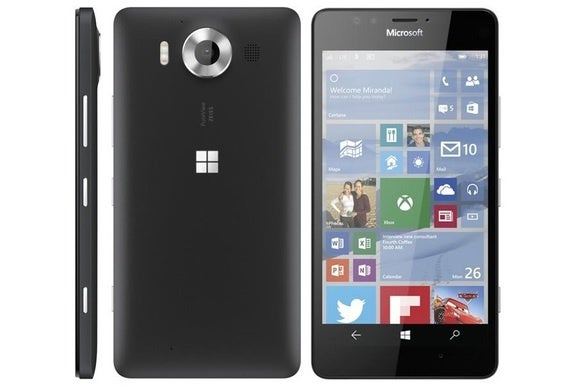 Another image, surfaced by Neowin's Brad Sams, shows the Cityman connected to a small device via USB-C cable. According to The Verge, this is the rumored "Wizard" device that connects to an external monitor, enabling a full-screen mouse-and-keyboard interface via Windows 10's Continuum feature. As Microsoft has said before, Continuum will not work with existing Windows phones, so it looks like Cityman and Talkman will be the first devices to support this feature.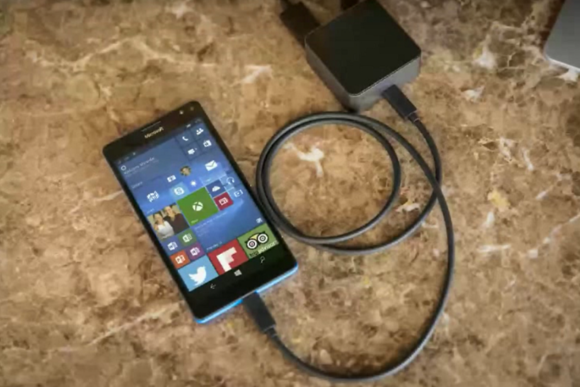 Other details on the two phones were previously revealed by Windows Central. Aside from the display size differences, the Cityman has a slightly more powerful Snapdragon 810 processor and larger 3,300 mAh battery, compared to Snapdragon 808 and 3,000 mAh battery on the Talkman. The Cityman will also work with Microsoft's Surface pen and a flip cover with a circular opening for notifications, both sold separately. Both devices will have 3GB of RAM, 32GB of storage, a 20-megapixel PureView rear camera, a 5-megapixel front camera, and microSD card slot. They'll also include an iris scanner for Windows Hello and Qi wireless charging.
Microsoft may announce the two flagship phones at a rumored press event in October, alongside the Surface Pro 4 and second-generation Microsoft Band wearable. The final product names for the phones will reportedly be Lumia 950 for Talkman, and Lumia 950 XL for Cityman.
Why this matters: While we've seen plenty of details about Cityman and Talkman already, this is the first good look we've had at their design. It doesn't seem like Microsoft is shaking things up on this front, so we'll likely see the company pitch Continuum, Windows Hello, camera quality, and deep hooks into Windows 10 as the big selling points.