After years of stagnation, Logitech's been working its ass off in recent months to win gamers back to its suite of peripherals. All the hard work has already resulted in the G502 Proteus Core mouse, a.k.a. absolutely the best gaming mouse I've ever used. Now, the company is revamping its relatively ancient G930 headset with not one, but two new variants: the G933 and G633 Artemis Spectrum headsets.
Announced today, Logitech's taking some real shots at the competition. The press release I received has Logitech's Ujesh Desai on-record saying, "We saw that no one was really building a pair of high quality headphones for gamers, so we challenged our audio team to see if they could do it."
Hot. Damn. In one fell swoop, Logitech took aim at everyone from Kingston (which produces the excellent and budget-friendly HyperX Cloud) to Astro (the A50). Talk about coming out swinging.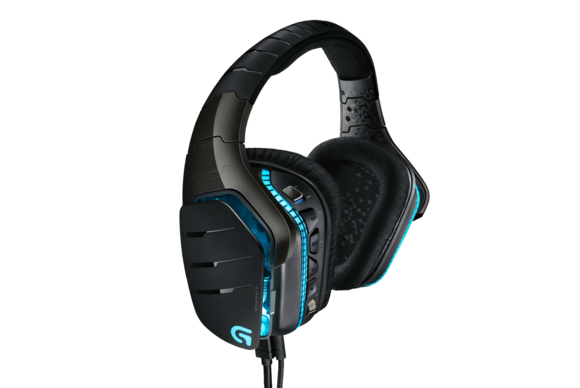 Both the G633 and G933 feature what Logitech terms "patent-pending Pro-G audio drivers," which Logitech says are "are made with hybrid mesh materials that provide the audiophile-like performance gaming fans demand." According to Logitech the Pro-G drivers "deliver both clean and accurate highs as well as a deep rich bass," which is pretty much what every headset manufacturer says—I'll have to wait and hear the sound for myself to pass judgment.
Each headset is equipped with both Dolby and DTS Headphone:X technology for 7.1 surround, though I've yet to be impressed with the virtual 7.1 of a single gaming headset so…we'll see.
As far as the design, the 633 is wired while the 933 is 2.4GHz wireless with the option to plug in a standard 3.5mm audio cable and run wired. Also of interest: Both the 633 and 933 allow you to plug into multiple audio sources simultaneously, with a toggle on the back of the headset (near the volume dial) to switch between them. The 633 features one USB input and one analog input, while the 933 features one USB input and two analog inputs.
The headsets feature full 16.8-million color RGB lighting accents, as well as swappable backlit speaker plates. And like the old 930, the 633 and 933 are both equipped with three programmable G-Keys, which are used for programming macros. I still think it's a bit odd to have macro keys on a headset, but hey—they're there if you need them.
The 633 and 933 will both be available starting in October, with the 633 retailing for the G930's old price of $150 and the 933 going for $200.