There's a storm brewing over the impending release of Microsoft's Fable Legends later this year, but this tempest's focused on the wrong issue.
Furor erupted online when Lionhead's social media coordinator confirmed on Twitter than the game—a showcase for the new DirectX 12 graphics technology and Windows 10/Xbox One cross-play capabilities—will be on Windows 10, but not on Steam, implying that it's exclusive to Microsoft's Windows Store. MCV first reported the news.
@sertificationNu I think you may have answered your own question there 😉 It will be on Windows 10 but not Steam, sorry!

— Lauran (@LHAlbionGirl) August 24, 2015
The digital masses immediately grabbed pitchforks and torches. "What do you mean a Microsoft game will be exclusive to Microsoft's digital store??!!" the crowd collectively howled, invoking the specter of Games for Windows Live. "This is what Gaben and Notch warned us about!!1!" they wailed, conveniently forgetting that Dota 2 and Left 4 Dead require Steam, Battlefield 4 runs on EA's Origin, and Assassin's Creed forces you to use Ubisoft's disastrous uPlay client.
But all the misplaced sound and fury obscures a very real issue with Microsoft locking full-blown games like Fable Legends and (probably) Gears of War Ultimate Edition to the Windows Store. The Windows Store doesn't offer an easy way to change where apps and programs are saved.
Sure, it's the epitome of first world problems, and yeah, there are registry hack workarounds you can use to change the save location, but it's still a major issue now that full-fat games are poised to start rolling into the Windows Store. A slew of PC gamers plunk their titles on secondary, mechanical hard drives in order to make the games easily portable—and to keep them from hogging all the space on a primary SSD boot drive. Modern PC games gobble dozens of gigabytes at a time!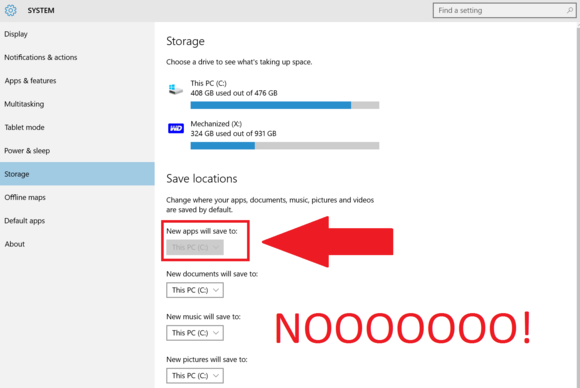 Services like Steam and Origin make it easy to change where your games are saved. The Windows Store makes it impossible. If you head to Settings > System > Storage in Windows 10 the "New apps will save to" option is literally greyed-out. And when you head to your installed app list via Settings > System > Apps & features, there's a Move option that's similarly greyed-out.
This needs to change before Microsoft starts wooing serious PC gamers. There are plans to allow Windows 10 devices to save apps to an SD card one day, but there's no indication whether or not the future update will also allow you to select a secondary internal drive as a save location.
Fingers crossed.