The Razer Nabu could be one of the most interesting fitness bands on the market if it actually manages to ship later this year.
Much like a Fitbit Flex or Jawbone UP, the Razer Nabu is a slim wristband that counts steps, measures calorie burn, and tracks sleep. But unlike those wearables, the Nabu also includes a monochrome OLED display that shows a variety of notifications, including text messages, emails, calendar appointments, and caller ID. The idea is to wear the screen on the underside of your wrist, glancing at it to decide whether you really need to take out your phone.
Razer has been talking about the Nabu since January 2014, but has only distributed it in highly-limited quantities over the last year. Razer now says it's ready to sell the Nabu for real, with pre-orders starting on September 15 for October shipping. The price remains $100.
Why this matters: While the wearable market is now overcrowded with fitness bands and full-blown smartwatches, the Nabu is still unique in that it strikes a balance between these two categories. Its six-day battery life and $100 price tag are similar to what you'd get from an all-purpose fitness wearable, but the ability to see notification text isn't something you get from a basic Fitbit or Jawbone tracker. Despite the delays, Razer could still occupy a sweet spot when the Nabu finally goes on sale.
Where Nabu went
Razer says it's been spending the last 18 months responding to feedback, as the company has shown off Nabu at trade shows, sent prototypes to developers, and sold a small number of early versions to loyal customers.
The biggest changes appear to be software-based. Razer says it's redesigned Nabu's companion app to provide a better overview of fitness activity, and the device now has algorithms for automatic sleep detection. On the hardware side, Razer says it has moved the Nabu's screen-on button to make it easier to reach.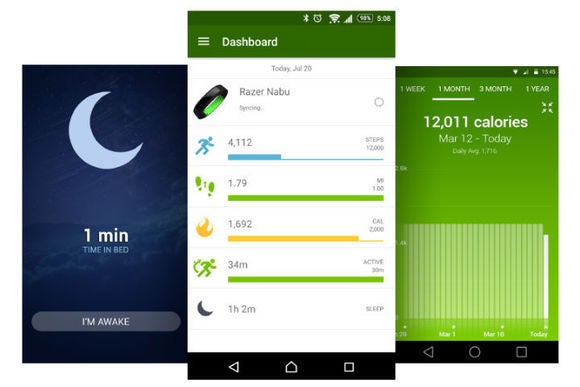 Razer has also been building up an app store and its third-party integrations, supporting Apple Health, Google Fit, Map My Fitness, and MyTracker. Razer's own apps include a fitness insights tool called Orion, a timer, a daily briefing, and a way to locate nearby gamers on Steam. While Razer is still talking about exchanging contact info with other Nabu users by tapping two bands together, this still seems like something that won't happen particularly often.
All of these software improvements will also apply to Razer's Nabu X, a $50 fitness band that uses LED lights instead of a full display for notifications. Android users can download a beta of the new Nabu X app now, while an iOS version is coming soon.