The pioneer of online payments is aiming to make it easier to send and receive money from friends and colleagues in 18 countries around the globe. On Tuesday, PayPal launched PayPal.me, a person-to-person payment service similar to solutions like Square Cash, PayPal's own Venmo, as well as add-on services from Facebook and Gmail.
What's original about PayPal.me is that it centers around a permanent and unique site link. PayPal.me/LukeSkywalker, for example, would be the central location where people could send Luke money.
That site is then hooked into Luke's PayPal account where he receives funds from friends, family, colleagues, even Sith. When you want people to send you money for that pricey lunch you covered, a communal office gift, or just a plain old IOU, you just send the debtor your PayPal.me link in an email, text, instant messenger, whatever.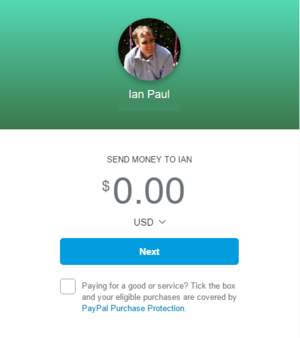 PayPal calls the new service your "personal link to getting paid back." Link, get it? So clever, PayPal.
The downside is that the person paying you back must also have a PayPal account to use the new service. They can't have just any PayPal account, however—it must be in one of the 18 PayPal.me-compatible countries, including the U.S., Canada, Australia, Austria, Belgium, Denmark, France, Germany, Italy, Netherlands, Norway, Poland, Russia, Spain, Sweden, Switzerland, Turkey, and the U.K.
The impact on you at home: PayPal already has a number of ways to send money to friends, such as Venmo (U.S. only) as well as a regular PayPal transfer (depending on the country). But none are as easy (or as global) as PayPal.me. However, there are other services that are just as easy. We've already looked at Square Cash, which is a simple email-based solution for anyone with a U.S. debit card. The solutions from Facebook and Gmail aren't too shabby, either.
Paying with PayPal.me
Once you've got all the prerequisites down, getting paid via PayPal.me is pretty simple. A person visits your PayPal.me site, enters the amount they want to pay, hits Next, signs in with their PayPal account, and approves the payment.
For users who want to get really fancy, you can even add a specific amount to the end of the URL. Let's say, for example, Luke sent out a group text to his co-workers who are all chipping in $20 each for a wedding gift. Sending PayPal.me/LukeSkywalker/20 would open Luke's PayPal.me site with $20 already entered and ready to go.
PayPal.me is live now, if you want to claim your own name before it's gone.