Intel announced a Core M-based version of its Compute Stick pocket PC at the IFA show, part of a small coterie of unexpected announcements Intel made at the trade show here.
As expected, Intel formally announced Skylake, its sixth-generation Core processor. Kirk Skaugen, a senior vice president at Intel, called the chip its "best processor ever."
Skylake can scale from over 90 watts down to just 4.5 watts, the power consumed by the Core M, now rebranded as the Core m. That makes it ideal for two-in-ones and even tiny devices like Intel's Compute Stick, which had used an earlier version of Intel's Atom processor when it debuted. Intel didn't announce a price or a ship date for the new Compute Stick, however.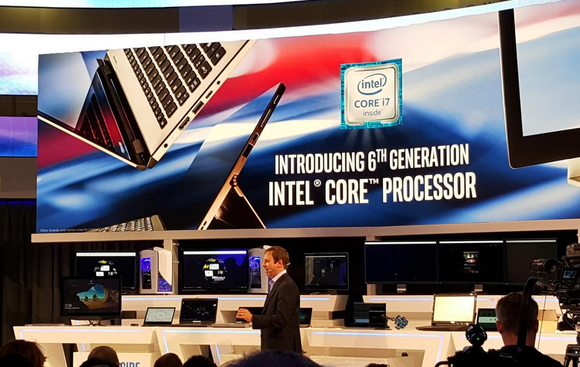 Skylake ships with an integrated graphics core inside of it, which Intel had previously said would be optimized for low-power video decoding. What was surprising, however, was apparently how good it is – Skaugen showed off the chip decoding 15 4K videos using the chip's H.265 decoding engine, and compared it against to a machine with a pair of Nvidia Titan chips performing the same task. They struggled.
"We're not about just throwing a lot of muscle to create performance, but doing it the right way," Skaugen said.
Intel also showed off its RealSense depth cameras, the hardware that makes Windows 10's Windows Hello feature work. To date, those cameras have been built into PCs, but Skaugen said that a version of its R200 RealSense camera was being built into tablets. Intel will release apps that allow users to "measure" objects using the camera, capture "depth enhanced" photography, and even play augmented reality games, in the near future, he said.