Two new Chromebooks crashed the Windows PC party at IFA in Berlin. Lenovo's Chromebook 100S is the company's first sub-$200 model at $179. Acer's Chromebook R 11 is the company's first convertible, with a 360-degree hinge. Both will be available in October.
Acer already offers 11-inch and 15-inch models for both consumer and education users. The R 11's new trick is its 360-degree hinge, which lets the device flip from clamshell to tablet. Users can also position the R 11 in easel, flat, or other interim positions.
The Chromebook R 11 costs $299. It comes in a CB5-132T version for consumers—and in just one color, white. The C738T version for business and education also comes in just one color, black.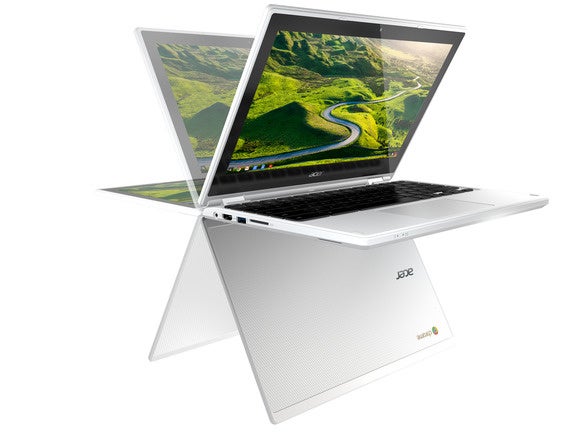 The models otherwise appear identical, with typical specs for this size of Chromebook. The 11.6-inch touch display has a resolution of 1366-by-768 pixels. Acer offers either Intel Celeron N3050 or N3150 processors with up to 4GB of RAM, and either 16GB or 32GB of eMMC storage. The unit weighs a comfortable 2.76 pounds. Acer told us battery life specs were not available yet.
Lenovo has made higher-priced Chromebooks like the older N20p, and durable models for education, but the Chromebook 100S is the company's first low-end model. The Chromebook sweet spot remains around the $200 range, so the 100S will fit right in.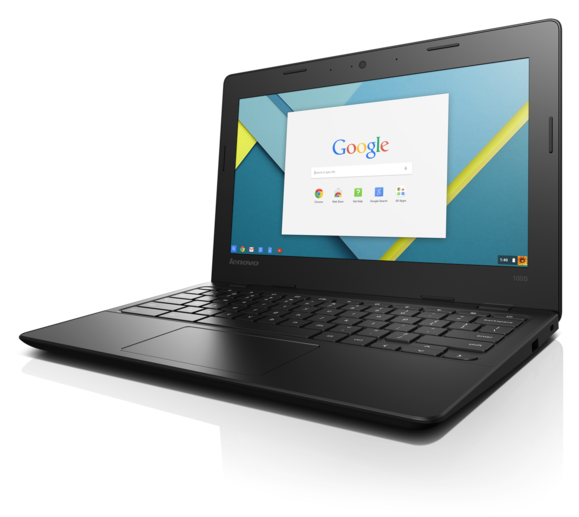 Don't expect much from these specs: The battery lasts 8 hours, which is good. It runs on an Intel Celeron N2840 processor (those are still around?), up to 4GB of RAM, and up to 32GB of eMMC storage. The 11.6-inch, 1366-by-768 display is not a touchscreen. But hey, it's cheap!
Why this matters: Despite the scoffing of many a power user, Chromebooks are killing it in schools, homes, and even business, filling a need for simple computers that are easy to share. Two Chromebooks don't make a trend, but the Chromebook 100S gives Lenovo a place in the low end of the Chromebook market, and Acer's R 11 adds yet more diversity—though at a higher price point.