Microsoft-owned Skype is getting fancier on mobile devices, rolling out some serious overhauls for the messaging app on both Android and iOS—including iPad-specific improvements.
Here are the details.
Skype 6.0 for Android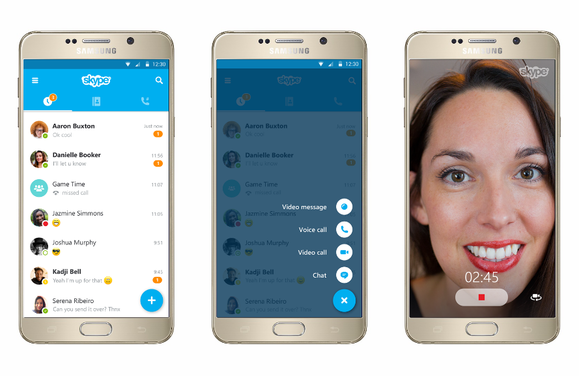 On Android, Skype 6.0 adds a material design update to bring it in line with Android's overall look.
That includes a "floating action button" similar to what you see in Gmail for Android. Tap the little blue circle with a plus sign in the lower-right corner of Skype and you'll see a number of available actions, such as record a video message, start a voice or video call, or chat.
Skype says the new Android overhaul also makes it easier to see your unread message count at a glance.
Skype 6.0 for iOS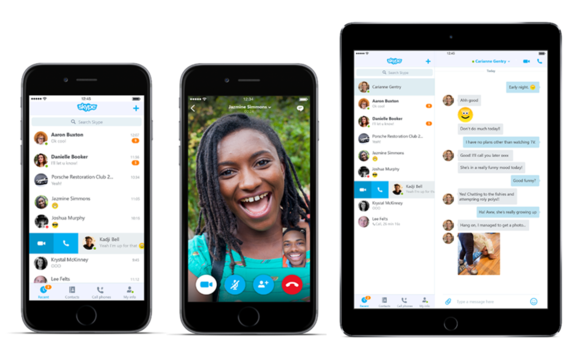 On the iOS side, Skype says navigation is now simpler. Taking a look at Skype 6.0 on the iPad, this means primarily that the "hamburger" menu icon is gone. Instead, at the bottom of the screen you'll see icons for viewing recent contacts, your full contact list, the dial pad, and your account info.
Skype has also added swipe gestures for making calls and managing messages. Swipe from left to right on a contact to see calling options, or swipe the opposite direction to see options to stop message notifications for a conversation, delete that conversation, or mark recent messages as unread.
The major focus of Skype 6.0 is improving the iPad experience with features such as location sharing, displaying large emoticons instead of iPhone-sized ones, the ability to view web link previews, and making it easier to send and receive photos.
Both Skype 6.0 for Android and iOS also have improved search functions. Skype 6.0 is rolling out now to mobile devices around the globe. Android users will have to wait for the Play Store to roll out the update over the next few days, while iOS users can grab Skype 6.0 for iPhone and iPad from the App Store right now.
Why this matters: Skype has always been a popular app, but at times it can feel a bit cumbersome. The new improvements on both Android and iOS promise a cleaner look and more efficient navigation in line with each platform's interface norms. Beyond Skype for Android and iOS, the company's team also said it was prepping its Windows 10 Mobile release, which should be coming this fall when the new Windows-based mobile OS rolls out.