Microsoft's Windows 10 is a thing, apparently.
Nick Parker, corporate vice president of the OEM division at Microsoft, introduced the IFA audience here in Berlin to Windows 10, pointing out the momentum that the operating system already has.
"Our strategy is clear and our strategy is to build the best mobile and productivity services for the cloud-first mobile-first world," Parker said. However one cuts the data—509 million new Windows devices in the coming year, or 1.5 billion Windows users—Microsoft is poised to succeed, he said.
The numbers that Parker was here to talk about, though, was how Windows 10 has fared—and it has fared well. 75 million devices already run Windows 10, and 90,000 unique device models already upgraded to Windows 10 across 192 countries. "And this is a month. It will just get better from here," Parker said.
Why this matters: Windows 8 began with a whimper. Windows 10 appears to be off with a bang, which is good news for the PC industry in general.
Showing the power of Windows 10
Microsoft's Bryan Roper showed off the new features of Windows 10, including the digital assistant, Cortana, as well as Continuum, Microsoft's way to turn a tablet or a phone into a full-fledged PC when connected to a large-screen display.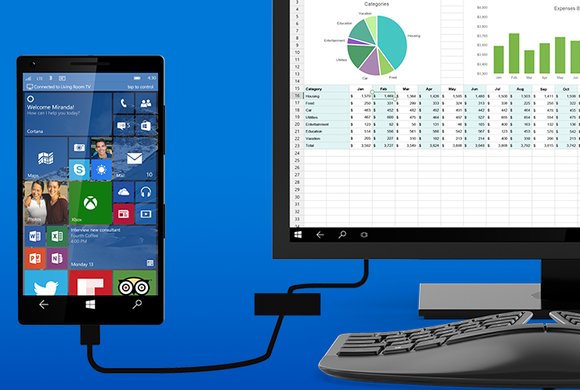 Earlier in the week, Parker and Acer showed off what they called the world's first "PC phone": the Jade Primo. It used the Continuum technology inside Windows 10 to launch Windows 10 Universal apps—though not traditional desktop software—on an external monitor.
Roper also showed off Windows Hello, the Windows biometric identification that ships with Windows 10. Windows 10's Hello feature requires specialized hardware to be built into the PC, however, which some manufacturers have begun to include.
Partner promotion
Parker highlighted some of the hardware from Microsoft's partners that best showed off Windows 10.
For school, the Acer Aspire One Cloudbook begins at $169. It has two mics for Cortana. The Lenovo IdeaPad 100s, just 99mm thin, manages to include a 12 hour battery. It's priced at $229.
For business, Parker showed off the previously unannounced Dell Latitude 11 5000 2-in-1, as well as the $1249 HP Elitebook with an Intel vPro chipset, two mics, and a thin, light screen. All of the ports that business users need are included. The Lenovo ThinkPad Yoga 260 with Windows Hello fingerprint sensor starts at $999. Rugged Windows 10 notebooks include the Panasonic Toughpad FZ-M1, with an 8-hour battery and a bright display.
Further reading: The 10 coolest, fantastical, and most powerful PC reveals of IFA 2015
Microsoft also believes in the power of all-in-ones. The Dell Inspiron 24 7000 series and others represents the future of desktops, he said. An Asus Zen AiO S includes a 24-inch screen with a 4K option, and improvments to Windows Hello, with 6 speakers, 4 mics, and a 4K UHD screen.
Parker also showed off a grab bag of other notebooks. The HP Pavilion 15, running Intel Core i3, can be had for $399, which includes a DVD drive. "It brings touch to the masses," Parker said.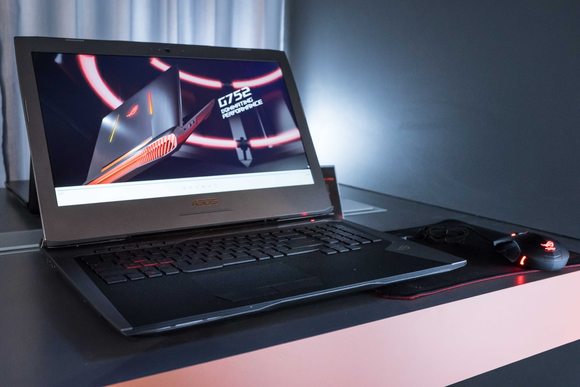 Parker also highlighted the $1,399 Asus ROG G752, with a 17.3 inch screen, Nvidia GTX 980 card, and an anti-dust cooling system. The Toshiba Radius 12, for $899, which also includes Windows Hello and its Cortana button, "is an incredible PC," Parker said. Parker also showed off a new, thin Toshiba 2-in-1 that hasn't previously been announced.
Windows also powers the Internet of Things. Windows will power ATMs, gas pumps, and medical devices, he said. Parker showed a Toshiba environmental data logger with 20 sensors and a battery life of about six months.