Microsoft really, really wants you to try its new Edge browser for Windows 10—so much so that it's urging Bing users to give it a go.
VentureBeat reported Friday that if you do a Bing search for the Mozilla Firefox or Google Chrome, Bing will helpfully note that "Microsoft recommends Microsoft Edge for Windows 10." Because of course it would. When you click the "Learn more" button, you'll get whisked away to a webpage extolling some of Edge's features, such as its annotation tool, Cortana integration, and distraction-eliminating "Reading view."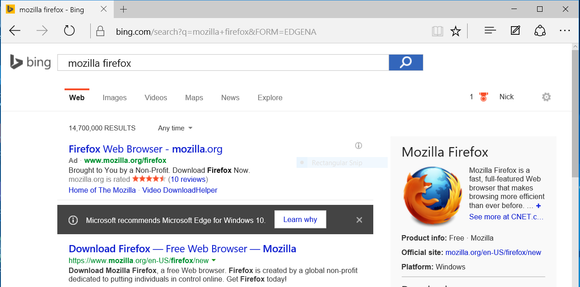 As you might expect, the banner urging you to use Edge only appears on Windows PCs—searching for Chrome and Firefox on my Mac yielded no banner, but running the same search from a Windows 10 PC resulted in the black stripe above search results—even when searching from Edge.
Why this matters: Despite the hype and Windows 10's fast start, Edge browser usage has tailed off since Microsoft launched its new OS back in late July. Microsoft isn't the first to promote its browser in search engines, as MarketingLand points out: If you visit Google.com from a competing browser, you'll be presented with a box that urges you to download Google Chrome. Still, given Edge's place in the market (and its lackluster showing in our recent roundup), it does make Microsoft look a little desperate.