When Asus announced the Asus ROG GX700 at IFA in Berlin, we knew its massive cooling block would be one of the must-sees of the show. We weren't disappointed. On the other hand, what they showed was just a semi-functional prototype. So although we spent some hands-on time with it, we can describe only in vague detail what's going on inside of it.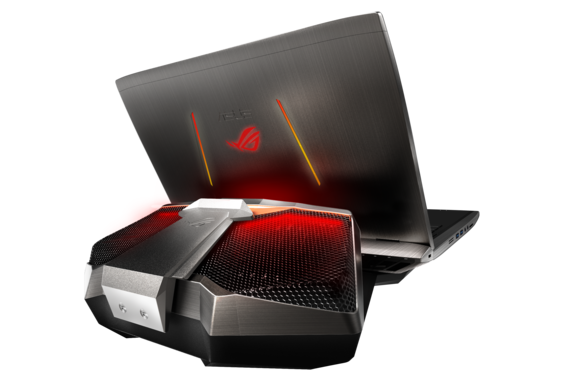 Asus has yet to reveal any specs. We can be almost certain that one of Intel's new, overclockable Skylake chips is inside. One Asus employee told us it would include the forthcoming Nvidia GTX 990M, but we can't confirm that. All we do know is that the watercooling system inside the notebook will cool both the GPU and CPU.
And oh, what a watercooling system it has. Detached, the ROG GX700 laptop runs normally, using air to cool both the CPU and GPU. It's hefty, weighing well over five pounds. As of now, Asus plans for it to have a 17-inch, 4K IPS display.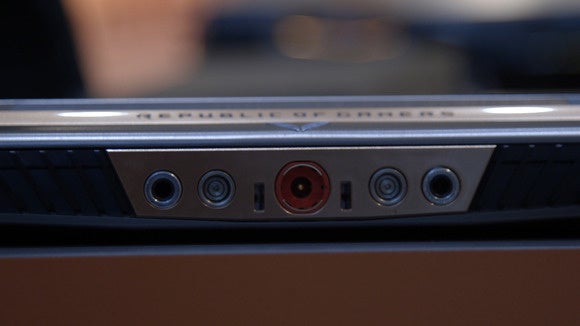 Like docking the Starship Enterprise
Docking the laptop is no simple feat. It must be lowered onto two vertical pins that align the laptop just so. Afterward, you'll need to fasten a clamp that tightly connects it to that crazy external cooling system. All this is to ensure a snug fit between the central power port and the coolant channels that flank it.
When you dock the notebook correctly, a klaxon-like sound rings out, and lights flicker in the depths of the cooling unit. To undock it, you need to press a rather stiff button in the center of the cooling unit, which pops the notebook up and out.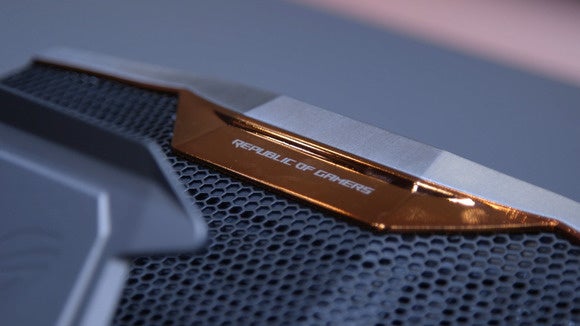 Because the demo unit wouldn't boot—nor was it, presumably, circulating coolant—we don't know whether you'll need to shut down the laptop before docking or undocking it, or whether you'll have to worry about coolant drips each time you use it. And, of course, we have no idea of how the notebook will perform. Asus claims it'll provide 80 percent more performance than a normal laptop using the same parts, but lacking the external cooler.
Because the cooling unit is massive, there's very little chance you'll be toting this thing around. But it's a intriguing design nevertheless. Even if gamers don't opt for the ROG GX700's massive cooling rig, Asus or other notebook manufacturers might be able to adapt the design. The end goal for a number of PC gamers would be something that could serve as a business notebook by day and a gaming notebook by night. The ROG GX700 was designed exclusively for gamers, but you just never know what the future holds.