Apple took a major step in the evolution of its iPad lineup Wednesday when it announced the iPad Pro, a new tablet with a 12.9-inch display that packs a serious punch when it comes to processing power.
The comparisons between Apple's new device and Microsoft's Surface Pro 3 are easy: both can be used with a cover that doubles as a keyboard, along with a pressure sensitive stylus. And they obviously both have "Pro" in their respective names. But ultimately, they seem to be aimed at solving different problems.
Right off the bat, the biggest difference between the two tablets has to do with their respective operating systems. The Surface Pro 3 runs the full version of Windows 10, which means users can interact with apps built for a Windows desktop environment, even when the tablet doesn't have its Type Cover accessory attached.
The iPad Pro, meanwhile, only runs iOS. While the app catalog for Apple's mobile operating system is much deeper than the apps only available through Microsoft's Windows Store, that decision still limits users to running apps that are built for the iPad, or using tools like Amazon's WorkSpaces virtual desktop client.
While iOS 9 includes a number of features that make the iPad more useful as a laptop replacement, like improved support for external keyboards and the ability to use the on-screen keyboard as a trackpad, it's still missing the customizability and functionality of a full-blown Mac. I'd argue that's intentional, since Apple has its ultraportable MacBook available for people who want a lightweight computer.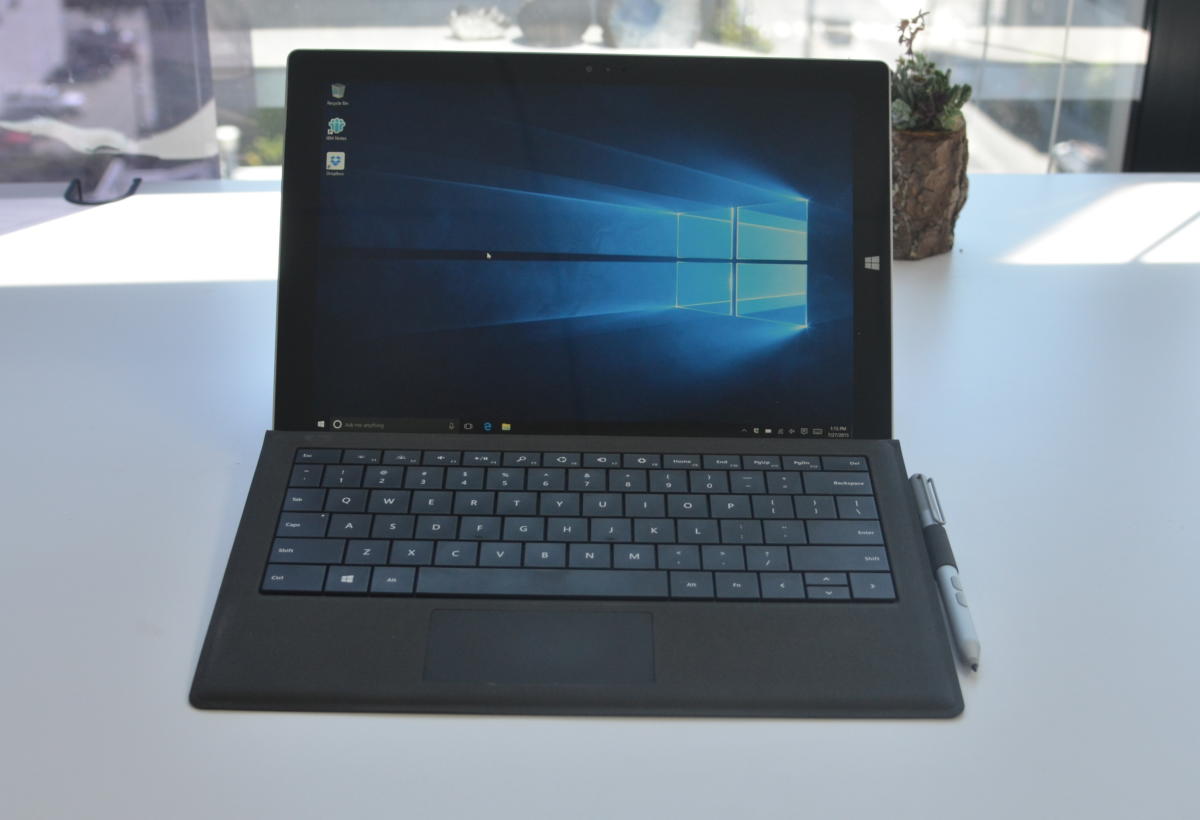 The Surface Pro 3 is really a slimmed-down laptop that has a detachable keyboard, complete with fans and a processor that's also found in in other portable computers. It's thicker and heavier than an iPad Pro — both concessions that likely came as a result of the hardware packed into its case. It boasts some additional benefits like a built-in kickstand, unlike Apple's iPads, which still require a case or cover to stand up independently.
Meanwhile, it seems as though Apple wants to make the iPad Pro the best way to get work done on an iPad, but doesn't want to compromise and actually allow it to run a desktop-oriented operating system.
That's not to say it's the wrong move, it's just a fundamentally different tack than Microsoft is taking. It will be, however, interesting to see if Apple's commitment to iOS for the iPad Pro makes it less appealing to businesses that have desktop applications they still want to give workers access to.
Apple's announcement comes at a tough time for its iPad business and the tablet market in general. While CEO Tim Cook has said that he remains confident about the future of selling tablets, sales of the iPad aren't growing like they used to, while the tablet market at large has stagnated. Time will tell whether the iPad Pro will be a shot in the arm that differentiates Apple's tablet offering at a premium price, or if it's still not enough to drive growth.