Sure, IFTTT can be useful, making you more productive and helping you get work done faster. But it can also be fun—a lot of fun, in fact, especially if one of your hobbies is outer space. I'm going to highlight some of my favorite IFTTT recipes that let you know just what's going on outside of the Earth's orbit.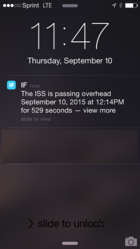 It's a bird, it's a plane…
Look, up in the sky! It's the International Space Station (ISS), just passing by. Seriously. This recipe will deliver an alert to IF (IFTTT's mobile app for Android and iOS) when the ISS passes overhead.
You will need the free IF app installed on your mobile device, and you should check this recipe before assuming it works correctly: It had my location set to San Francisco, clear across the country from where I currently sit. That was an easy fix, though.
I like that this recipe alerts you ahead of time, giving you time to get outside and look to the skies. It also tells you how long the ISS will be in view, just in case you have something more important going on (though I can't imagine what that would be).
If an alert is too fleeting of a notification for you, fear not—IFTTT has you covered. This recipe will create an entry in a Google spreadsheet every time the ISS passes overhead. Again, you should check the location IFTTT has for you, and correct it if necessary.
You can direct it to a specific spreadsheet, which will be created if it doesn't already exist, and tell it how much detail to enter. It defaults to the time the ISS appears and disappears, and how long it was viewable for.
Still not enough information on the ISS for you? If you really want to stay up to date on all of the latest happenings, why not read the ISS's On-Orbit Status Reports? This recipe will send you a weekly digest of these reports on the day and time of your choosing. A word of warning: These reports are not always riveting reading, as they detail activities like collecting saliva samples from astronauts. But if you really, really want to know what's going on up in space, they'll keep you thoroughly informed.
Astronaut Updates
Where did you go today? If your travels haven't taken you far enough—especially not all the way to outer space—you can live vicariously through astronauts around the world. That is, if you have these IFTTT recipes, which promise to alert you when astronauts enter or exit outer space. IFTTT will tell you the astronaut's name and country, and delivers the alert to your mobile device, which must have the IF app running with these recipes enabled.
Amazing Images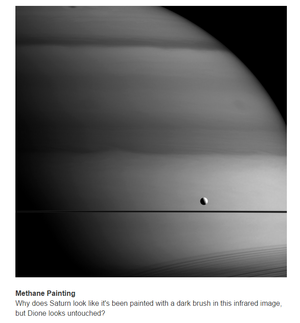 Sitting in front of a computer, it's easy to forget just how vast and amazing the universe is. Until NASA's image of the day arrives in your inbox, thanks to IFTTT.
Every day, NASA shares a stunning photo of something, somewhere in the universe, from the International Space Station traveling in front of the sun to views of the Curiosity Rover on Mars. They're awe-inspiring and offer a welcome respite from when they arrive.
Additional IFTTT recipes let you do even more with these royalty-free NASA images, including posting them directly to Facebook and saving them as the wallpaper on your Android device.
Breaking News
Last, but not least, all true space aficionados will want to stay informed on the latest news from NASA and outer space. IFTTT will email it directly to you or deliver it to your Android or iOS device via IF. Want to share that news with the world? IFTTT can tweet NASA's breaking news for you. You may want to customize the text it tweets, however, as it defaults to tweeting simply the article title, its link, and the phrase "via NASA." It could stand to be livened up just a bit.